Electronic Trading Platform in Malaysia
What is an electronic trading platform?
A trader is a financial professional who buys and sells assets and earns money on price differences. It is about trading in the financial market. With the development of the Internet and the popularization of remote online professions, there are more and more people who want to learn trading every day. The more so that today you do not have to go anywhere. All the information you can get on the Internet.
However, a trader needs an intermediary to provide access to the exchange - a broker or a brokerage platform.
A trading platform is the software used to trade: opening, closing and managing market positions through a financial intermediary such as an online broker.
The basics of a trading platform
A trading platform is the software that enables investors and traders to place trades and control accounts through a financial intermediary. Monitoring your account is a key feature, as no job is complete without current and final monitoring. You will be able to evaluate the assets you have bought or sold, see your income and expenses and the history of your trades. All of this will enable you to make informed decisions about your future trading strategy.
Often, electronic trading platforms come with other features, such as:
Real-time quotes. Quotes are a metric that allows traders to make a decision to buy a security. This value allows you to assess the current market situation and make important predictions. Only accurate and timely data will allow you to make the right deal.
Charting tools. There are plenty of different analytical tools for effective trading on price charts.
News-frames. Many traders use a news-based trading strategy. And an up-to-date economic calendar and news releases are an essential part of the platform. You do not need to surf the Internet looking for the necessary information, everything that can influence the quotes is in your feed.
Mobile App. Trading on it is no different from trading on your computer, which is very convenient, because modern people are very mobile and don't always have a PC handy.
Video tutorials on various topics, which will undoubtedly increase your investment education.
Comfortable withdrawal to most payment systems.
The platforms can also be specifically adapted to different markets such as stocks, currencies, options, or cryptocurrencies.
Trading software should give you the ability to customize the risk-management parameters, which allow you to control risk, minimize possible losses in trading, as well as secure the fixing of profits on transactions.
For example, it would be good if the software allows one to prohibit making new orders and opening new positions in a certain account if the specified conditions are violated.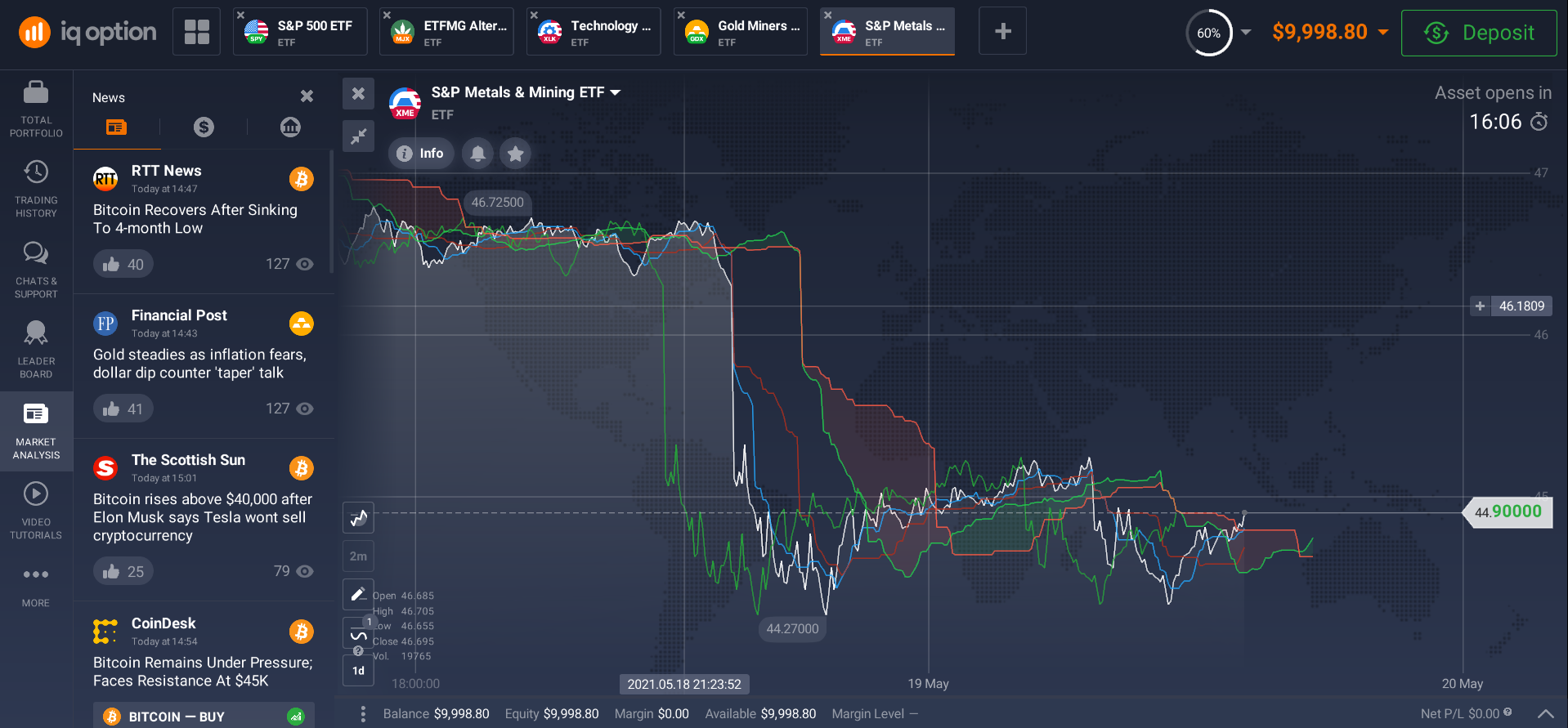 It is also important that software allows use of stop-loss and take-profit orders. Such orders are used to protect open positions - if the price declines sharply, the losses will be limited and the profits fixed.
Analytics on the platform
As new traders learn about the fundamental analysis and technical analysis, they ask themselves: which one is more efficient? There is no exact answer to this question. In fact, the choice of the analysis type should be determined by the trader's peculiarities and preferences, the duration of a deal and the type of asset.
Fundamental analysis. Any price change on the financial market is a consequence of certain events. Such analysis is the evaluation of an asset taking into account all internal and external factors that can affect its value, such as interest rates, financial policies, general local and global economic conditions as well as the political situation and environment.
By understanding the significance of different events and predicting how market participants will react to them, you can make good money. This approach should be considered natural and logical.
Technical analysis. Supporters of technical analysis proceed from the fact that the price chart already reflects all the more or less important events. Besides, the price movement is subject to certain regularities. Such traders trade according to these patterns and noting changes in quotations in the recent past. Technical analysis for binary options is a realm of charts and indicators. The platform offers the most popular and sought-after signals and charts, which you will be able to customize.
Types of assets on an electronic trading platform
Whether you trade regularly or try your hand at trading occasionally, choosing the right brokerage platform is one of the first and most important decisions you make during your career. How you trade will depend on which assets you trade on the electronic trading platform.
It is very convenient that on one site, you can buy or sell several types of assets at once. If you learn how to trade different instruments, it will help you diversify your portfolio and protect your investments. However, you may want to try everything and choose one over the other. A brokerage site tailored to different markets is a great solution for today's players. There are many trading options available to you.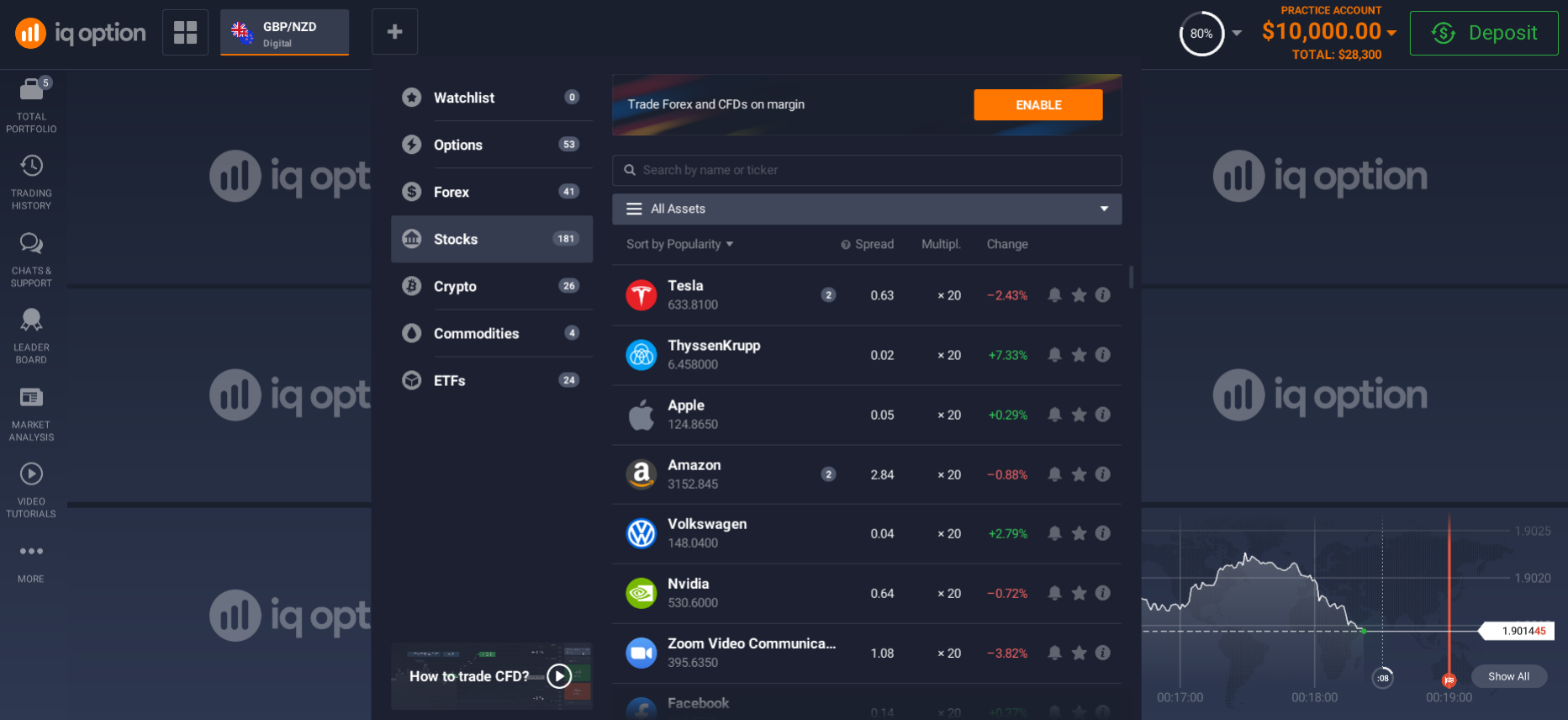 Electronic platform for stock trading
Stocks are issued by different companies that have different amounts of capital and turnover. An individual may buy stocks of a company only at a stock exchange which is specialized for such trading and where all types of investment instruments are traded.
To choose the stocks with which the trader will start trading on the stock market, the company has to be determined. The profitability of a stock is directly related to the financial performance of the issuing company, so make sure to conduct a fundamental and technical analysis of the firm's stock. It is possible to make money on shares by reselling them at a higher price.
Such analyses are regularly made by analysts from reputable brokerage companies. It is important to buy the stock at the right time - when the price is at its lowest or in the correction zone, waiting for a further rise.
Electronic platform for forex trading
Currency pairs are basic trading tools in Forex. A currency pair is a ratio between two currencies which indicates how much money one currency unit will have to pay in buying one unit of another currency.
The answer to the question of which currency pairs are best to trade always comes down to a simple prediction. Based on world financial news, it is realistic to predict for instance that the American dollar will go down against the euro tomorrow, but it will come back soon because the situation is temporary.
Electronic platform for options trading
What is an option? This term refers to a time-limited contract that gives you the right to buy or sell any asset. From this definition, 2 key features of options follow:
They give a right to buy or sell an asset, not an obligation. For example, the holder of a call option to buy shares may not exercise it if the price of the underlying asset (the company's securities) changes to his disadvantage.
These contracts are time-limited and have an expiration date, which is the time for which the conclusion of the transaction is postponed.
As for the types of underlying assets, there are option contracts for all types of instruments. These can be precious metals, currencies, commodity market instruments, cryptocurrency, and art.
This tool should not be confused with binary options. They are also offered on the platform, but in a different way. In simple words - a binary option is a contract entered into between two or more parties to fulfil certain obligations, in a certain (specified), period of time.
When a trader buys a binary option, the broker and the trader enter into a contract for a specific (known in advance) amount of money at a time period chosen by the trader.
The subject of the contract is a rise or fall in the rate of the chosen asset. That is, a trader stakes on whether the price of the chosen asset will go up or down. That is the essence of the contract.
Electronic platform for commodities trading
Commodities are a type of physical wealth such as crude oil, corn, wheat, cattle, gold and anything else that has a physical value which can not only be used for industry but also for trading.
Commodities are used by many traders. But the exchange does not physically trade real commodities. Instead, CFD contracts are concluded. In the same way that stocks are classified into sectors, there are different kinds of commodities. The most popular ones are gold, silver and oil - you will find them with almost every broker.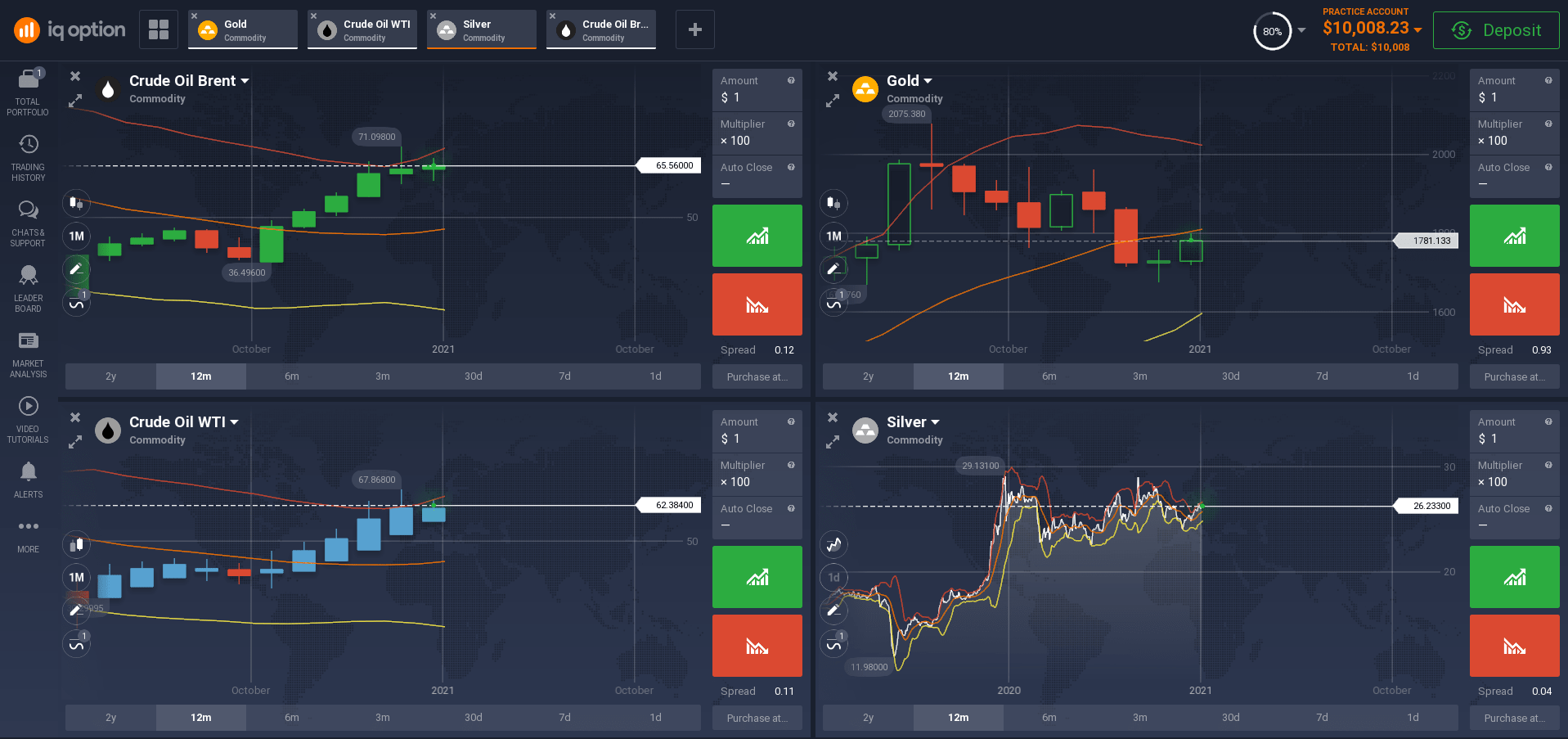 Electronic platform for ETF trading
Even a relatively small capital can allow you to form an investment portfolio of stocks of the most capitalized companies from all over the world. If you have a small initial capital and no experience in trading on the stock market, then consider using ETF funds.
ETFs (Exchange Traded Funds) are exchange traded investment funds. ETFs invest in a variety of assets, and the net result is an increase in the value of their shares. They greatly simplify the process of selecting assets as they allow you to buy a huge block of stock at once instead of having to buy and edit portfolios yourself.
Electronic platform for cryptocurrency trading
Cryptocurrency trading is a new and promising direction in online trading that gives you the opportunity to earn money by trading digital currencies.
Cryptocurrency: is a digital (virtual) currency whose unit of currency is a coin that is issued online and is not linked to a regular currency or any state currency system.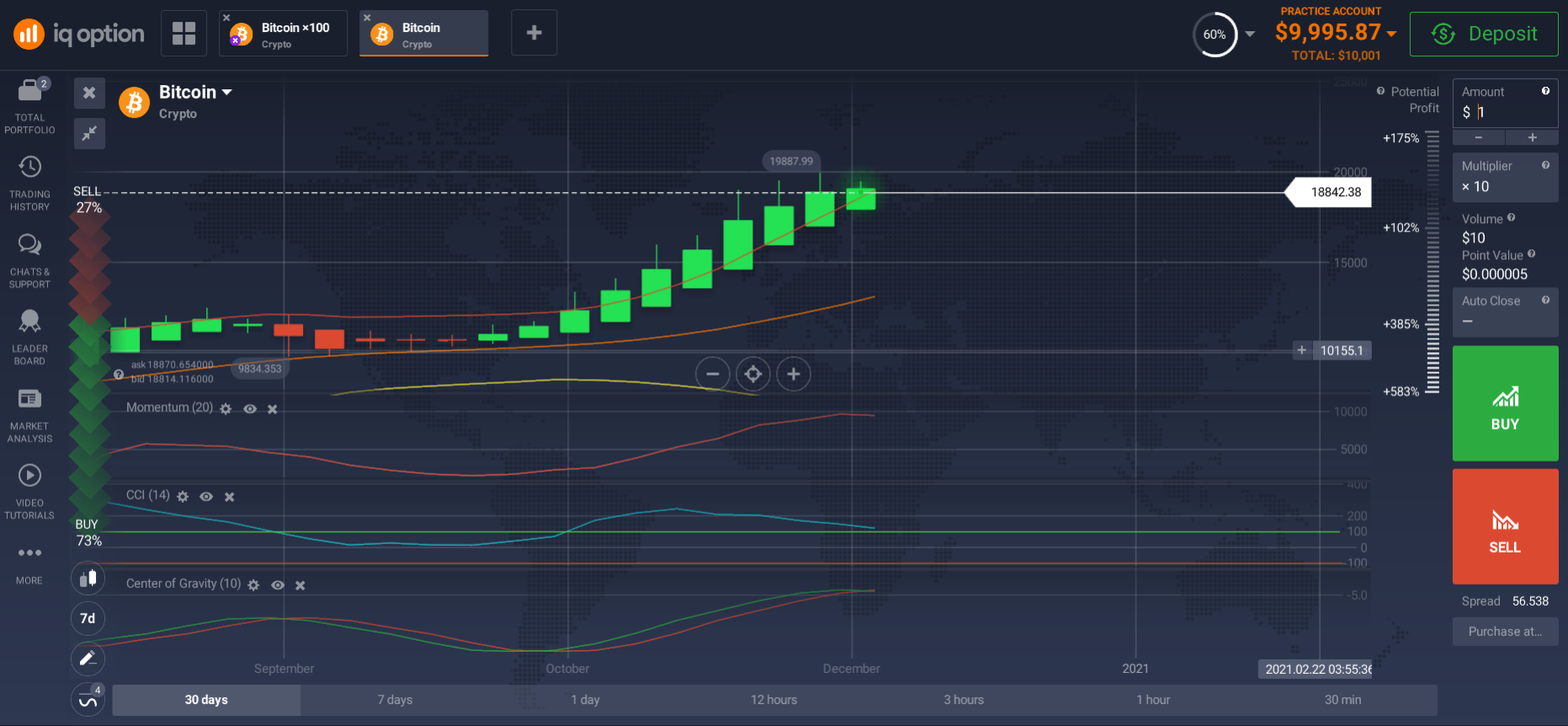 Cryptocurrency trading is the same as online trading but in this case, instead of the usual assets (currencies, stocks, bonds, etc.), the trader trades digital currencies (like Bitcoin) and the aim is the same - to buy cheaper and sell dearer.
Electronic platform for indices trading
An index is an indicator of changes in the price of a certain group of securities. One can think of an index as a 'basket' of shares, united according to a certain feature.
The most important thing when studying an index is what stocks or bonds it is composed of. It is the set of securities on the list from which the index is calculated that determines what information can be obtained by observing the dynamics of the index.
How to start using an electronic trading platform in Malaysia?
So you have decided to open an account and have chosen a broker. You now have a professional and reputable electronic trading platform in Malaysia in front of you. This is a smart decision as you will be able to grow your career from the comfort of your own home, at minimal cost. All you need to do is conduct market research to better understand the trading system and assess the profitability of each trade, learn the fundamentals of the stock market, and you can try your hand at a virtual account.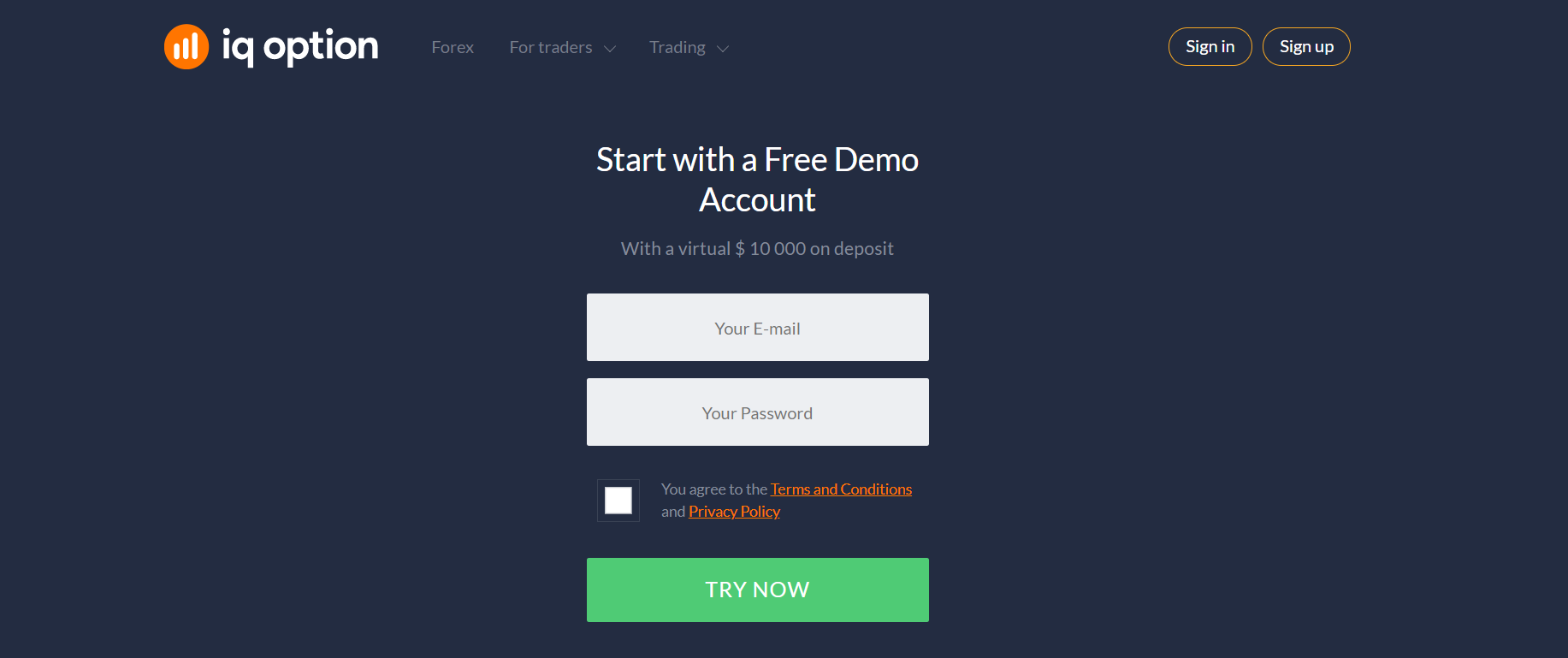 But first, you need to register. To do so, select the registration menu and follow the short instructions of the system. Then an email will be sent to your email address informing you of the successful registration. It's free, will only take a few minutes, and there is no obligation to make any trades. You can simply familiarize yourself with the system and then make a decision.
Demo Account
Before you start trading with real money, it's ideal to sign up for a demo account. This is because you may not be able to understand the nuances of risk management in trading before you actually put your money on the line. Using a demo account is very convenient for getting to know the trading terminal. Once you have access to a demo account, you may open and close positions, modify your lot size, and explore different financial instruments.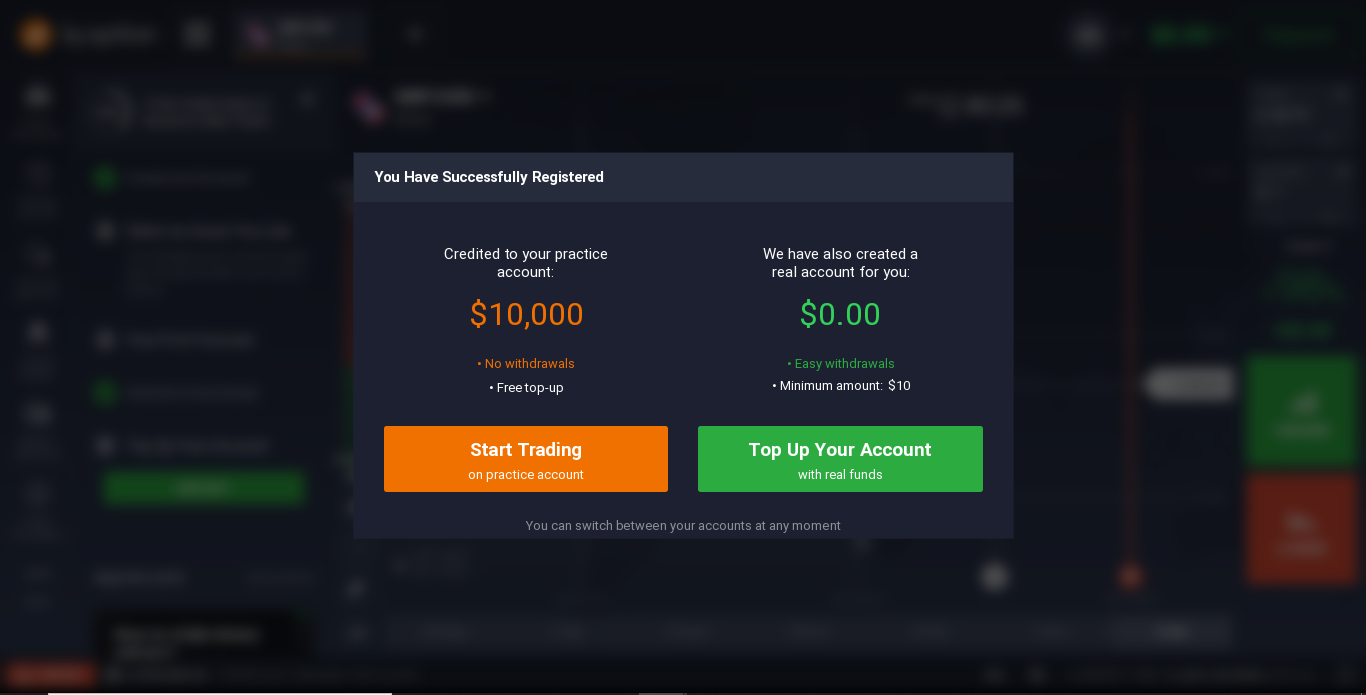 A demo account will give you access to all the tools as in real trading, the same quotes, charts and indicators, live chats, etc.
Naturally, the profit made cannot be spent, but at the same time you can feel yourself a real trader, test trading methods and try to prepare yourself psychologically for various market situations.
Live Account
When to open a real account? If you're confident and ready to start trading, we suggest you open a Live Account right after you register. Once you've started using the Demo version, and you've seen steady profits on your Demo account for two to three months, you can already try to switch to a real account. Make a minimum deposit into your account and fill in the required information about yourself. That's all you need.
Over time, you will definitely learn how to use the electronic trading platform. In doing so, keep learning. Learn new things and try new tactics, good luck!
SIMPLE AND RELIABLE
MONEY WITHDRAWAL