Buy General Motors shares in Malaysia
General Motors, the largest American automobile corporation, was the world's largest carmaker for 77 years until 2008. According to the results of 2014, the concern ranked third in the world (after Toyota and Volkswagen) in the number of cars sold (9.92 million units). Production is established in 35 countries, sales - in 192 countries. The company is headquartered in Detroit. At certain stages of its existence, it was one of the twenty largest contractors of the US military-industrial complex. About one-fifth of the revenue from sales of products and services provided is the federal customer service sector for military orders (excluding foreign customers of American weapons and military equipment).
General Motors was founded in 1908 by entrepreneur William Durant, at that time already had experience in car production at Buick. In the 21st century, the company has become a shareholder in a large number of automotive companies: Fiat, Isuzu, Subaru and Suzuki. General Motors became the first company to divide cars into classes that correspond to the level of consumer income. Today, General Motors is present in 120 countries. Subdivisions of the automotive concern work with brands: Baojun, Buick, Cadillac, Chevrolet, Daewoo, GMC, Holden, Isuzu, Opel and others.
Despite the fact that in 2008 the company suffered a serious blow, General Motors was able to maintain its production capacity and enter a new round of development. Thousands of investors are still ready to invest in General Motors shares, as the company has multibillion-dollar real assets that continue to make a good profit.
Consider investing in stocks and investing in stocks of General Motors in Malaysia.
How to invest in General Motors shares in Malaysia?
The main trading platform of this issuer is the New York Stock Exchange. Investors were able to trade the securities of the American corporation in November 2010. On the NYSE they can be found under the GM ticker. General Motors shares are also traded on other platforms. In particular, they can be traded on: Hamburg, Frankfurt, Berlin, Munich, Hanover, London and other European stock exchanges.
Before working with the issuer's shares, it is necessary to find a broker who provides the opportunity to trade on the New York Stock Exchange. Fortunately, Malaysia has a large selection of brokerage companies that work with this exchange online.
So, your first step will be to choose a broker to buy General Motors shares.
Choosing a broker is a matter of responsibility, as the broker will have access to your funds and will provide you with information on the state of the stock market. The success of your operations will depend on the reliability of the chosen broker, as well as on the completeness of the information provided, the functionality of the online trading platform that this broker will provide you for work and the legitimacy of his actions.
Therefore, the broker you choose must have a license to conduct brokerage activities in the stock market and all the necessary permits required by law. This information is public and easy to check online. It is also easy to check the reviews of the broker. Thanks to the large number of forums with open access on the Internet, you can easily follow the business reputation and be able to find out the opinion of experienced investors and market experts about the activities of this broker.
You will carry out all transactions through the online trading platform. Investing in its modern version eliminates the need for endless running around bank branches, company offices and visiting the stock exchange. There is also no need to fill out a whole bunch of documents. An online investment platform - software provided by a brokerage firm, will become your "pocket office", providing access to all possible transactions on the stock exchange directly from home, and the ability to use this software on mobile phones gives even more freedom of action. You will always have instant access to all your operations, wherever you are and at any time of the day. Registration with a broker is possible online, as well as account replenishment. If you wish, you can buy General Motors shares in 5 minutes and become their full shareholders.
Below in the review will be discussed in detail how to make such a registration, replenish the account or withdraw funds. In the meantime, consider options for investing in GM.
With the classic, dividend method, you can invest in shares of General Motors, counting on a quarterly payment.
General Motors pays quarterly dividends of 4.5-5% per annum.
Such profitability exceeds the size of interest rates on deposits in large American banks. The large amount of dividend payments has always made the company's securities an attractive object for investment by institutional investors. Often, after the announcement of the amount planned for the payment of dividends, the dynamics of the issuer's shares increases significantly. Dividends on General Motors shares have been paid since 2014.
Buying stocks involves long-term investment and low returns, while short-term purchases with other stock market instruments allow you to earn much more money.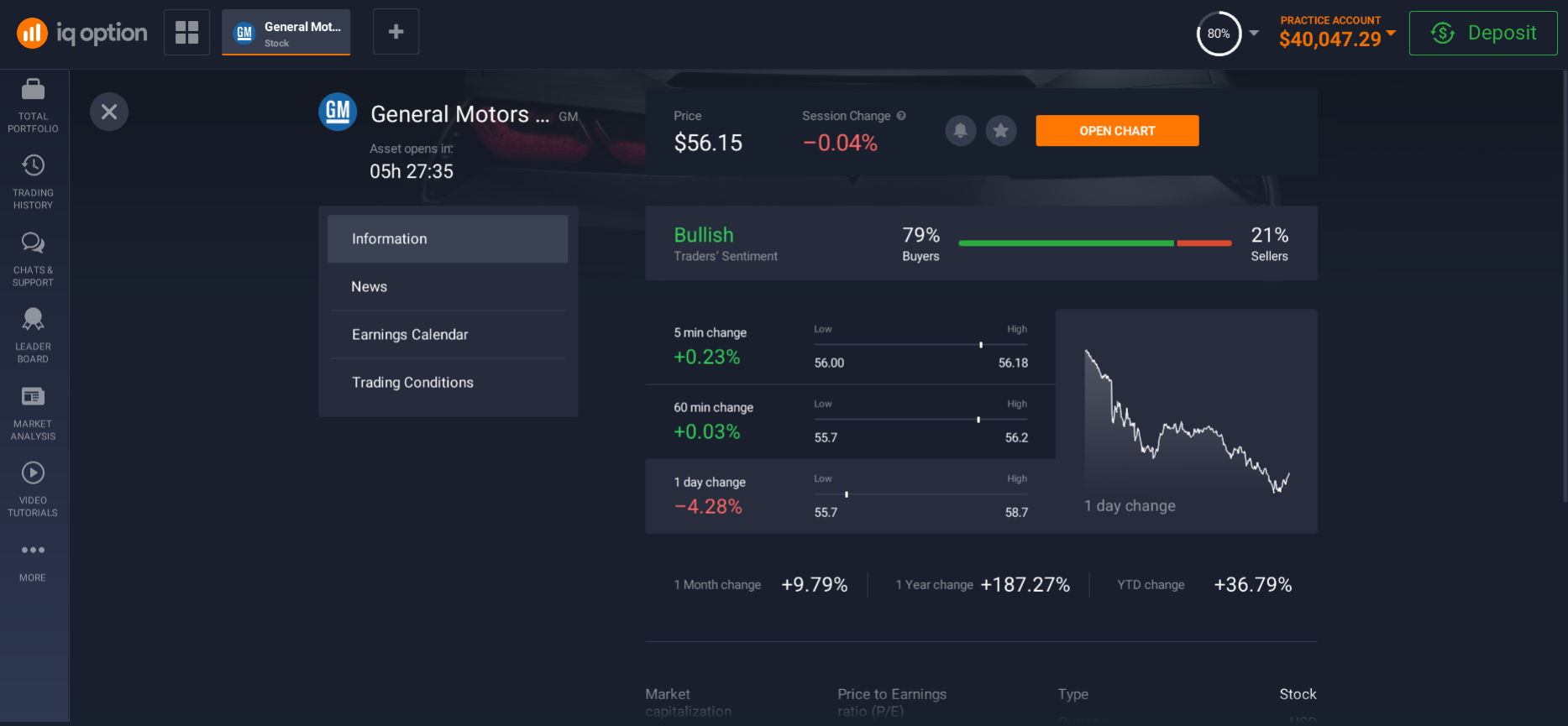 General Motors shares move in different directions, so the best way to make a profit on them is CFD-trading. A CFD (Contract For Difference, CFD) is a financial instrument (also known as a price difference contract), similar to an index or stock. CFD allows you to trade an asset even if you do not own it.
This type of trading allows you to earn not only when the share price of General Motors rises, but also when it falls, which is especially convenient in times of economic crisis. The advantage of CFD-trading is the ability to conduct margin trading using leverage. Due to this, even with a small start-up capital, you can buy shares of General Motors for a large sum. Since CFD trading orders are executed almost instantly, you can earn even when General Motors shares change in price by a small amount.
You can make a profit by buying CFDs (if you expect their price to rise) or selling them (if you are sure of the reverse market trend). Your profit will be defined as the difference between the amount of buying and selling CFDs.
But by using leverage, you also increase the risk of the transactions you make. So before you start such a trade, make sure you understand how it works.
How to buy General Motors shares in Malaysia?
As mentioned above, the first step towards investing in GM shares in Malaysia will be to choose a broker who works with these shares. When the choice is made, register on the online investment platform provided by this brokerage company.
Brokerage companies nowadays have a lot and high competition in this direction encourages each of these firms to the best innovative developments for the convenience of the client. Therefore, the modern online trading platform is a highly professional software that impresses with its functionality and, at the same time, ease of access and intuitive interface.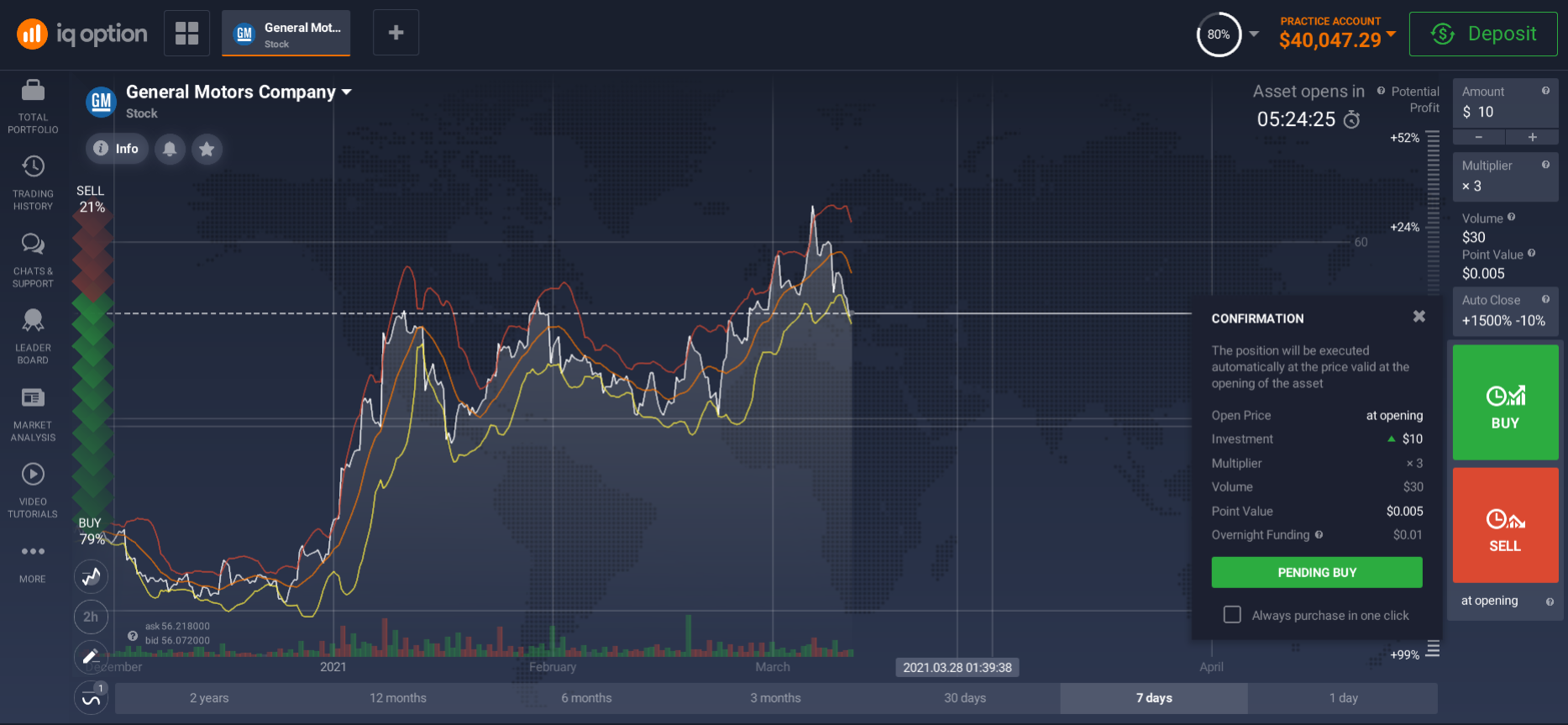 By accessing the online platform, you will be able to carry out all the necessary investment operations, trade, using modern tools that facilitate work.
One of the significant advantages of high-quality online trading platforms is the presence of a "training" section, which outlines the lessons for investing. If you are a beginner trader, these lessons will serve as a good guide at the start. In addition to the training section, you will see many other sections, the names of which speak for themselves - this is a link to the latest news about companies provided from reliable and authoritative sources of information, and online chat to share information with other market participants, and information blocks about companies and financial instruments. An important block is the indicators for technical analysis.
How to register on the platform?
Registration on the online trading platform takes place in real time, it takes a few minutes by entering your basic data in the registration form. Go to the brokerage company's website, click the "register" button, enter the requested information in the required fields (this is a username, e-mail, sometimes a mobile phone number) and check the box to agree to the terms of confidentiality. Come up with a strong password. Open your e-mail address you provided during registration, find the email automatically sent by the registration system and click on the link you received to confirm registration. That's it, registration has passed.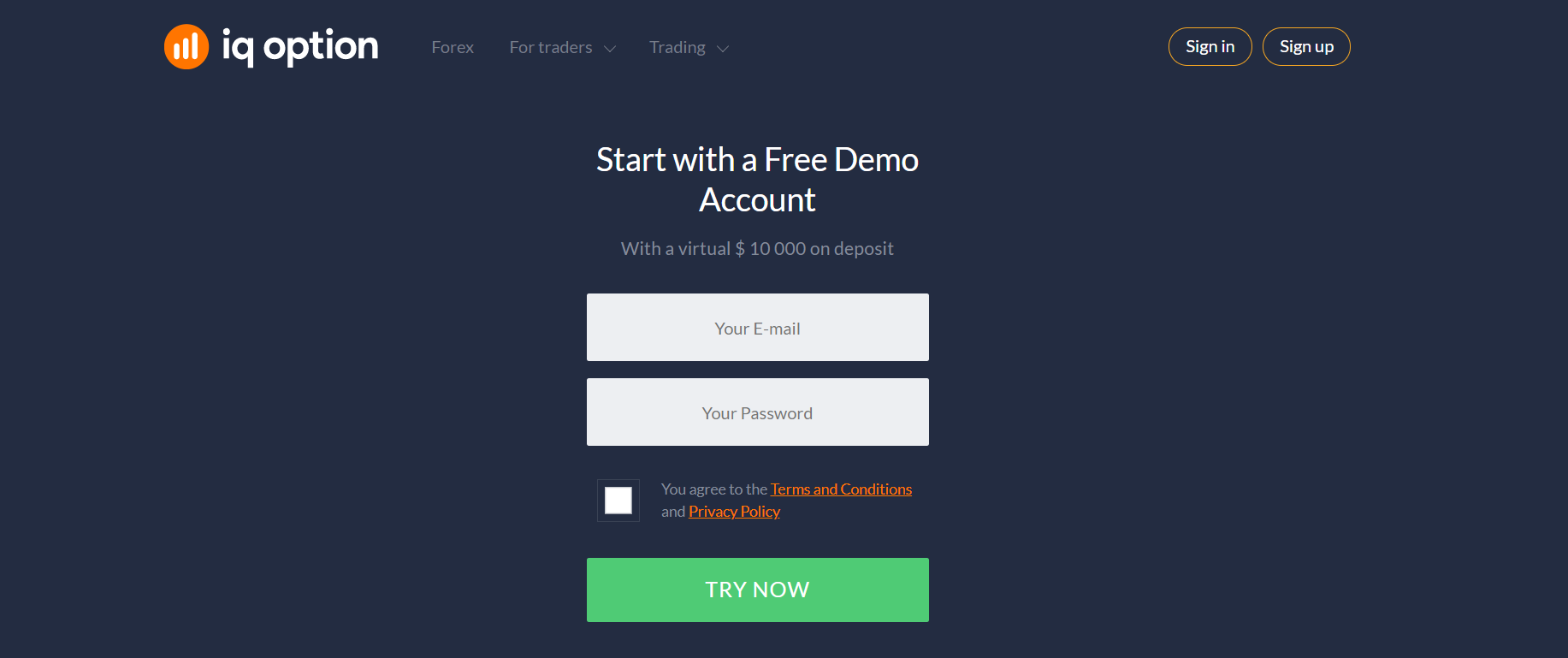 What is a demo account and what is it for?
When you log in to the platform for the first time, the system will send you an invitation to open a demo account. Every quality online platform has such an account option. This is a trial account for training (test) operations and it will be useful to you at first, when your experience is not enough to conduct real trading operations. On the account you will see a certain amount that the system automatically credits for such transactions. Of course, this amount is fictitious and therefore not afraid to lose it, so you can safely "risk" and try to do certain operations. Because a demo account is an exact copy of a real account, you will see if your calculations are true and if they are profitable, that is, if you can invest real money in this way. In fact, using a demo account is a test of one's own strength without a real risk of losing money. Of course, the profit received with a fictitious amount on the demo account will also be fictitious and you will not be able to withdraw these funds.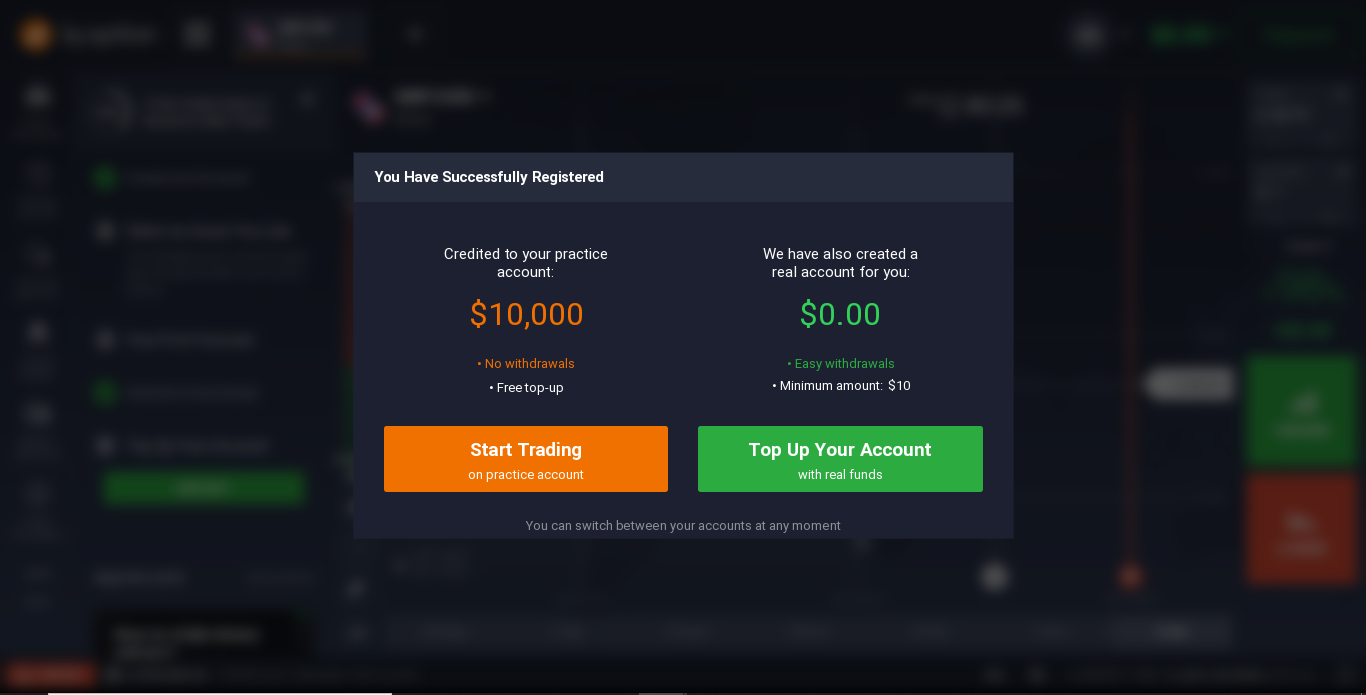 How to open a real account?
The real account is intended for trading real, non-test, funds. This is where real trading, real transactions and real risk begin. Therefore, we strongly recommend that you do not start trading until you have completed enough training.
The real account is opened automatically when you register on the platform and is activated by replenishing the amount not less than the minimum. The minimum set amount to replenish the real account is usually only $ 10, while the amount of initial investment and even less - from $ 1.
The account is replenished in a few clicks - click on the option "replenish the deposit" and you will open a form with the choice of replenishment method. The most popular method of replenishing the deposit among users is to use a bank payment card. You can also top up your account using online payment systems.
In the same way, you can then withdraw your funds.
If you are just starting to trade, do not rush to trade for large sums. Always remember that investing is a difficult business and can take years to learn, and careless and reckless steps at random can lead to irreparable financial losses.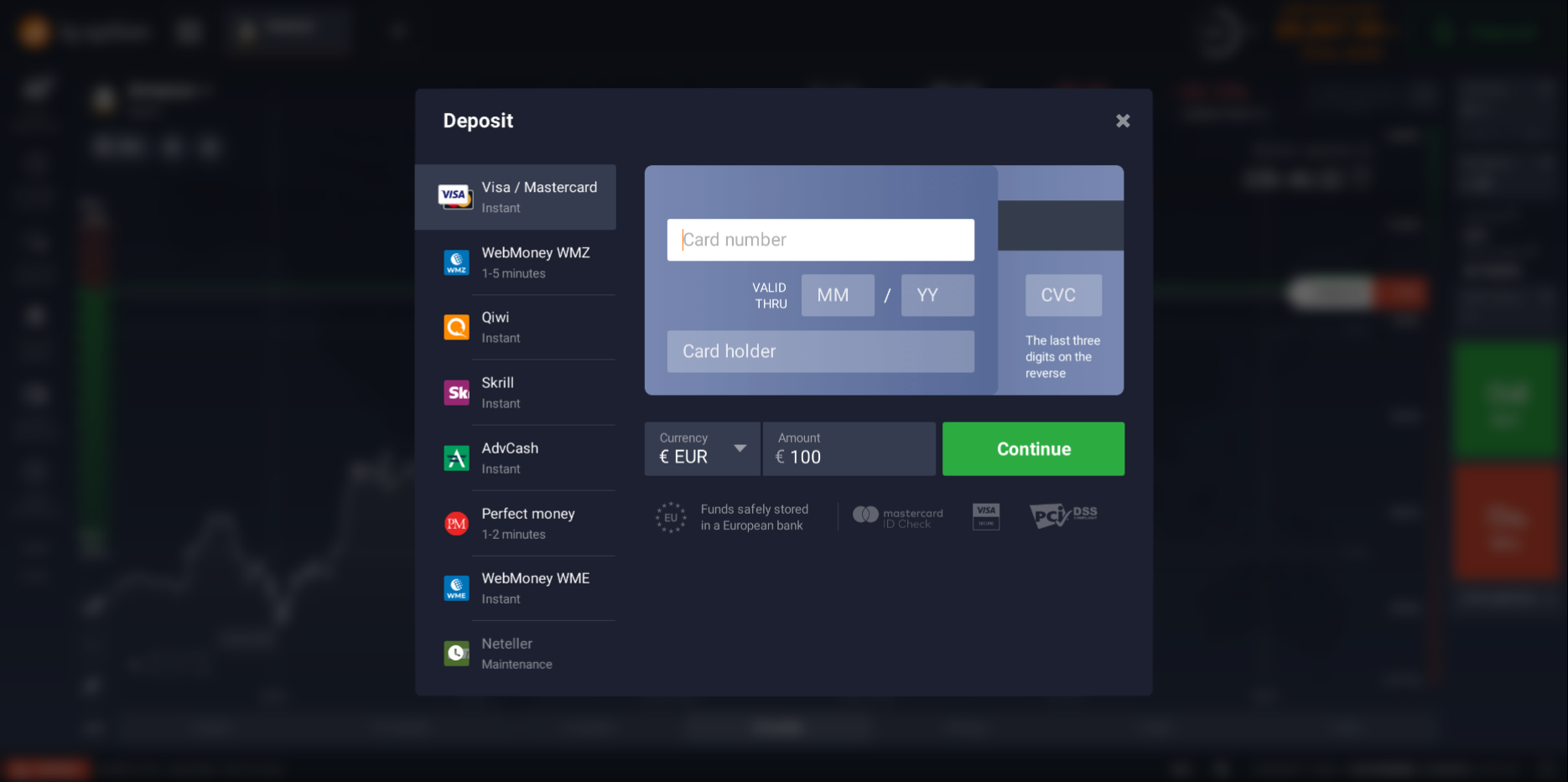 Investments in General Motors shares: forecasts
Investing is a risky thing. Unfortunately, no one will give you a 100% guarantee that your investment will bring you a profit. Therefore, the investor's job is to constantly study the market, monitor the company's behavior in the stock market and its development trends, the ability to analyze certain processes and understand what exactly affects the share price of the company you have chosen to invest.
As for the global engineering giant General Motors, the dynamics of the company's shares shows that one of the key factors influencing their value is the demand for the company's main car brands. It is assumed that when GM cars are equal in price, quality and other characteristics with Japanese and European competitors, the company's revenue may increase. This, in turn, could have a positive effect on the number of people willing to buy General Motors shares. The purchase of General Motors shares is advisable when the news is favorable for the company and the conclusion of profitable agreements that help expand the geography and sales.
Despite periods of significant downturns and record stock prices due to the 2008 financial crisis, which caused General Motors shares to fall sharply and the company to suffer huge losses, General Motors has gone through a difficult process of government reorganization and has been able to recover its resources and securities.
General Motors Co. stock quotes rose 1.6% after information that the company plans to build a second plant for the production of batteries for electric vehicles in the United States in cooperation with South Korean LG Chem Ltd.
The automaker continues to expand investment in electric vehicles. General Motors will spend $ 27 billion on electric cars and drones by 2025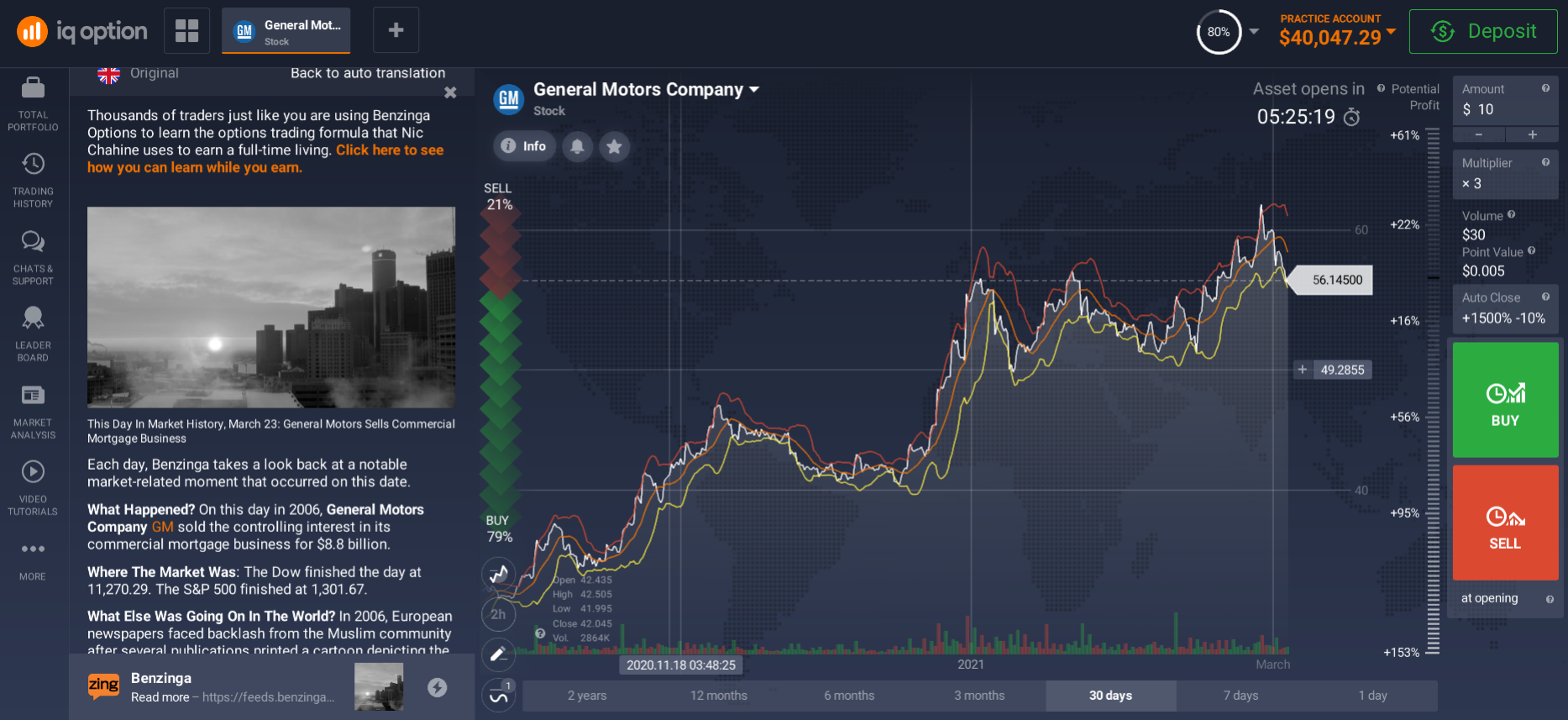 In addition, the American automaker has set a goal to completely abandon the sale of cars with gasoline and diesel engines by 2035. The company has also announced its intention to achieve carbon neutrality in all its operations by 2040, 10 years ahead of rival Ford Motor Co. General Motors intends to use 100% renewable energy to power its vehicles by 2030 in the United States and by 2035 worldwide.
Thus, the company demonstrates a course for successful activities, which leads to the conclusion that investing in shares of General Motors in Malaysia is a great choice. May your stock market operations be successful and profitable!
SIMPLE AND RELIABLE
MONEY WITHDRAWAL