Best stock trading platform in Malaysia
Innovations and modern Internet developments are constantly changing the world. If a few decades ago simple communication on the Internet was an unusual novelty, now we study online, work online, order flowers, food, taxis, etc. online, book hotels and do business through the World Wide Web.
Innovations and topics of investment were touched upon. The modern model of investing is the absence of the need to visit the stock exchange, the offices of the companies in which we will invest and endless meetings with the broker, each of which takes a lot of time and makes you adjust to someone else's work schedule.
Instead, the modern investment model is a super convenient online investment platform, which is provided to you by a broker. A broker you also chose online. This is the completeness and availability of information about the company you are considering for investment, stock price, price fluctuation charts and so on - now there is no need to make any official requests to obtain such information, you will have access to it at any time, 24 / 7. It is also an opportunity to analyze in terms of firms for any period, the ability to compare and analyze, as well as a bunch of new financial opportunities and markets that were previously unavailable to you - for example, the cryptocurrency market.
What is an online investment platform? This is a completely digital product, software that gives you full access to the stock market online, as well as with which you can make investment transactions.
Trading is extremely popular now all over the world, so competing brokerage firms that provide their intermediary services online are practically competing with each other for the services and convenience of their trading platforms.
Market experts highlight a few key points to keep in mind when choosing an online stock trading platform. These include, in particular:
Easy and simple registration;
Availability of a demo account for test operations;
Availability of training facilities;
Availability of comprehensive information on the state of the stock market in terms of investment markets and companies whose shares are displayed on the platform;
Availability of indicators for the possibility of technical analysis;
The availability of features that promote successful investment, such as the ability to use leverage (multiplier function), or stop loss function, with which you can limit possible costs, etc .;
Ability to choose for the analysis of a certain period, including archival;
Relevance of information and access to data 24/7;
Availability of a mobile version for ease of use to access data;
The amount of commission for services rendered;
The minimum amount of account replenishment;
Minimum withdrawal amount;
Availability of round-the-clock feedback (user support chat).
We have chosen a platform that meets all these points and consider it the best stock trading platform in Malaysia.
Below we will look in more detail at some of the points on how this works.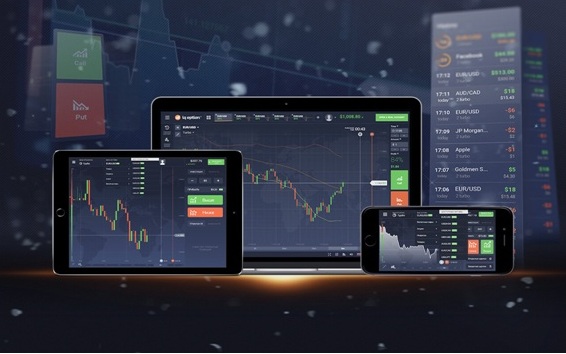 Easy registration
Despite the full functionality and a wide range of trading tools, registration on the platform is extremely simple and does not require special skills. Of course, you have more than once registered on certain sites - or on social networking sites, or on educational or information sites, or it was the sites of stores and so on. Registering on an online trading platform is not much different from registering on any other site. You simply go to the main page of the platform, press the "register" option and enter the minimum data requested by the system. This is usually a username and email. After entering this data and checking the box "I agree to the terms of privacy", click "Next". The system will send you a request to confirm registration to the mail you specified above. Confirm your registration by following the link provided in the email you received. That's all. Your account is ready to use.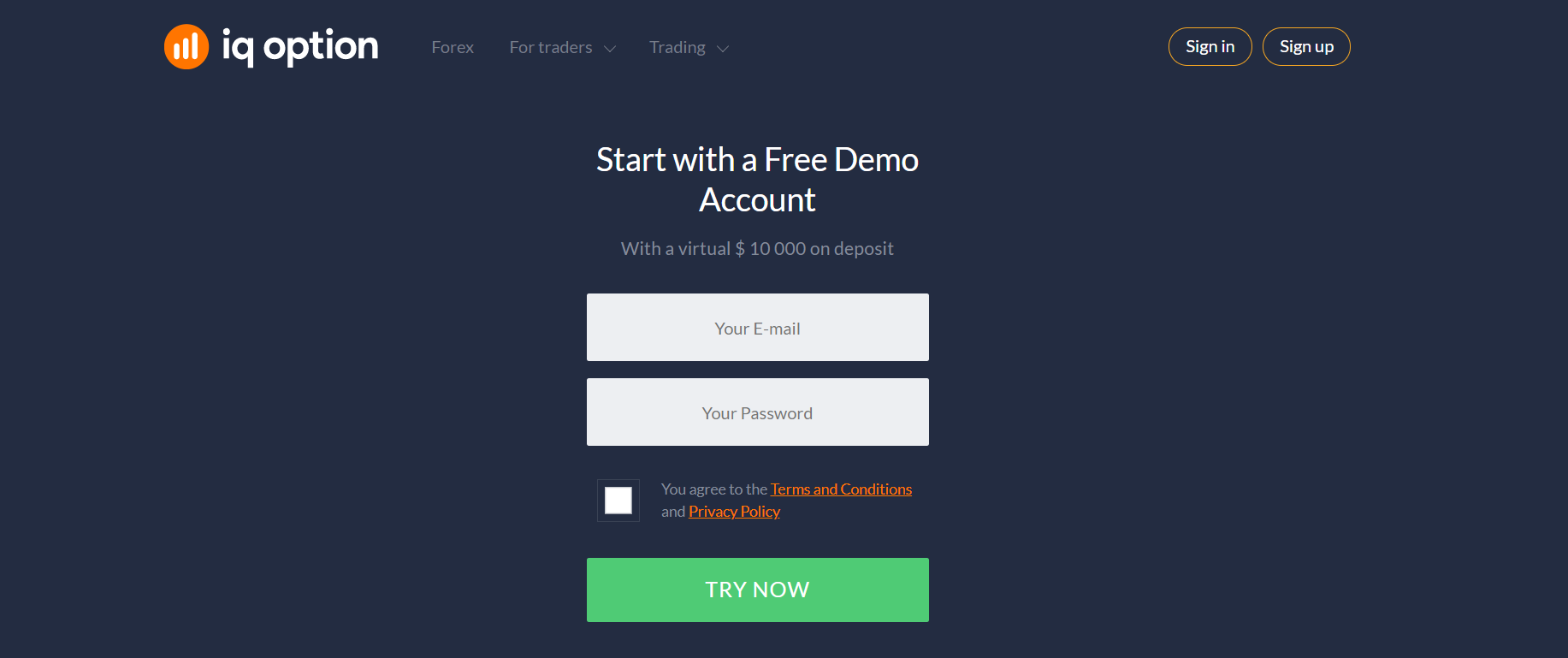 Availability of a demo account
Once you register on the online platform, the system will offer you to open an account, demo or real account.
What is a demo account? A demo account is a test training copy of a real account, a trial account to which the system automatically credits fictitious funds. The amount of such fictitious funds is $ 10,000 and you can use this amount to carry out any transactions on the platform.
Demo accounts are used for training and to test their skills. If you are a beginner and have not traded before, it will be especially useful and even necessary to try to use a demo account to train and learn. If you are an experienced investor and this is not your first time working with the stock market, but you are using this platform for the first time - it will also be good to start with a demo account to get acquainted with the platform's new interface and get used to certain operations on this platform.
You can use such an account for as long as you like, in addition, you will be able to restore the amount of fictitious funds on the demo account as many times as you need. The demo account is completely free.
Having a training account on the platform is a significant advantage, because the importance of a demo account is difficult to overestimate, because you practice your skills, learn, but do not risk your money.
Of course, these funds are fictitious, so you will not be able to withdraw them.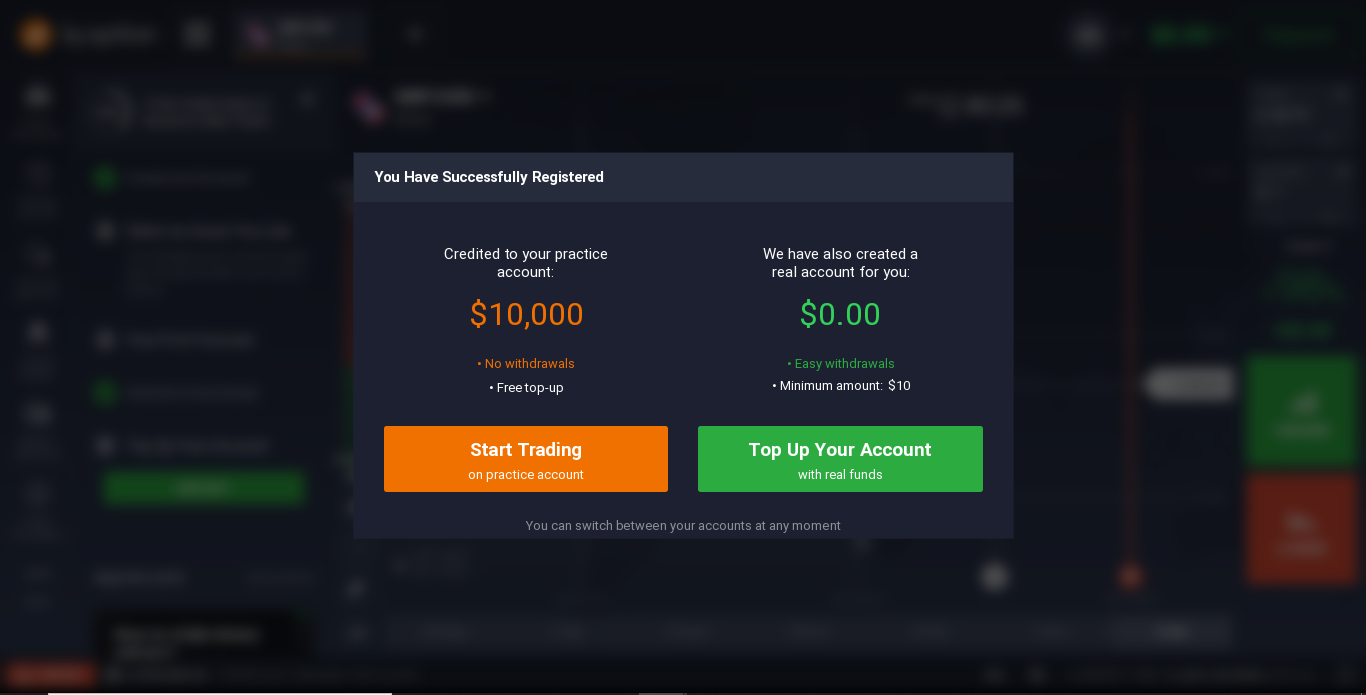 When you feel that you are ready for real transactions and real risk, you will need to use a real account. A real account is real money, so this account is activated by replenishing it to an amount not less than the minimum. The minimum amount of account replenishment is only $ 10. This is another advantage of the platform - a low minimum amount. That is, even a person with minimal start-up capital will be able to try themselves in trade.
The account is replenished online, just click the "top up deposit" option and the system will automatically redirect you to the top-up section, where you will see a list of available funds transfer options. The most popular method is to top up with a bank payment card, but you can also use popular online payment systems. Funds are almost always credited instantly, in some cases crediting can take up to five banking days.
The advantage is also the minimum withdrawal amount - the system allows you to withdraw from $ 2. Withdrawals are similar to replenishment.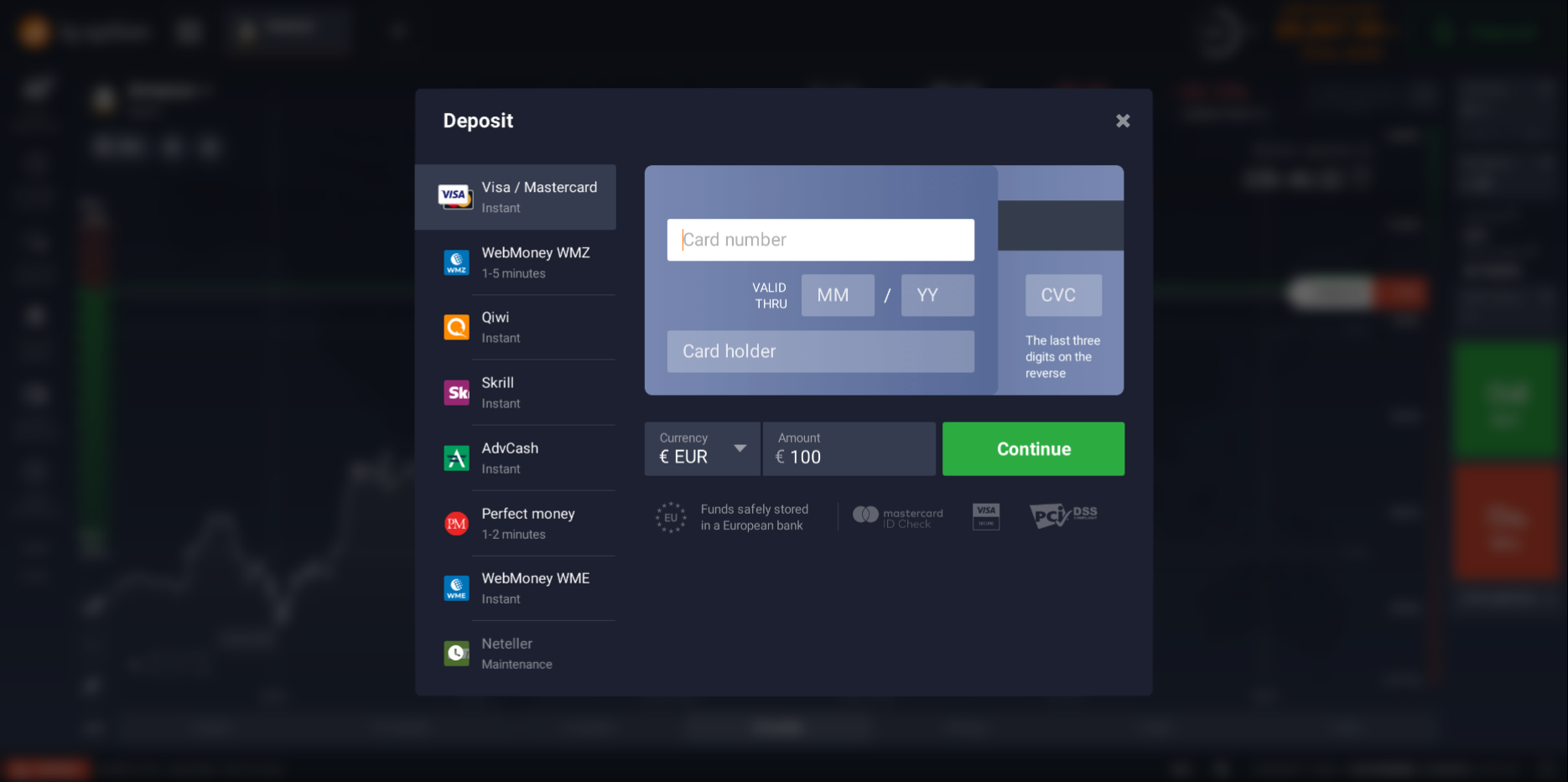 Informativeness
Previously, to get up-to-date information on the stock market and news about the companies you plan to invest in, you had to constantly follow the news or visit the stock exchange, make certain requests to companies to provide access to information and study a bunch of documents. Now, thanks to a modern online platform, you have access to any data you are interested in, 24/7 and without visiting the exchange or the company's office.
In addition to the general mandatory information about the asset price, trading schedule, trading conditions, etc., the platform has a "news" tab, where you will see links to the latest news about the stock market and companies that are market participants. The platform provides links only to verified information sources, so these articles are worth your attention.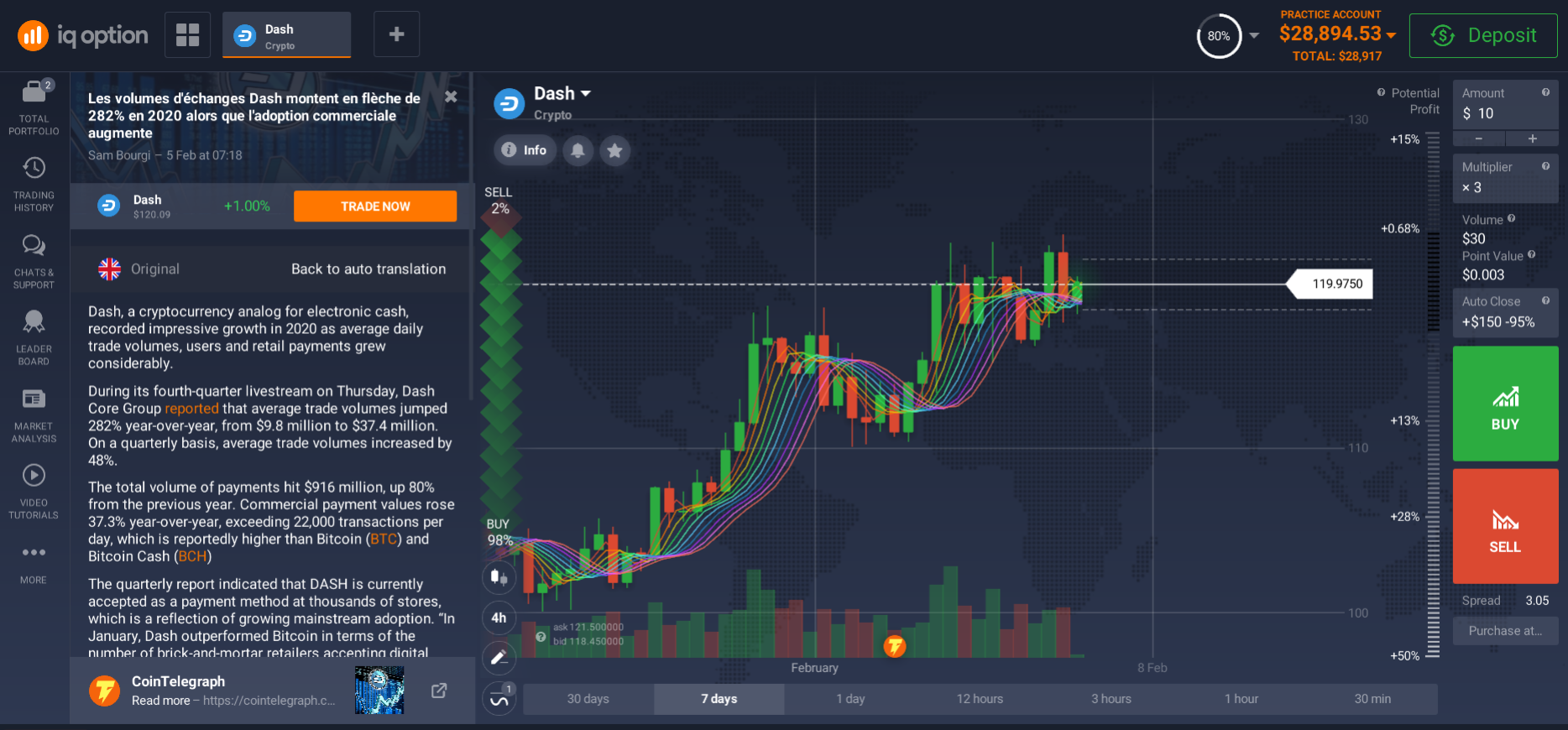 If we talk about informativeness, it is also worth mentioning such an important section as learning. The platform contains a number of video tutorials, which tell in detail and show how the system works. Here you will find lessons on the use of complex indicators and functions, as well as basic lessons for beginners.
Another "feature" of the platform is online chat, in which you can communicate with other market participants - communication takes place in real time, when communicating you have the opportunity to either write openly or use a pseudonym - automatic nickname, which the system generates itself when clicking the appropriate option.
Of course, it is very important to have online support - in our case it is around the clock and in 17 languages. So, you can contact the support service at any time, choosing the language of communication convenient for you, and get the necessary advice immediately.
Simplicity and functionality
The platform has an extremely simple user interface, so you will immediately know how to use this software. On the left side of the panel is all the information - your portfolio, bidding history, online chat, news, video tutorials, etc. - the relevant sections have the same name, so it will be easy for you to find them.
The right panel contains the main trading functions - "buy" and "sell", account replenishment, as well as the function of "multiplier" to connect the leverage and the stop loss function to automatically close the trade.
The top panel - the choice of investment direction. Having a drop-down list will help you choose the type of financial market, as well as a specific company, currency or commodity stock.
The bottom panel is used for analysis. This is where we see the choice of period for analysis - we have the opportunity to choose from a few minutes to several years, which is especially valuable. Here we see a tab with indicators for technical analysis. The ability to use indicators will help you perform a proper technical analysis, calculating the possible profits or losses from a transaction. The use of indicators on the platform is very convenient, because when you select a particular indicator, the curve of this indicator is superimposed on the graph of fluctuations in the price of the asset and you will be able to clearly see the trend.
Thus, we see that ease of use does not affect the functionality of the system. The system is convenient, functional and informative.
The above advantages of the platform do not end there. The online investment platform is also available in a mobile version, so you will have access to all your non-stop transactions wherever you are. This is extremely convenient - in fact, you seem to have your own "exchange in your pocket."
Take advantage of the best trading platform for stock trading in Malaysia, experience all the benefits of online investing and let your operations be successful!
SIMPLE AND RELIABLE
MONEY WITHDRAWAL