What is OKEx?
OKEx crypto derivatives trading platform formed from OKCoin, which is focused on advanced traders. Compared to it, OKEx is much simpler and more straightforward, focused on cryptocurrency trading.
On CoinMarketCap, OKEx is ranked 3rd in terms of trading volume, with a daily turnover of nearly $ 6 billion.
In early 2018, OKEx released its own native OKB token following Binance and Huobi Pro. The token can be used to save on trading fees or to pay for exclusive services, including extended customer support and changing API rate limits.
For the user's safety, OKEx offers: two-factor authentication for entry, financial actions and changing security settings, verification codes via SMS, an additional password for trading operations, notification and confirmation of actions via email.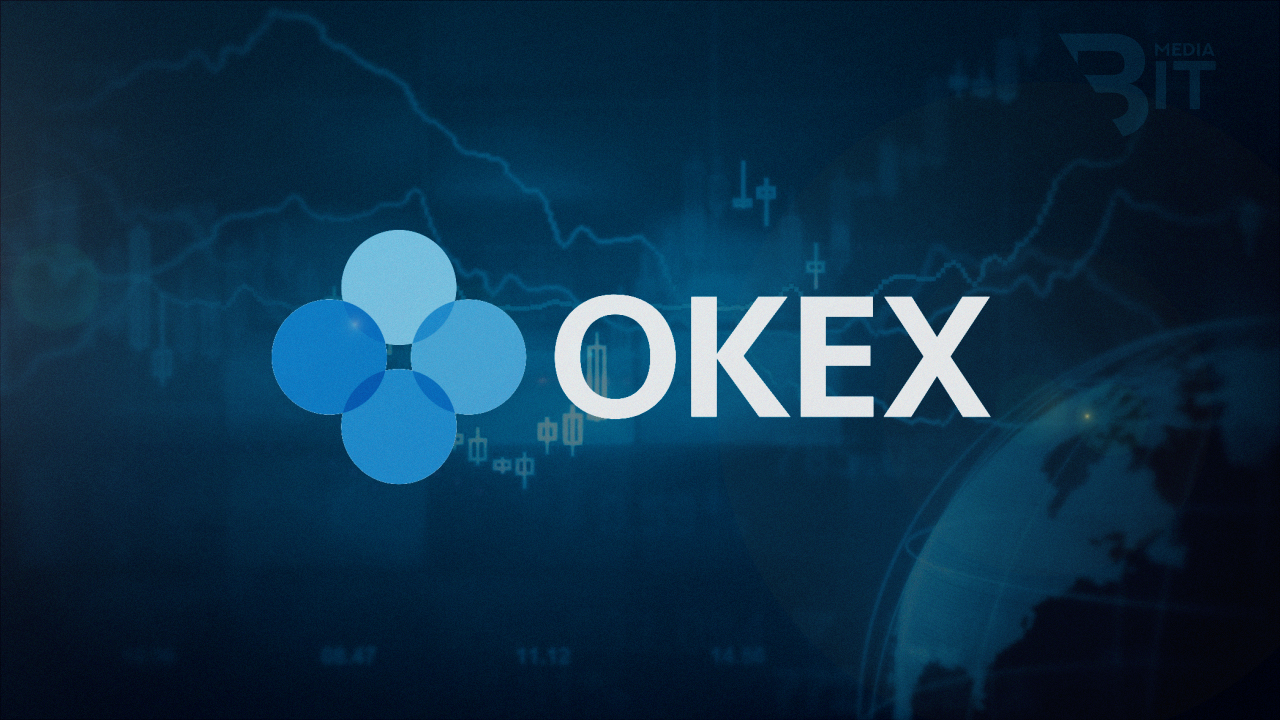 What are crypto derivatives?
Derivative financial instruments (derivatives) based on cryptocurrencies are now in demand more than ever, and their development is only accelerating.
A derivative is a tool that allows investors to trade an asset indirectly - that is, not the asset itself, but any kind of obligations to transfer it or units of value created on its basis.
Derivatives are "derived" units of value. Derivatives get their name because they are instruments derived from the base (spot) value of the price of a product, index, or cryptocurrency.
In theory, the spot prices of a physical commodity underlie and provide the foundation for pricing in the futures market. Thus, major cryptocurrency exchanges that trade in real time will be fundamental for cryptocurrency derivatives.
There are many platforms on the cryptocurrency market right now that allow you to trade derivatives. OKEx crypto derivatives trading platform. There are other platforms where you can trade derivatives.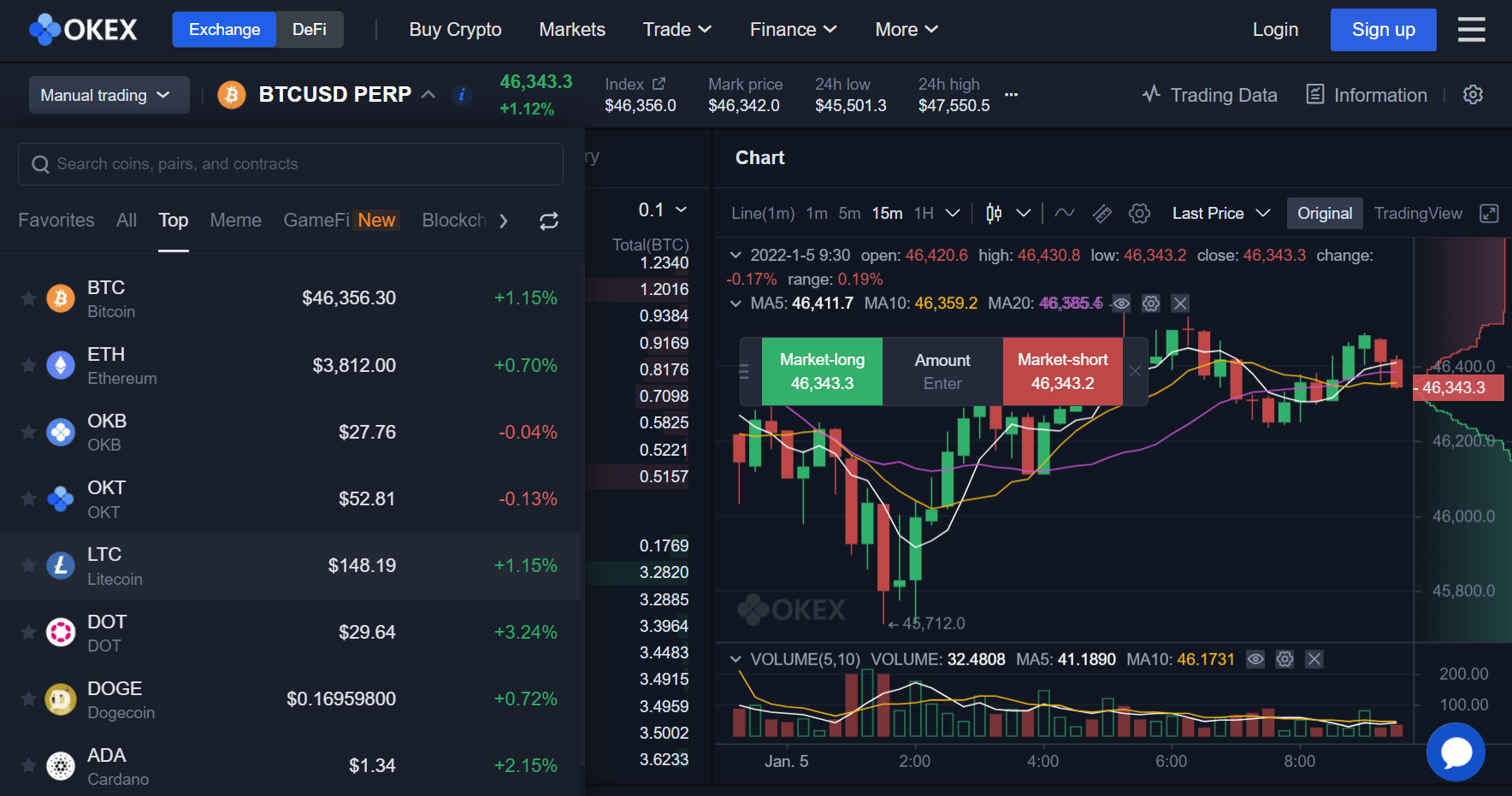 What is crypto derivatives exchange?
Crypto derivatives exchange is an exchange where, in addition to the spot market, there are derivatives.
Now all top 10 cryptocurrency exchanges offer derivatives trading. These are: Binance, OKEx, Bybit, FTX, Bitmex, Currency, Deribit and others.
How does cryptocurrency derivatives trading work?
Traders' earnings are carried out depending on the price fluctuations of the cryptocurrency of interest. All traders are partly at risk, because no one can know for sure what the value of the currency will be in the future. If the asset has become more expensive, that the buyer wins, if it gets cheaper, then the seller earns.
To increase the level of his earnings, a trader can use leverage which multiplies the potential profit. The available leverage depends on the selected trading platform. Also, you will need to pay a commission for the loan funds.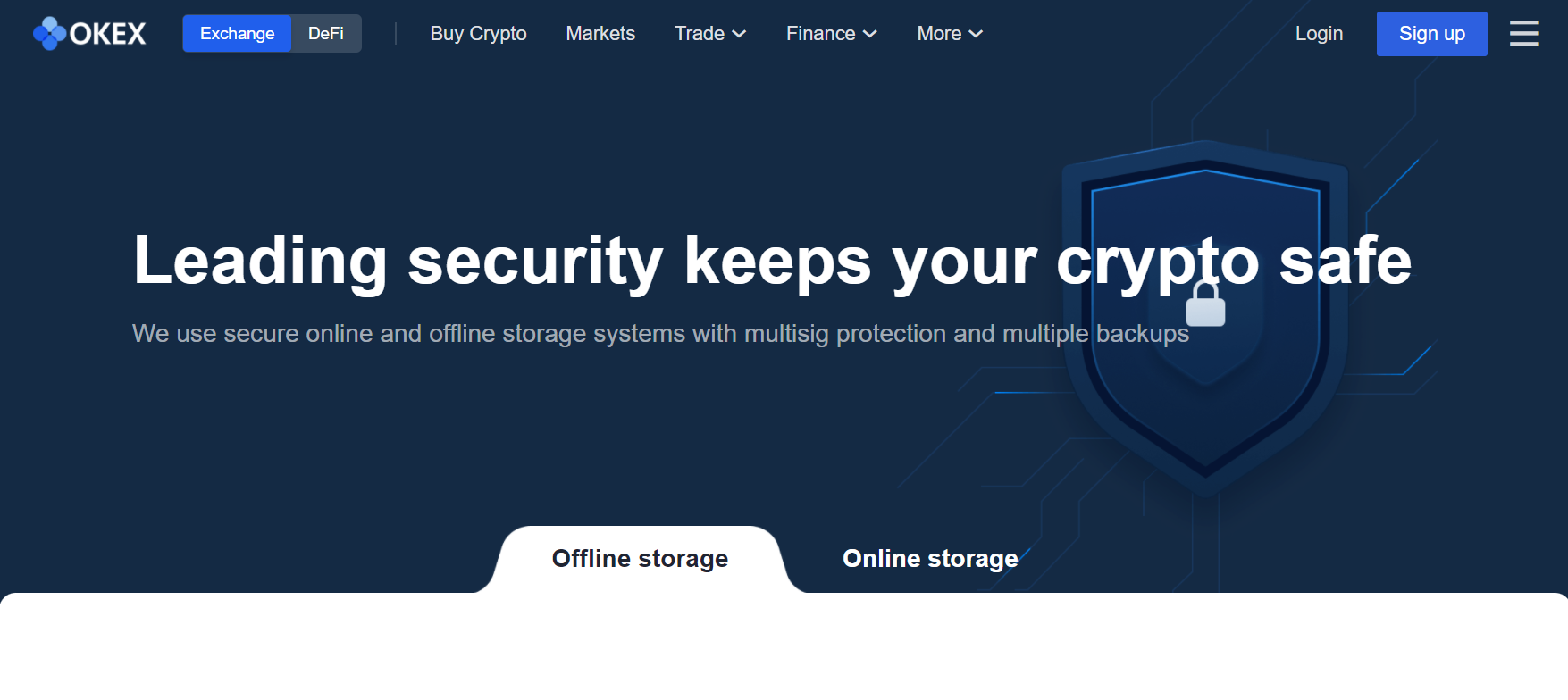 How to trade OKEx derivatives in Malaysia?
How to start trading OKEx Crypto Derivatives in Malaysia? In fact, everything is very simple.
The exchange offers different types of derivatives and even was in the lead in terms of their total volume. The majority of transactions belong to Bitcoin futures. Their peculiarity on OKEx is that they are calculated only in BTC, and the value of the contract is expressed in dollars. There is also a special proof-of-manipulation system.
Before starting to trade derivatives on OKEx, a warning appears that these are high-risk assets, so the user should be aware of this and access to these instruments will be open only after activating this function. After that, you can start OKEx crypto derivatives trading.
Why trade on OKEx cryptocurrency derivatives in Malaysia? Because this platform is among the top 5 leading exchanges in terms of turnover. This suggests that this platform is preferred by many traders around the world. Therefore, if you have made the decision to trade on OKEx crypto derivatives in Malaysia, you have certainly made the right decision.
If for some reason the OKEx cryptocurrency derivatives trading platform does not meet your requirements, then you can take a closer look at alternatives. We will consider the main competitors of the OKEx platform below.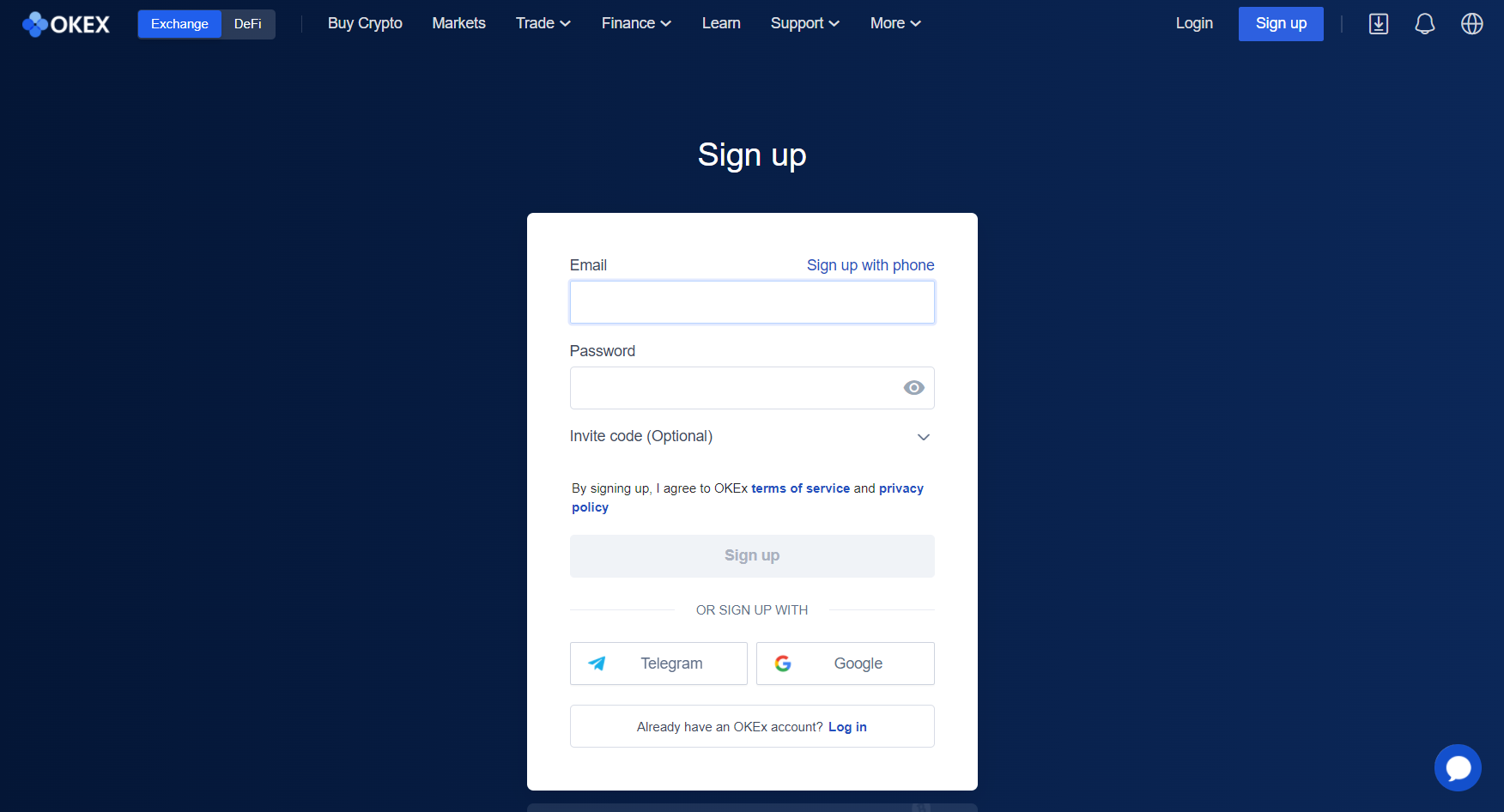 How to register?
If you would like to trade on OKEx derivatives in Malaysia, you must register on this exchange. There are currently three ways to register:
Via mobile app.
Via Telegram.
Through the desktop version.
Detailed instructions for registering each of these methods are presented on the website of the exchange itself.
How to open a demo account?
If you do not have experience with OKEx derivatives trading yet, you can open a demo account. Not all exchanges offer this feature, but OKEx does.
This is very useful for newbies who are not familiar with the OKEx derivatives trading platform. Experienced traders who want to test their new trading strategy on the OKEx derivatives trading platform can also use the demo account.
It is noteworthy that you do not need to specifically open a demo account with OKEx. It is already available to every user of the OKEx platform. This is a complete trading account. So that you can test any hypothesis, there is $150 thousand available on a demo account. If you lose all the funds on your account, you can update them and continue testing.
How to open a real account?
Both demo and live accounts on the OKEx derivatives trading platform will open automatically immediately upon registration. We have already discussed the registration methods in detail above.
OKEx cryptocurrency derivatives trading platform is easy to use and well thought out. I did everything for the convenience of users.
How to replenish a deposit?
Detailed instructions on how to quickly make a deposit to OKEx through a web browser, as well as using a mobile application, are presented on the project website.
To fund an account on OKEx crypto derivatives trading platform, you need to follow several steps:
Once logged into your account, go to the "Assets" section in the upper right corner, click "Deposit" to go to the deposit section.
Select the currency to be credited, as well as your deposit network (available top-ups). Click Continue.
After choosing the currency, you can select the account for crediting the deposit. Available options: Funding Account, Trading Account.
You can also top up your account using a mobile application.
Minimum deposit amount
The minimum possible deposit depends on the cryptocurrency with which you fund your account. For example, for bitcoin it is only 0.00005 BTC.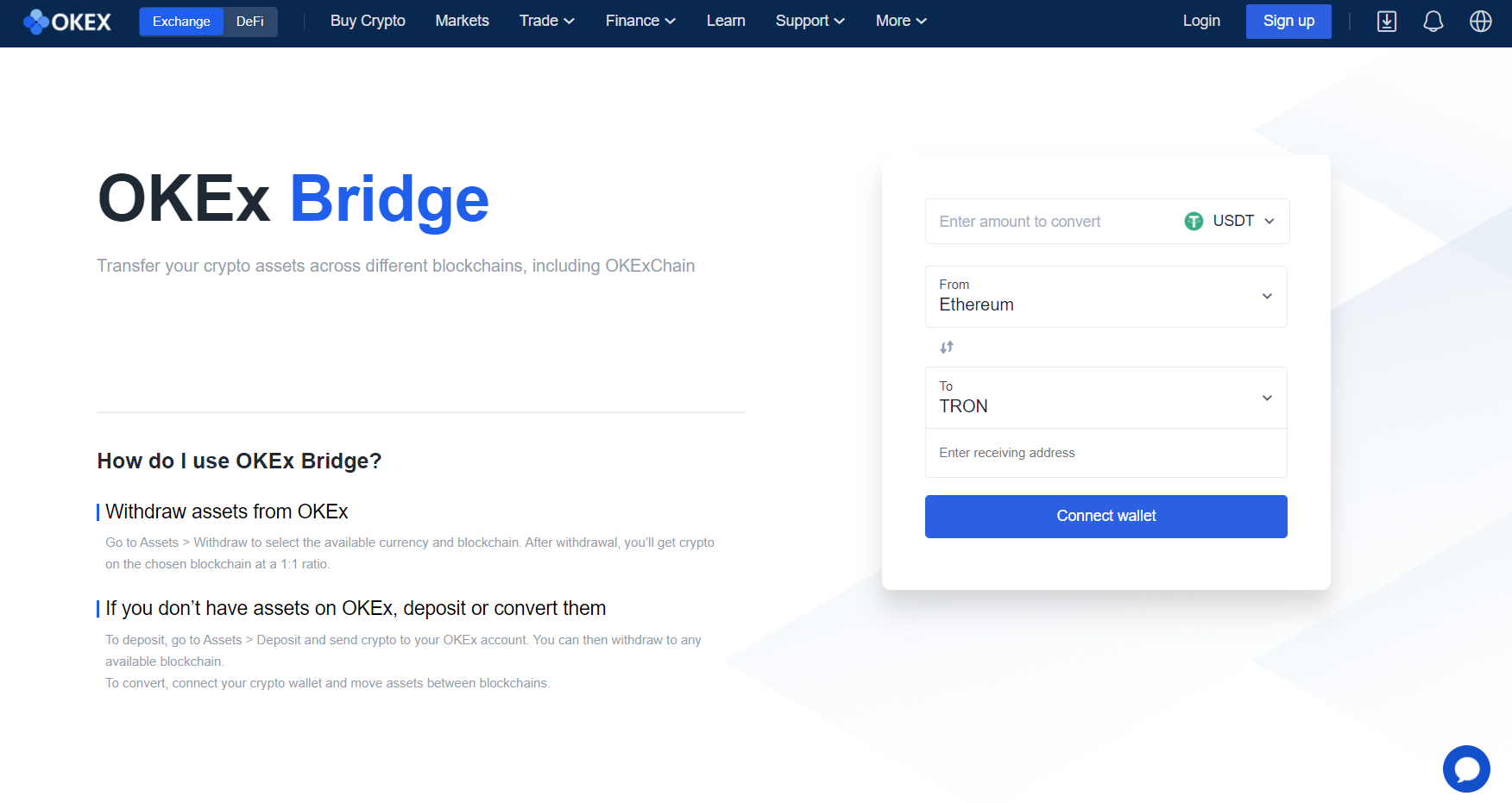 How to withdraw money?
To withdraw funds through the site, first log in and hover your mouse over the "Assets" button in the upper right corner of the home page. Then click "Withdraw".
In the Withdrawal section, select the cryptocurrency you want to withdraw from the drop-down list. Then select the output method and output network. Click "Continue" to continue.
In the "Address" field, enter the address of the wallet to which you want to receive the withdrawal. You can also name the address to speed up the process the next time you want to withdraw money. In the "Amount" field, enter the amount of the cryptocurrency you want to withdraw.
In most cases, you can leave the default network charges, which are automatically added to the Network charges field. However, if withdrawal is particularly important, you can increase the fees to incentivize network validators to include a transaction in a block faster. This is especially useful if the network in question is experiencing a large volume of transactions during withdrawals.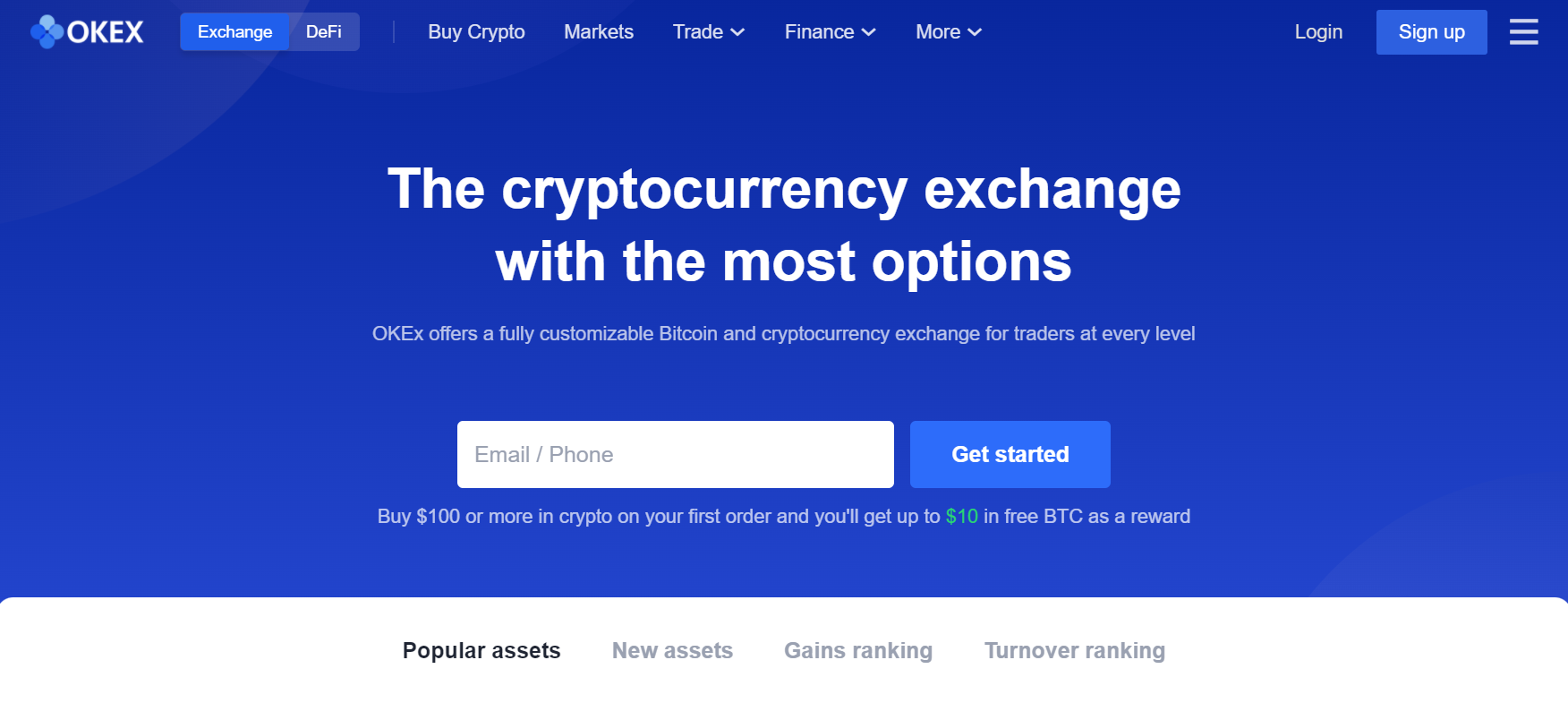 OKEx derivatives list
A complete list of available derivatives is available on the project website. It also shows the size of commissions by instrument: spot, futures, perpetual swaps, options.
How does OKEx crypto derivatives trading work?
It is very easy to start trading with OKEx derivatives in Malaysia. It should be noted right away that all assets are divided into two large groups:
assets based on cryptocurrency.
stablecoin-based assets.

To start trading derivative instruments, you need to go to the "Trades" section. Next, you need to select the subsection "Margin trading". Then everything is simple and standard. You choose the type of derivatives and the currency pair.
Alternatives to OKEx cryptocurrency derivatives
OKEx derivatives trading platform is not the only platform where you can trade derivatives. The platform has many competitors. OKEx's main competitors in the market are Binance and Huobi.
Now OKEx cryptocurrency derivatives trading platform is deservedly included in the top 5 exchanges in terms of trade turnover. The platform competes on equal terms with the world's leading exchanges. OKEx cryptocurrency derivatives trading is always a convenient service and good trading conditions.
OKEx cryptocurrency derivatives FAQ:
Can you trade derivatives on OKEx?
OKEx cryptocurrency derivatives trading is available immediately after registration and account funding
Does OKEx have crypto derivatives?
Yes, a detailed list is available on the OKEx website.
What are derivatives on OKEx?
There is a wide variety of derivatives available on OKEx. A detailed list is presented on the exchange website.
What is crypto futures?
A futures contract is a contract that guarantees that a buyer buys an asset at a specified time, in a specified amount, at a predetermined price.
Can you trade Bitcoin futures?
Yes, you can trade Bitcoin futures on OKEx.
What are perpetual swaps?
OKEx Perpetual Swaps have no expiry date.
What are crypto options?
Cryptocurrency options are a type of derivative contract that gives the buyer the right to buy or sell an asset at a specified price on a specified date.
SIMPLE AND RELIABLE
MONEY WITHDRAWAL