What is KuCoin?
KuCoin crypto trading platform was officially launched in September 2017.
The project team aims to create a trading platform that features a user-centric approach. For example, the exchange offers a profitable bonus program, as well as round-the-clock and operational support.
Often adds coins before they appear on competing platforms. On the site you will find a list of cryptocurrencies that are preparing to be included in the listing in the near future.
KuCoin Shares (KCS) tokens allow you to trade on more favorable terms. A similar system is used on the Binance exchange. KCS tokens are a decentralized cryptocurrency issued on the Ethereum blockchain (ERC20 tokens).
KCS tokens can be bought directly on the KuCoin exchange. KCS holders enjoy a number of benefits such as commission income, reduced trading fees and access to other special services.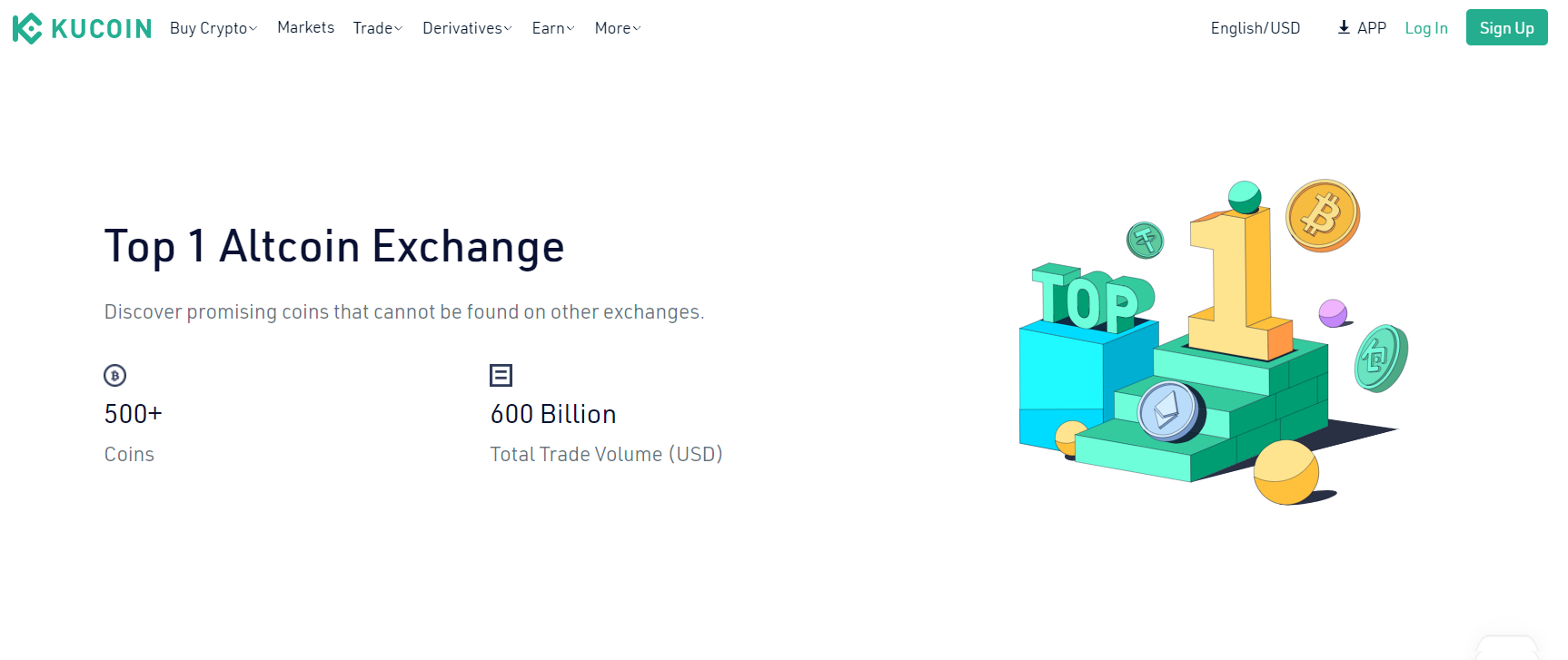 The KuCoin wallet includes multiple layers of encryption, offline storage, an escrow service, and undergoes regular bank checks.
Also, the KuCoin exchange positions itself as a platform with a very fast withdrawal of funds. According to the company, cryptocurrency assets are credited to customer accounts within 2 minutes, and withdrawals are made within 10 minutes.
KuCoin uses a bank-grade "advanced multi-layer and multi-cluster architecture" based on three data centers capable of performing multiple tasks simultaneously.
The KuCoin trading engine is capable of processing up to two million orders per second and up to one million other requests. This makes KuCoin derivatives trading platform popular among traders.
What are crypto derivatives?
Crypto derivatives are derivative financial instruments based on cryptocurrencies. Simply put, it is a contract that is tied to the rate of one digital asset or a basket of coins.
For example, a derivative based on bitcoin (BTC) = a derivative financial instrument, linked to the movement of the price of the coin.
With the help of crypto derivatives, you can invest in crypto-currency, bypassing its direct purchase. Such an offer is especially relevant for institutional and private traders.
The fact is that large investors are interested in the legality of operations. On the crypto derivatives market, you can conduct transactions for large amounts without fear of breaking the law, since a financial instrument does not imply direct interaction with digital assets.
Private traders are interested in derivatives in terms of short-term speculation in the market.
You can also trade on KuCoin derivatives in Malaysia, but there are other platforms where such tools are available.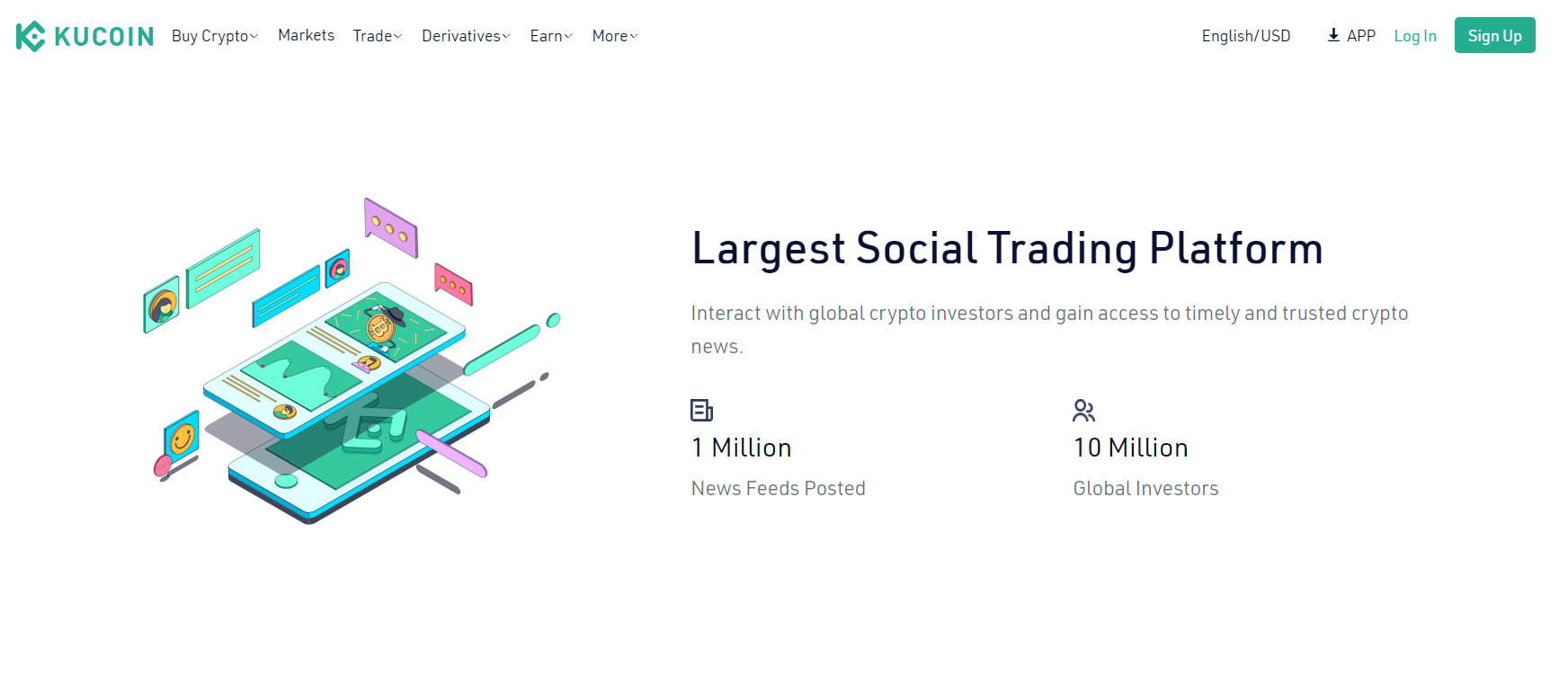 What is crypto derivatives exchange?
This is an exchange that provides the opportunity to trade derivatives. Now there are a lot of such sites. Kucoin is one of them. It offers KuCoin derivatives trading.
How does cryptocurrency derivatives trading work?
The main distinguishing feature of derivatives trading from the spot market is that you can open both short and long positions. Those. depending on the situation and signals, you can buy or sell an asset. You can't do that in the spot market. You cannot sell what you don't have.
How to trade KuCoin derivatives in Malaysia?
To start trading on KuCoin derivatives in Malaysia, you need to register on the trading platform. We will discuss the registration process in detail below.
Immediately after registration, you will be able to fund your account on KuCoin derivatives trading.
As you can see, nothing complicated.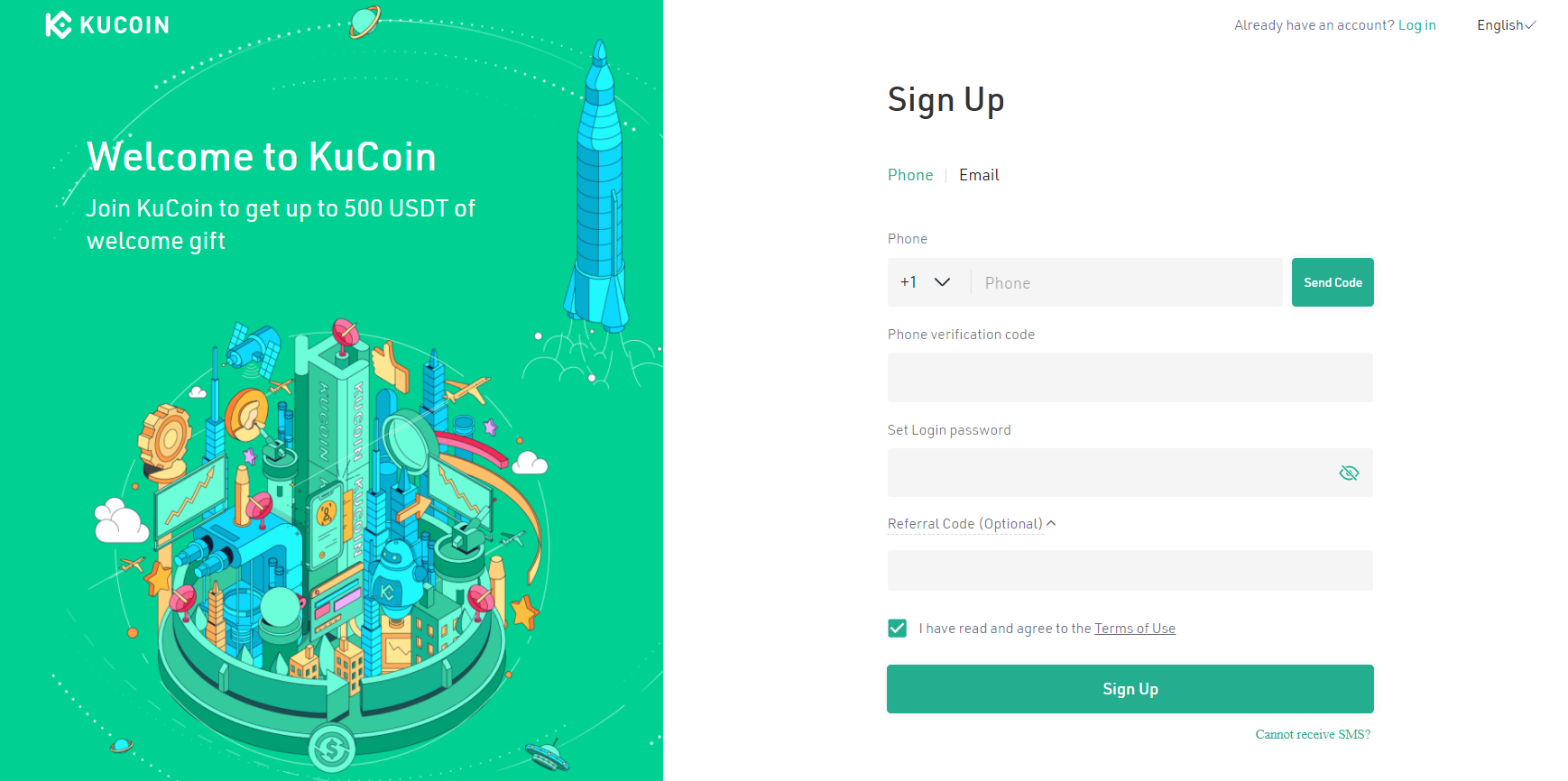 How to register?
The registration process on the KuCoin derivatives trading platform is very simple and fast, just like on many other sites.
Registration requires:
Provide a phone number or email address.
Click "Submit Code".
Enter the verification code sent to your phone or email.
Create a login password.
Enter your referral code (if any).
Immediately after that, you can deposit money. In order to use KuCoin derivatives trading, you will need to set up a trading password.
To set a trading password, hover over the round "My Account" button and go to the "Account Security" tab. Next, find the "Trading Password" tab and click "Setup".
We pass a security check using a code sent to your phone or email. Next, we come up with a 6-digit code, remember and confirm it. This password will be used for trading and withdrawals.
This completes the procedure. You can trade on KuCoin derivatives in Malaysia.
How to replenish a deposit?
There are several options to fund your account on the KuCoin derivatives trading platform:
Purchase of tokens via credit or debit card with support for Apple Pay and Google Pay (limited to $1400 without verification per day).
P2P - buying directly from other users.
Quick purchase using third-party services.
Replenishment from another cryptocurrency exchange or wallet.
Withdrawal to other wallets is possible without verification, with a limit of up to 5 BTC per day.
By choosing one of the above methods, you can easily fund your account and start trading on KuCoin cryptocurrency derivatives.
Minimum deposit amount
KuCoin cryptocurrency derivatives trading platform does not have a minimum deposit level. In this case, the minimum withdrawal amount is equal to the network commission.
How to withdraw money?
The outputs are stable. Occasionally, at peak times, there are problems with sending confirmation codes, a message to the phone can take up to 30 minutes.
You cannot buy fiat directly on the exchange and withdraw it. You can sell cryptocurrency on a P2P platform. But few people use it, and therefore it is difficult to make a deal at a normal rate. It is more profitable to sell through third-party services (Binance P2P, Bestchange).
KuCoin derivatives list
KuCoin cryptocurrency derivatives trading platform offers clients a rather impressive list of instruments. However, it is regularly replenished. Therefore, it is best to check the current information on the official website.
How does KuCoin crypto derivatives trading work?
The interface of KuCoin cryptocurrency derivatives trading platform is not particularly different from other exchanges. There is a set of familiar panels and the integration of the chart from TradingView with many professional tools.
The web terminal page can be conditionally divided into the following blocks:
Price markers and main menu.
Trading chart and tools for analysis.
Order book.
History of market transactions.
Panel of orders and personal transactions.
Choice of order type and formation of transactions.
The interface is quite convenient and understandable. You should not run into trouble trading on KuCoin crypto futures in Malaysia.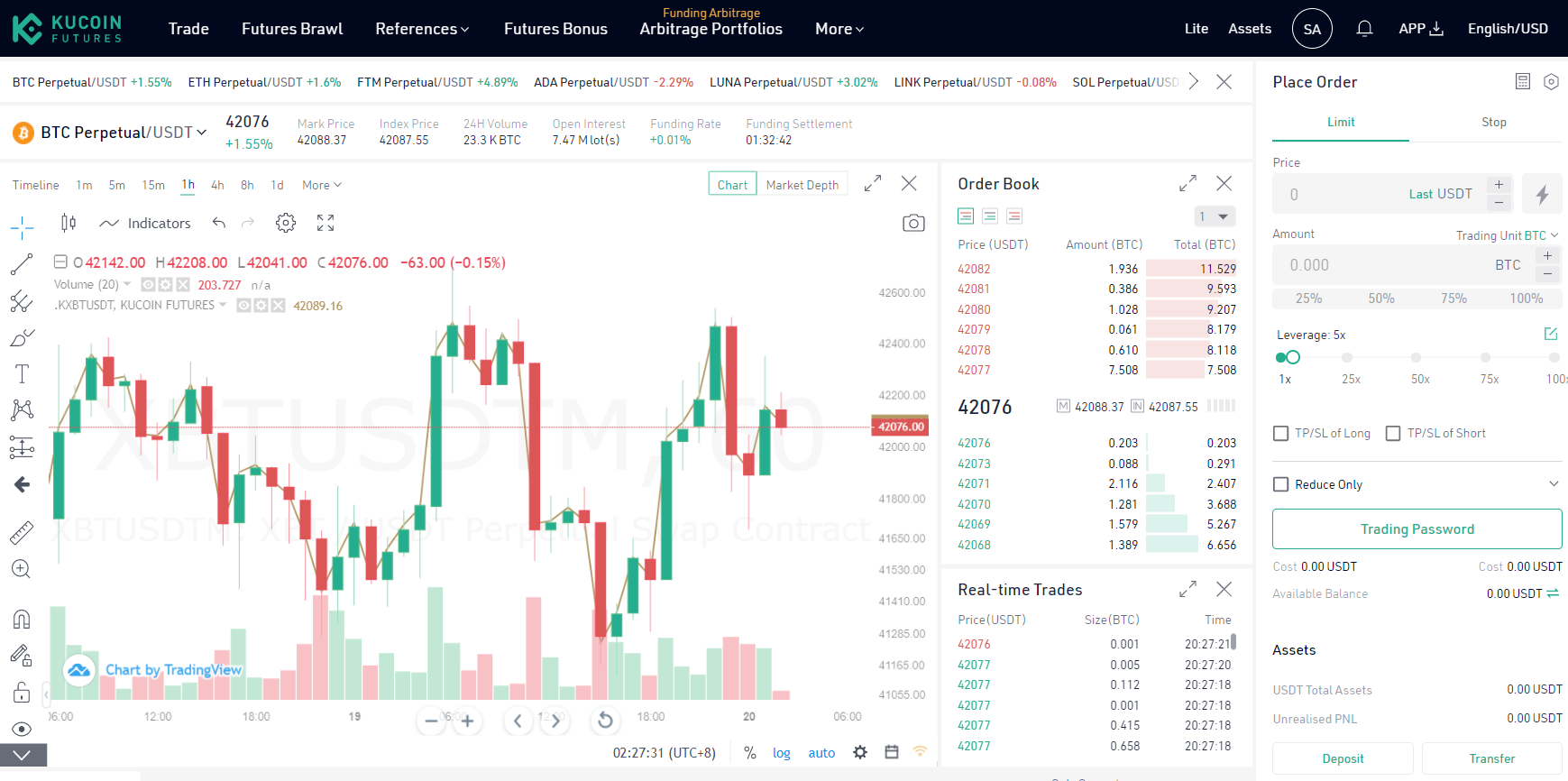 At the same time, for beginners for futures trading, there is a simplified interface, which contains the following blocks:
Trading chart.
Choice of leverage and formation of transactions.
The ratio of open long and short positions in the market.
Rating of all futures traders and personal efficiency.
In general, the interface is suitable for both beginners and experienced traders. There are two themes: white and black. On Android and IOS, you can install a convenient mobile application. This is convenient, because the trading terminal will always be with you wherever you are. You can trade on KuCoin crypto futures in Malaysia, India, Ecuador, Bangladesh or any other country in the world.
For professionals, there is the possibility of trading through API - programming interfaces that add additional features.

KuCoin Security
In September 2020, the exchange was hacked. Hackers stole $275,000,000 from the exchange's hot wallet. Thanks to the insurance fund, all the money was reimbursed to users. Since the incident, the exchange has stepped up security measures and started using cold storage.
For the personal protection of user accounts, there are all the necessary tools: Google verification, trading password, restriction of access from a new IP address, security phrases for logging in and withdrawing funds.
To distribute risks and activities, it is possible to create sub-accounts - additional accounts with a separate wallet. When there is suspicious activity on the account, notifications are sent. We can say that KuCoin crypto futures trading is safe enough, but, of course, no one can guarantee 100% protection.
Nevertheless, it is worth noting the fact that the exchange has a stabilization background and it has compensated for all the losses of traders. Therefore, even despite the incident, we can conclude that the exchange takes care of its customers and shows maximum customer focus.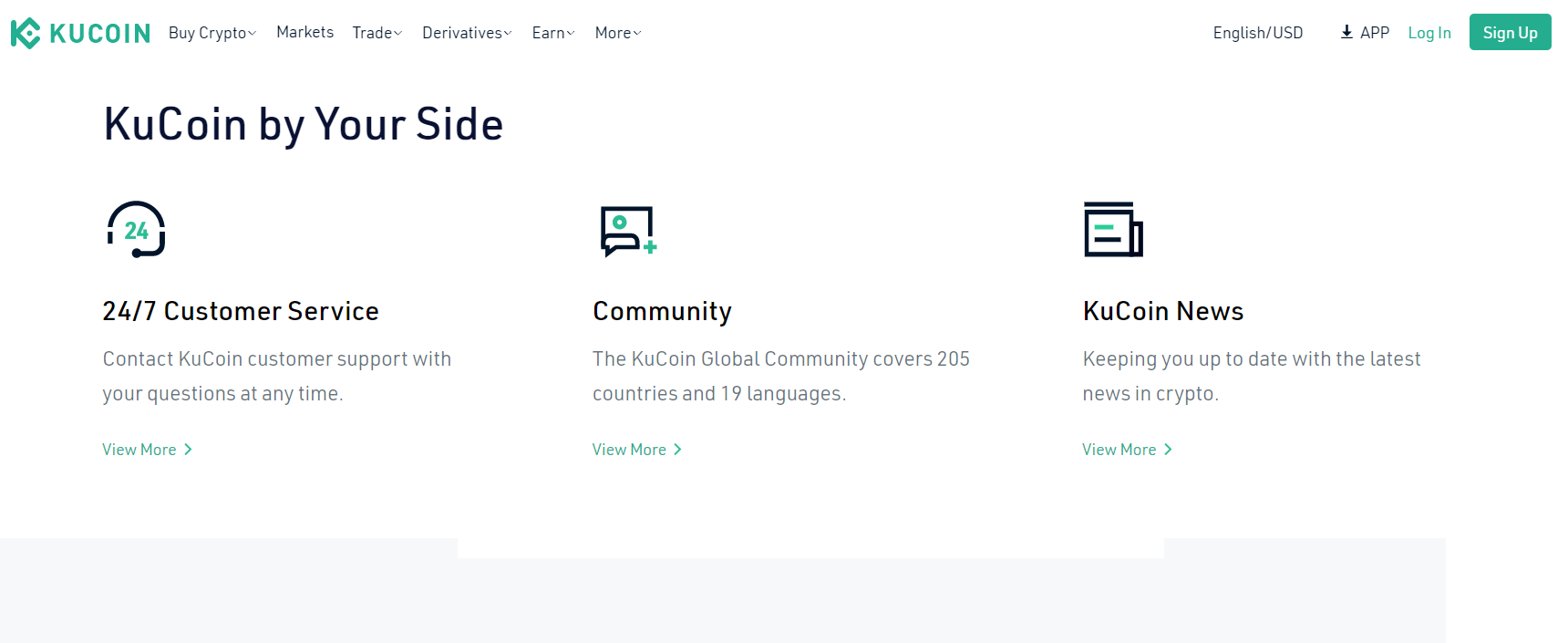 Alternatives to KuCoin cryptocurrency derivatives
KuCoin has certain advantages and disadvantages.
| | |
| --- | --- |
| Advantages: | Flaws: |
| • Reliability, stability and security. | • No fiat currency trading. |
| • A large number of trading pairs and instruments. | • Problems with adapting the interface for some languages. |
| • Verification is not required. | • Unfavorable exchange rates on the P2P site. |
| • Low commissions. | |
| • Convenient mobile application. | |
This is a very difficult question, since there are a huge number of alternative exchanges on the market now. Everyone can choose according to their requirements and preferences. Almost all exchanges now provide derivatives trading, so you will not have problems choosing platforms. It is enough to enter the phrase "top cryptocurrency exchanges" into a Google search and you will find a list of alternative projects.
However, it is worth noting that KuCoin is a good exchange that is deservedly popular among traders. The exchange is especially suitable for beginners, as it has an intuitive interface, many trading pairs, low commissions and stable operation.
There are no minimum deposit restrictions on the exchange. All functions required by new users are available without verification.
Therefore, you can consider this platform as one of the options for trading digital coins.
SIMPLE AND RELIABLE
MONEY WITHDRAWAL