What is Kraken?
Recognizing the importance of Bitcoin from the very beginning and realizing that the exchange is the most important part of the cryptocurrency ecosystem, Jesse Powell founded Kraken to enable people to quickly and safely invest in cryptocurrencies. Since then, the company has grown rapidly with hundreds of employees around the world.
Kraken is a top-notch cryptocurrency investment solution for companies of all sizes, from over-the-counter (OTC) trading to personalized account management.
The company offers exceptional liquidity and competitive prices across all markets so that everyone can quickly and confidently achieve their investment goals. In the years since its launch, many factors have contributed to Kraken being the preferred trading destination for various crypto market participants. Kraken offers multifunctional trading platform for individual cryptocurrency enthusiasts. It has different types of accounts that cover the needs of all kinds of traders and investors. In its 10 years of operation, Kraken has not had a single major hack, as is the case with most crypto exchanges. Kraken derivatives trading platform is also ranked as the highest crypto exchange in terms of cybersecurity and proof of funds score according to CER score. Some of Kraken's top security features include 95% cold and offline storage of all its deposits. Kraken claims that its cold storage wallets are also geographically dispersed to improve security. On the plus side, the exchange is famous for its low fees that rival some of the cheapest exchanges in the industry.
Kraken derivatives trading can also be the first experience for new investors.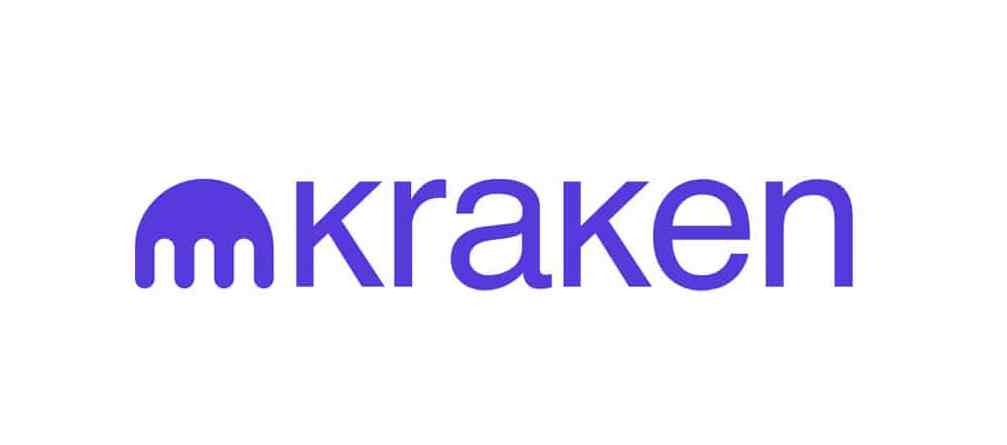 What are derivatives?
The development of the derivatives market has a long history and is becoming increasingly popular today.
Derivative financial instruments are those financial instruments, the value of which depends on the value of underlying assets, called underlying or underlying assets, which have a high level of financial leverage and whose obligations are settled in the future.
At the same time, underlying assets should be understood in a broad sense as subjects of agreements between market participants, including not only real assets, which are objects that can be transferred by the market and be owned by the parties to the transaction, but also imaginary, non-transferable by their nature and cannot be the property of the parties to the transaction, for example: price indices, interest rates, exchange rates, other indicators that characterize certain events and phenomena, as well as the judgments of the parties.
Derivatives have the following features and characteristics:
To buy a derivative, it will be quite a small cost compared to the underlying assets, the prices of which seem to react in a similar way to market volatility.
Settlements in the derivatives market are carried out in the future.
Derivatives are inextricably linked with risks that need to be managed and identified.
The use of derivatives is, as a rule, not for the purchase and sale of the underlying instrument, but for making a profit due to price differences.
For investors, Kraken cryptocurrency derivatives are of interest as a speculation tool that allows you to earn on the difference in prices for the underlying asset.
Hedging is also used in working with derivatives.
Hedging is risk insurance in financial markets. An investor resorts to them when he fears that the price of a purchased or sold asset may change in an undesirable direction for him. Simply put, hedging is an attempt to find equilibrium in a particular market instrument. To do this, investors take the opposite position on the asset.
Buy Kraken derivatives in Malaysia today and start earning today!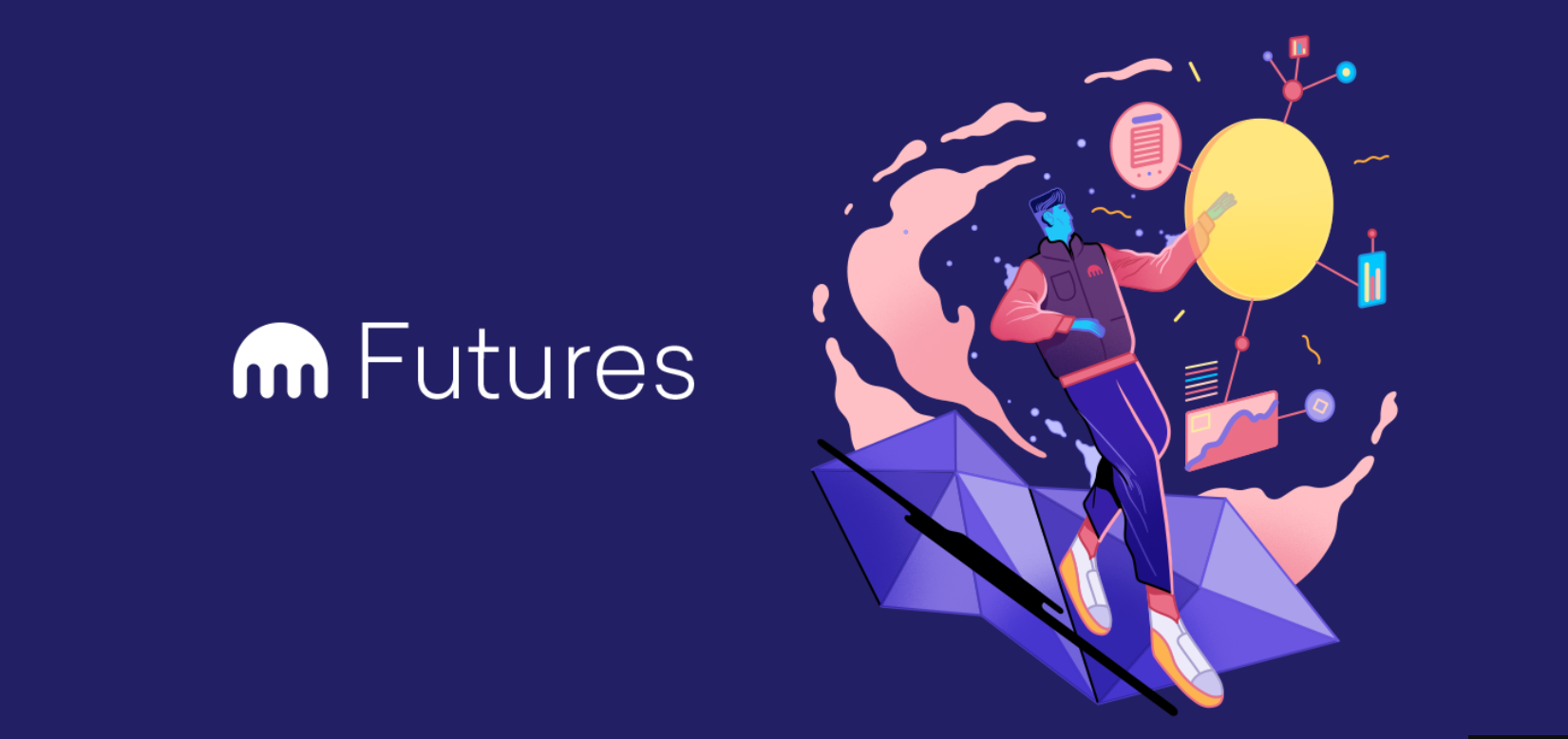 How does cryptocurrency derivatives trading work?
Kraken is a cryptocurrency trading platform. Let's say you want to buy some digital currency. You can deposit some money, either another cryptocurrency or cash, to Kraken and use your funds to buy crypto. If you are using Kraken Pro, an advanced version of Kraken (and the cheapest, at least for retail traders), buy this crypto from other traders using Kraken's matching engine, which links trade data to everyone else on its platform. Pay a small commission to complete the transaction, and the digital coin belongs to you. You can also sell your crypto on Kraken in the same way, either for cash or another cryptocurrency.
While cryptocurrencies run on the blockchain, exchanges like Kraken process all of these transactions in internal databases – doing it all on the blockchain would be slow and expensive. Kraken cryptocurrency derivatives trading is a steady income.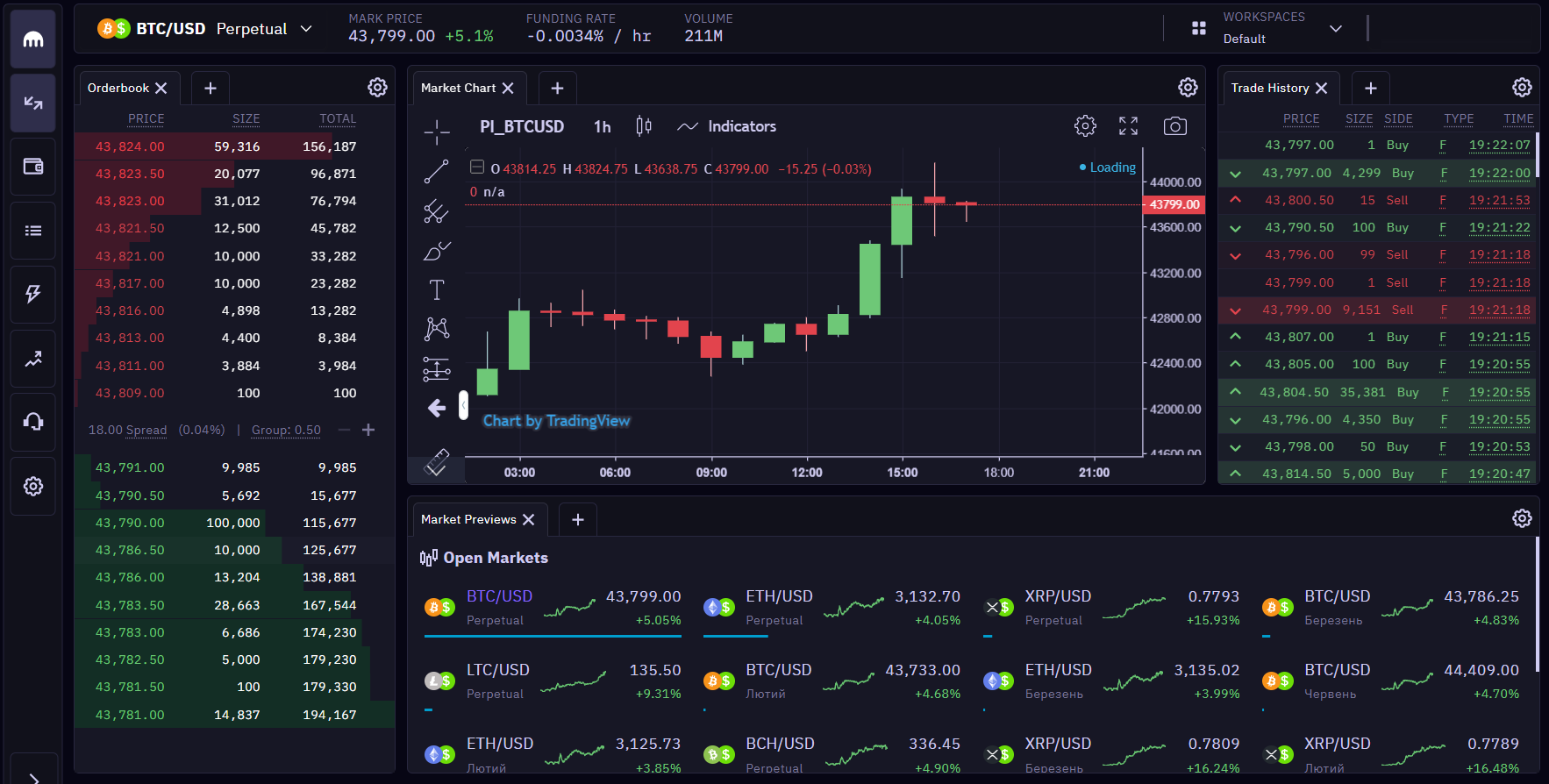 How to create an account on Kraken?
Creating a Kraken account is the first step to access the services that Kraken offers.
Visit the official Kraken website.
Click on the Create an account button in the upper right corner.
Enter your email address, username (see Username Tips and Requirements) and a strong password (see Password Tips and Requirements) on the registration form.
Carefully read the Terms of Service and Privacy Policy, check the box of consent (if you agree), and then click the Create an account button.
You should then receive an activation email containing an activation key.
Enter the activation key in the account activation form or complete the activation by clicking the link in the email.
Confirm your password, complete the captcha if prompted, and click the Activate Account button.
Congratulations! At the moment, the account has been successfully created and you can already start working.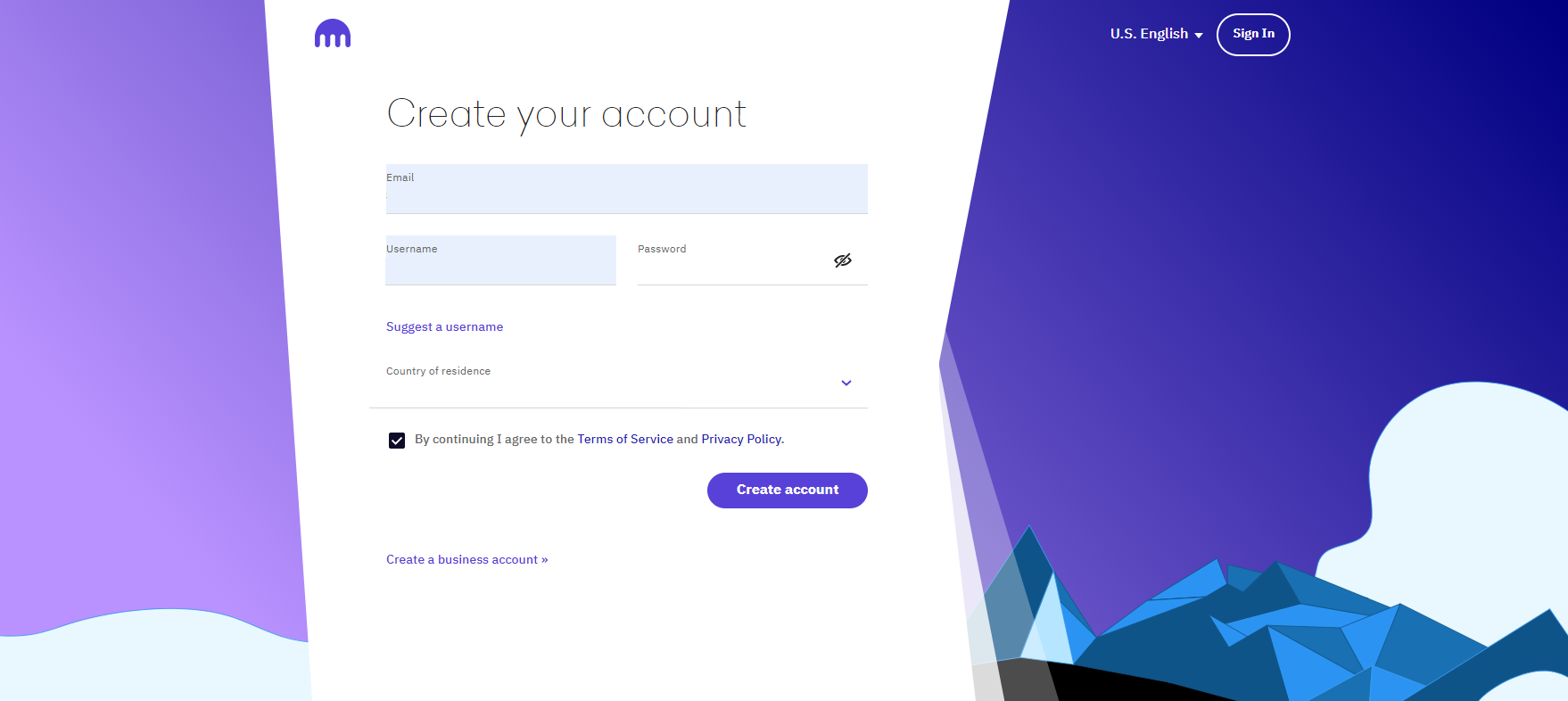 How can I deposit my local currency into Kraken?
See below for details on how to deposit on the Kraken exange:
Log in to your Kraken account and go to the Funding tab.
Click the Deposit button.
Find the currency you want to deposit in and click on it.
Enter the amount you would like to deposit and select your preferred funding provider from the drop down menu. If only one option is displayed, you can skip this step and continue.
Read Important Notes and Instructions.
To prevent errors, the company offers to copy the bank account details directly to your bank or financial institution.
Different banks have different requirements, so please contact the bank directly for specific instructions on how to complete the deposit.
For a deposit to go "smoothly", use the exchange's deposit checklist before sending any funds.
List of Kraken derivatives
Futures or futures contracts are an agreement to buy or sell an asset at a later date at a fixed price.
Typically, they are used by traders to hedge other investments or take profits when trading in volatile markets. Prices for Kraken futures are formed on the basis of aggregate indices that reflect the demand for each cryptocurrency on different exchanges, and are always clear and transparent. This type of trading has a number of advantages:
Hedge price risk. Investors who own digital assets can mitigate the risk of a price drop by simultaneously taking a "short" futures position in that asset. If the price falls, the short position will reduce losses due to additional income from it.
As speculation comes stability, as long-term vision of the markets plays a more significant role. Futures help smooth out risk while focusing on their core business for both miners with expected bitcoin inflows and bitcoin ATM operators with their inventory.
Speculate on market movements. Cryptocurrency futures trading creates an opportunity for real speculation - traders express their opinion about the market with futures positions. Do you think Bitcoin will rise? Open an additional long position on futures and multiply your profits. Think LTC will drop a lot? Follow your expectations and go short Litecoin futures!
Cryptocurrency Futures Regulated Products Kraken Futures provides access to regulated futures products. We are committed to providing a reliable and comprehensive solution for trading cryptocurrency futures around the world.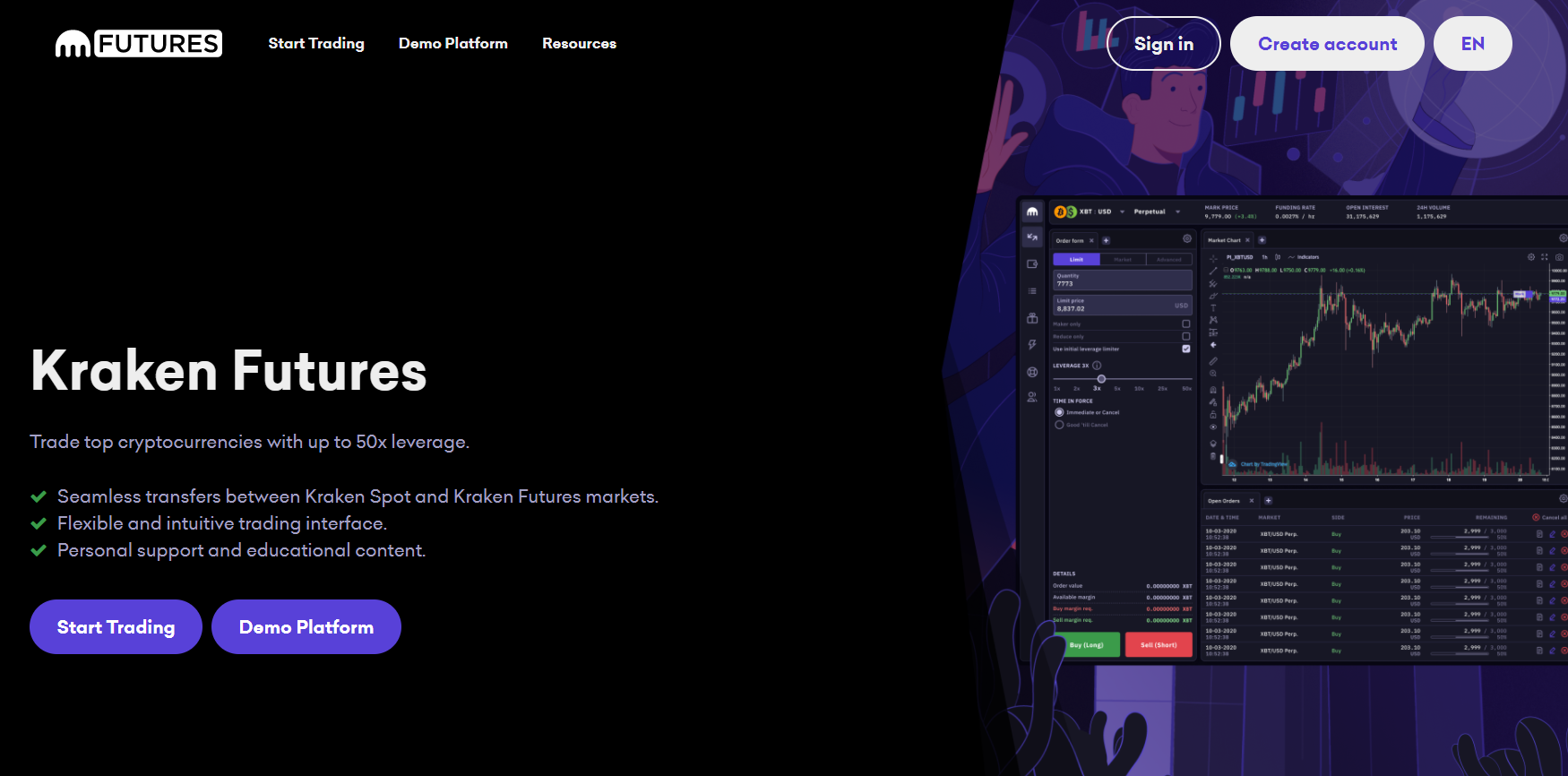 Kraken cryptocurrency derivatives trading platform offers futures on Ethereum, Litecoin, Bitcoin Cash, Ripple, and Bitcoin. Futures are extremely capital efficient, which means that it takes less money to open positions than spot trading (1x) or margin trading (3x - 5x). This means that if you have 10 bitcoins and are afraid of a price drop, then you should use 100% of your money for spot trading or 20% of your money for margin trading. With 50x leverage on futures, you use only 2% of your money on the exchange. With collateral of just 2% of the notional trade volume, cryptocurrency futures allow you to open positions with leverage up to 50x, giving the client the flexibility to position themselves in the market while maintaining low risk.
Cryptocurrency futures allow you to maximize your profits by using the power of leverage to increase profits and apply advanced trading strategies. Use futures to speculate on market changes and minimize risk while holding fewer crypto assets than on a spot exchange.
Another benefit of margin trading cryptocurrencies on Kraken is low fees. Depending on the currency pair you want to use, the exchange charges up to 0.02% for opening a position and up to 0.02% for a rollover to keep it open for four hours. the user will be able to maximize his income and get his money quickly, thanks to the combination of low commissions with high liquidity in all markets of this platform.
Large investors have traditionally used margin trading to express unique market insights, but most investors often do not have access to these tools. At Kraken, margin trading is available to everyone. Use 2x to 5x leverage on your order with one click.
Kraken crypto futures trading will allow you to achieve your goals and plans!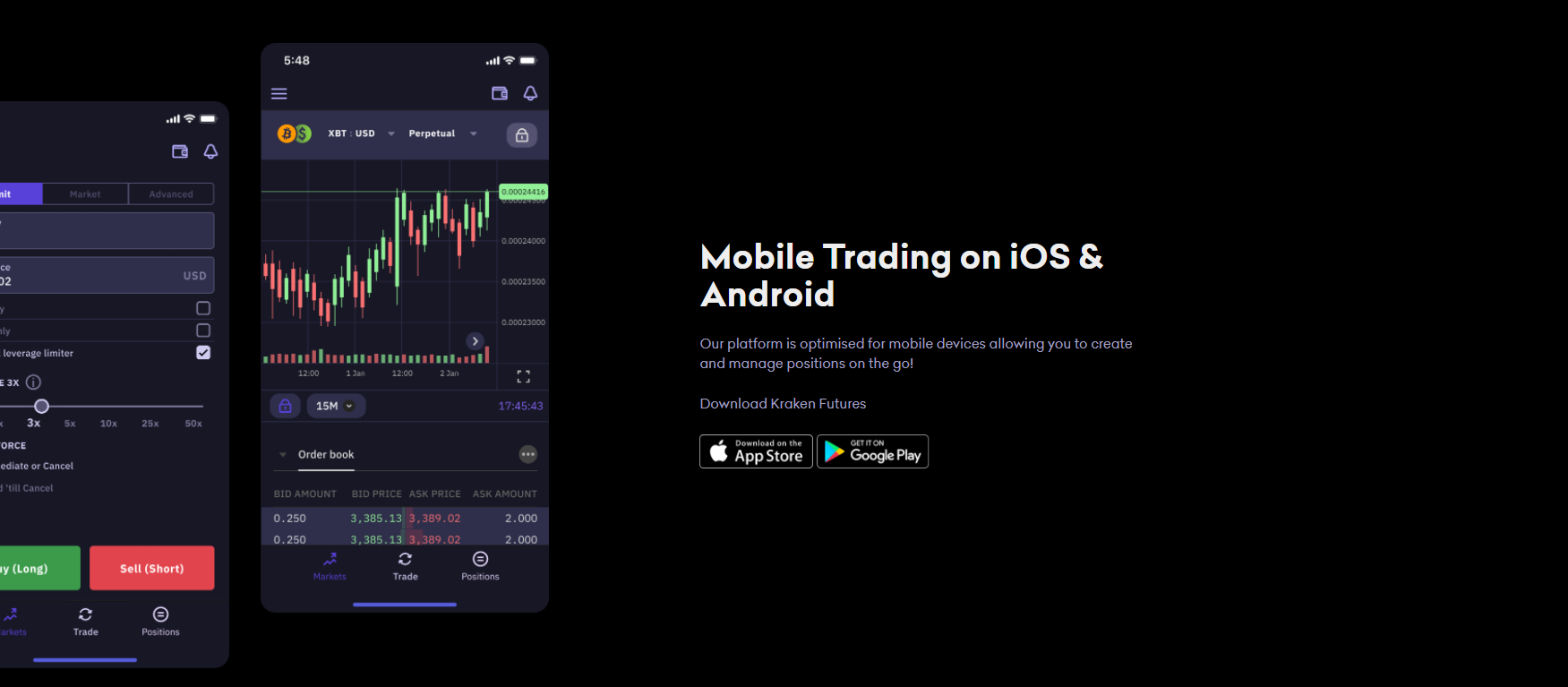 Conclusion
Kraken is a highly rated platform in the industry for its broad market support, deep liquidity, competitive fees, and professional trading terminal. The exchange has a large number of advantages, such as:
Available worldwide and licensed in multiple countries.
A wide range of cryptocurrencies that can be bought, traded and sold on the exchange.
Competitive commissions.
Offers margin trading, staking and secure wallet.
Kraken is a professional in its field, which has an advanced graphical and trading terminal. The exchange is best suited for advanced users for crypto-fiat and crypto-to-crypto trading. Its user interface is a little complicated compared to the competition and therefore difficult to use for first-time investors. Overall, Kraken is a trusted platform with a solid track record for serious crypto traders around the world. Everything about Kraken Futures is built around the security and privacy of its clients. It is also a valuable fact that the company always strives to remain true to the core values ​​​​of cryptocurrency and be honest with our customers.Kraken crypto futures in Malaysia are very popular, as in many other countries.
SIMPLE AND RELIABLE
MONEY WITHDRAWAL