Deepcoin cryptocurrency derivatives
What is Deepcoin?
Deepcoin's motto - "Change with innovation" implies good wishes to contribute more to the cryptocurrency industry. The name Deepcoin consists of "Deep" and "coin", which means a deep understanding of cryptocurrencies. Deepcoin is registered in the Seychelles. Headquartered in Singapore. There are branches in Japan, Canada, South Africa and many other countries .Deepcoin crypto derivatives trading platform has received three international compliance certifications that take the exchange's compliance work to the next level. In addition to the American MSB license issued by FinCEN and the Canadian MSB license from FINTRAC, a third official NFA license is from the NFA (National Futures Association, USA). After obtaining these licenses, the international influence of Deepcoin has expanded significantly.
Deepcoin now has over 1,000,000 users and 250+ KOLs worldwide. With 800+ affiliates, Deepcoin has partnered with over 120 media outlets. In addition, Deepcoin plans to enter more markets and make the service available to a wider range of users.
Deepcoin derivatives trading platform is committed to continue researching cryptocurrencies and provide users with professional and high quality services along with fair, equitable, safe and reliable investment opportunities.
What are crypto derivatives?
What are derivatives? Actually the word "derivative" means something secondary, a derivative tool from something. The price of a derivative is tied to some market value (underlying asset), and often with the use of leverage, which makes it an extremely risky trading instrument. In the general case, a derivative is a contract that obliges or gives the right to agree to the proposed - while fixed, they cannot be changed retroactively - terms of the transaction.
The formulation of the fact of separation in time of delivery and payment is of key importance for understanding the essence of derivatives. As confusing as the definition may sound, derivatives contracts are prepaid transactions. And from this already follow different opportunities for buyers and sellers. Most often, derivatives are acquired precisely in order to compensate for the negative impact of market trends. In the financial world, this is called risk hedging. In other words, it is getting the opportunity to buy or sell an asset on terms that have been previously agreed.
Having considered what derivatives are on the exchange, we will analyze into which groups its participants are divided:
Hedgers. As mentioned earlier, hedging has the main goal - to prevent the risks associated with a possible price change in the future. Derivative assets are an effective way to compensate for risks with the help of appropriate underlying assets.
Speculators. Their activities are widespread and associated with high risks. They are engaged in the purchase or sale of assets with the expectation that the price will change in the future in their favor.
Margined market participants. Margin is a pledge that a trader deposits when investing capital in a certain asset. Margin trading involves transactions with the help of credit capital provided by the broker.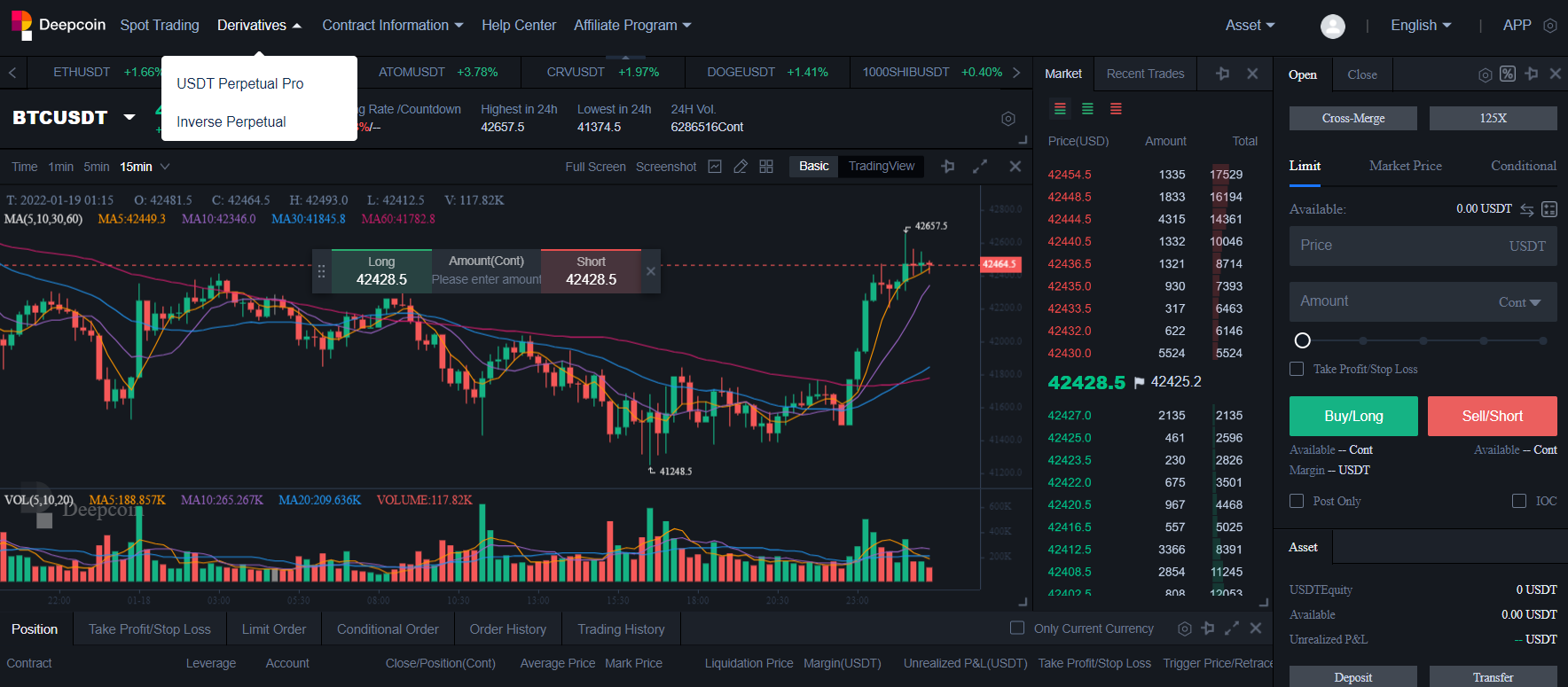 Derivative financial instruments perform a number of functions. They allow:
Manage risk. Since the value of a derivative asset is linked to the underlying asset, derivatives can both increase and decrease the risks of owning a financial instrument. It is possible to minimize risks by purchasing a spot commodity and selling a futures contract or an option contract. If the spot price, that is, the value of the asset at the moment, falls, the price of the corresponding futures and options contracts will also decrease. Then it becomes possible to buy the contract at the lowest cost. This will help in partially compensating for losses on the spot commodity.
Get operational benefits. Derivatives markets are more liquid than spot markets. This indicates smaller commissions and other costs for traders.
Predict prices. The derivatives market often follows the spot market. It carries almost no meaningful information.
Deepcoin derivatives in Malaysia are available for purchase now.
What is a crypto derivatives exchange?
Crypto derivatives exchanges are online platforms that open up and make it easy for anyone to access decentralized (P2P) cryptocurrency trading.
Deepcoin crypto derivatives trading is completely transparent and has no hidden costs.
How to trade Deepcoin derivatives in Malaysia?
Buy now Deepcoin crypto derivatives in Malaysia and start trading today.It is never too late to start trading derivatives and you can start this process at any time. To do this, you just need to do the following:
choose a broker and open an account (get acquainted with the ratings of this broker, create a personal account, go through the identity verification procedure, replenish the account).
choose an instrument for trading in other words, choose the most relevant type of derivative for yourself.
conduct fundamental and technical market analysis.
buy a contract.
It is advisable before you start trading derivatives, to be trained with various strategies of trading Deepcoin cryptocurrency derivatives in Malaysia and many other countries.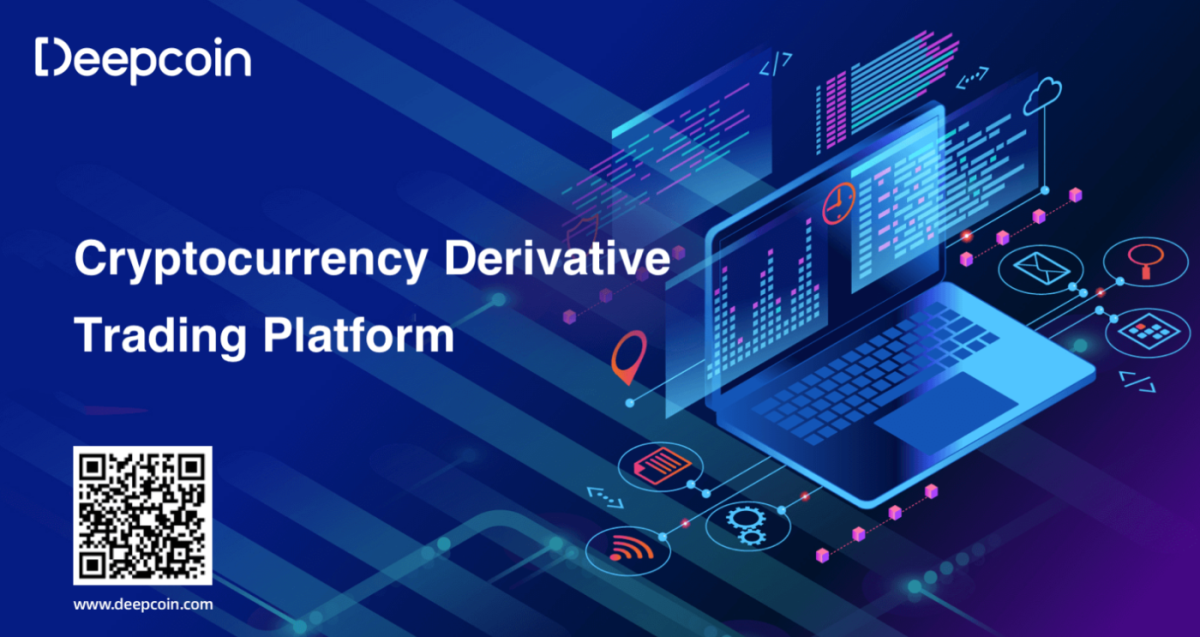 How to register ?
Registration by time takes a minimum number of minutes. Below is a step by step guide:
You need to go to the official website.
Press the "registration" button.
In this window you will need to select a country/region.
Enter your email address or mobile phone number.
Create a password.
Tick the information line that says that "everything has been read and ready to accept the "deepcoin user agreement".
After that, a code will be sent to the email address, which is valid for 1 minute.
After receiving it, you need to enter it in the requested line.
Registration is over. Now you can look at the interface of the exchange and, if you wish, start trading.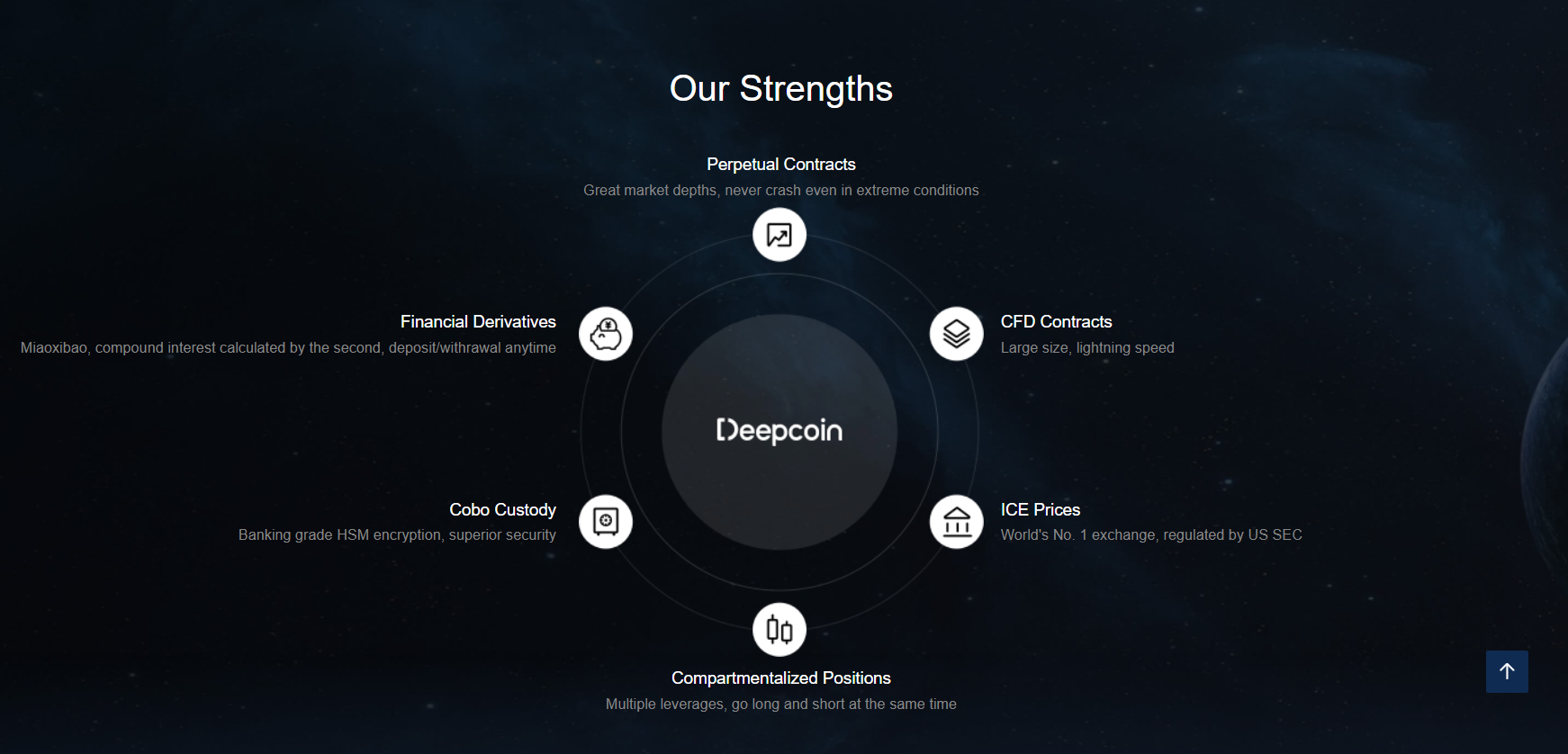 Deepcoin derivatives list
On this exchange, you can engage in spot trading, derivatives trading, namely Perpetual USDT and Perpetual (inverse) contracts.
Spot trading is the most common type of trading on a crypto exchange, which involves buying and/or selling cryptocurrencies and making an immediate profit (or loss). The efficiency of spot trading is increased by exchange instruments. Exchanges provide roughly the same opportunities for spot trading, but there are nuances that need to be taken into account.
The benefits of spot trading include:
Availability. Almost any user can start transactions at any time, and the fact that the settlement is carried out immediately makes them cheaper than entering into transactions on futures contracts;
Volatility of crypto assets. This is exactly what provides an opportunity to earn for traders and investors;
High liquidity, since the contract on the transaction is executed immediately.
Spot trading services are essential for almost every crypto exchange. Among them are the "main" exchanges, which are the main and largest participants in the crypto market, forming the very structure of the cryptocurrency market. The trading volumes and total capitalization of the largest crypto exchanges are such that they can offer the most favorable exchange rates for hundreds of cryptocurrencies and dozens of fiat currencies. Crypto exchanges are multifunctional trading platforms that offer a large number of features that facilitate trading operations.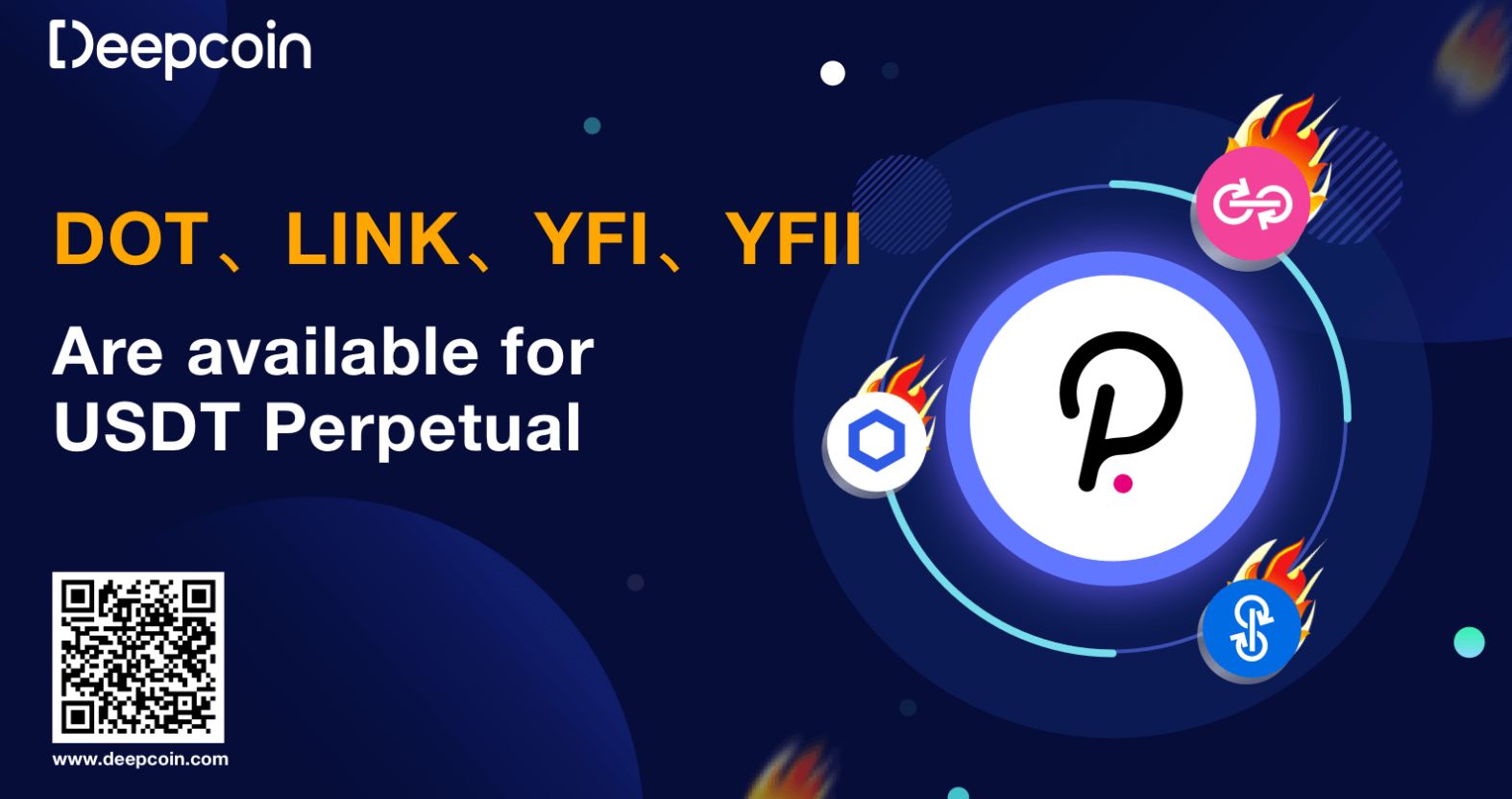 A perpetual contract in USDT is a linear contract. Under a linear contract, the margin is used in the USDT currency. While under an inverse contract, it is understood that a trader who plans to carry out transactions under a contract needs to use the underlying cryptocurrency as a margin for a transaction under the corresponding contract.
A perpetual contract is a special type of futures contract that has no expiration date. So you are given the opportunity to hold your position for as long as you see fit. In addition, perpetual contract trading is based on an underlying price index. The price index consists of the average price of an asset according to the major spot markets and their relative trading volume.
Thus, unlike conventional futures, perpetual contracts often trade at a price that is equal to or very similar to the price in the spot markets. However, the biggest difference between traditional futures and perpetual contracts is their expiration date.
Deepcoin also has innovative products such as optional FX, second treasure, and crypto Christmas gifts. Options can profit from price trend forecasts. Crypto Otoshidama is a creative service provided by Deepcoin that is used to send and accept cryptocurrencies among users. Second Breath Treasure is an investment product based on the DeFi ecosystem developed by Deepcoin. Compound interest accrues in seconds on deposits, and VIP-1 and above users can earn attractive annual returns of 8% or more.
Deepcoin cryptocurrency derivatives trading will be a stable income.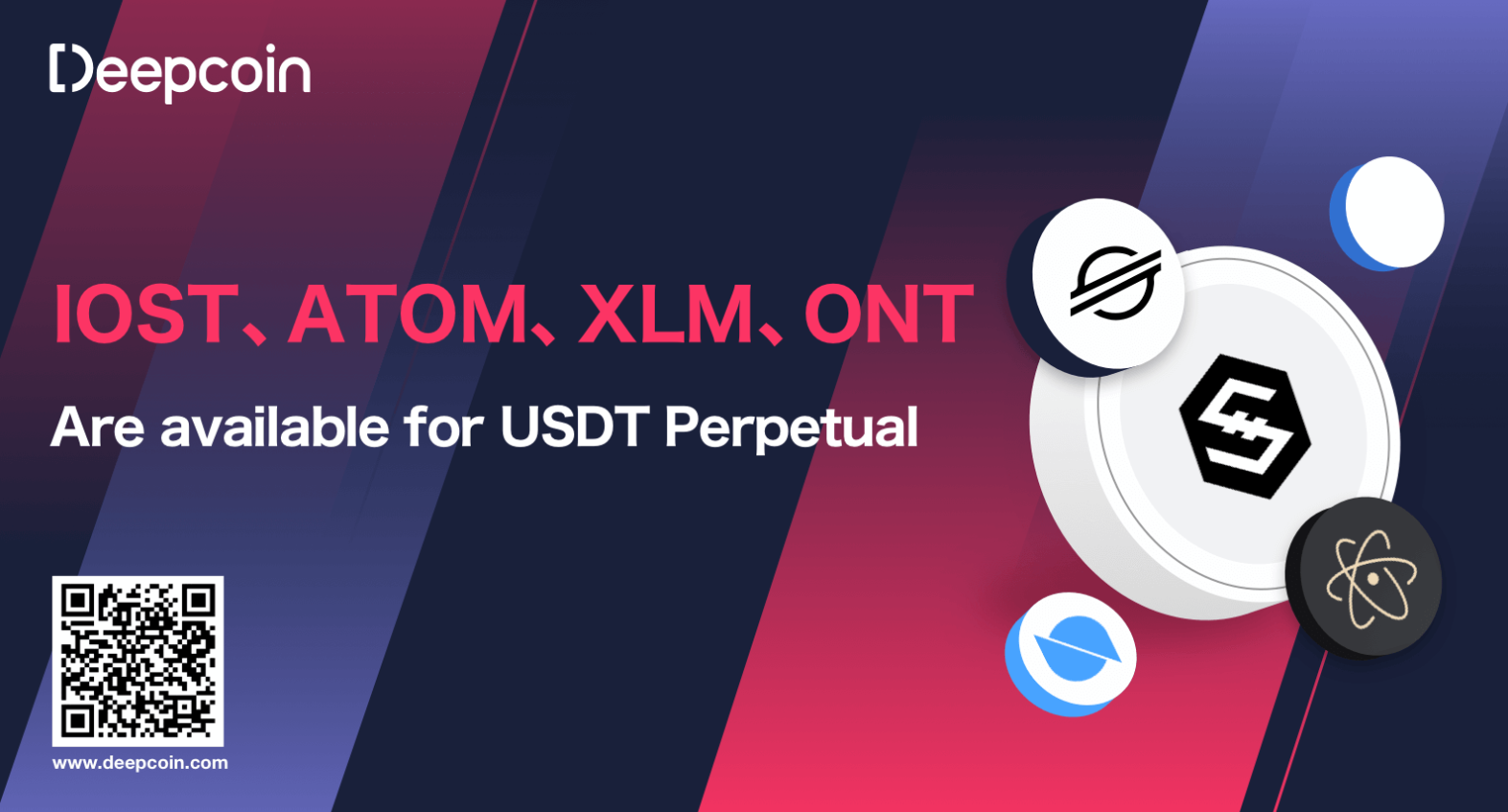 Conclusion
Deepcoin brings together elites from around the world to better serve the broad investment needs of investors. The investment research and risk control team consists of veterans of large financial companies. The members of the technical team are experts from leading IT companies such as Google, Huobi, and Binance. Members of the International Operations Services team have experience in leading global companies.Deepcoin derivatives trading brings a good profit and, as an option, can become an additional income.
Through Deepcoin, users can enjoy many interesting trading campaigns that Deepcoin has made in collaboration with the influential and famous KOL. There have been various campaigns so far, such as special events for new trading pairs, opinion solicitation campaigns, USDT perpetual trading grand prize, USDT contract debut festival, etc.
It is also worth noting the fact that this exchange is suitable for both professionals and beginners. The Deepcoin team has vast experience in fintech.Deepcoin cryptocurrency derivatives trading platform strives to strengthen the liquidity of trading tips, improve the usability of services and create new services, all this is done for the convenience of working on this platform. And I would also like to note that Deepcoin has its own mobile application, which was recently released in updated version and new interface.
SIMPLE AND RELIABLE
MONEY WITHDRAWAL