What is CoinFLEX?
The CoinFLEX exchange is more than a regular cryptocurrency exchange for spot and margin trading. This is a multifunctional platform that combines the functions of a universal crypto wallet and an adaptive investment portfolio with advanced options for passive earnings.
On the site, you can buy / sell Bitcoin, Ethereum, Litecoin, Tether and other cryptocurrencies and tokens.
Trading with leverage up to 1: 100 is available. One of the distinguishing features of the crypto exchange is flexUSD, which is a stablecoin with interest income. Using flexUSD and note tokens, the exchange builds an investment package for users that can back loans to institutional trading firms on the CoinFLEX exchange.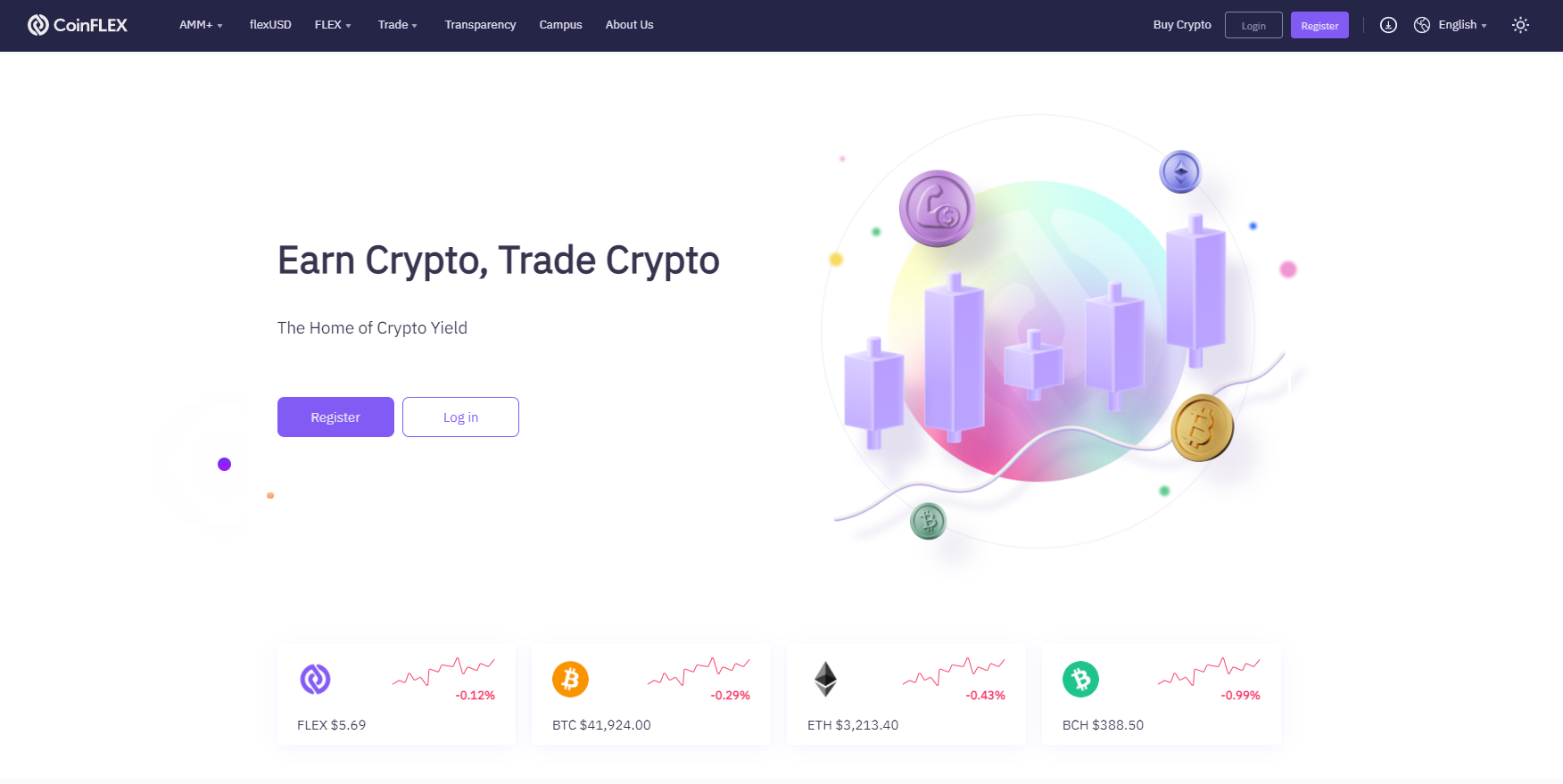 The strengths of CoinFLEX over competitors are:
spot and margin trading with a wide selection of cryptocurrency assets and pairs, including pairs with world currencies;
investment programs, unique for the segment, based on the provision of stablecoins on credit to firms;
one of the most sophisticated mobile applications that combines the functions of an exchange, a crypto wallet and an investor's personal account;
a simple system of commission fees with profitable commissions that depend on the balance of CoinFLEX on the wallet;
100% transparent operation of the system, a complete archive of all transactions and actions of the administration;
no VIP statuses, absolute equality of users, unified technical support 24/7.
Weaknesses of CoinFLEX:
at first, the interface of the trading terminal may seem redundant, you need to get used to it;
there are trade restrictions for residents of some countries (see the corresponding section of the site).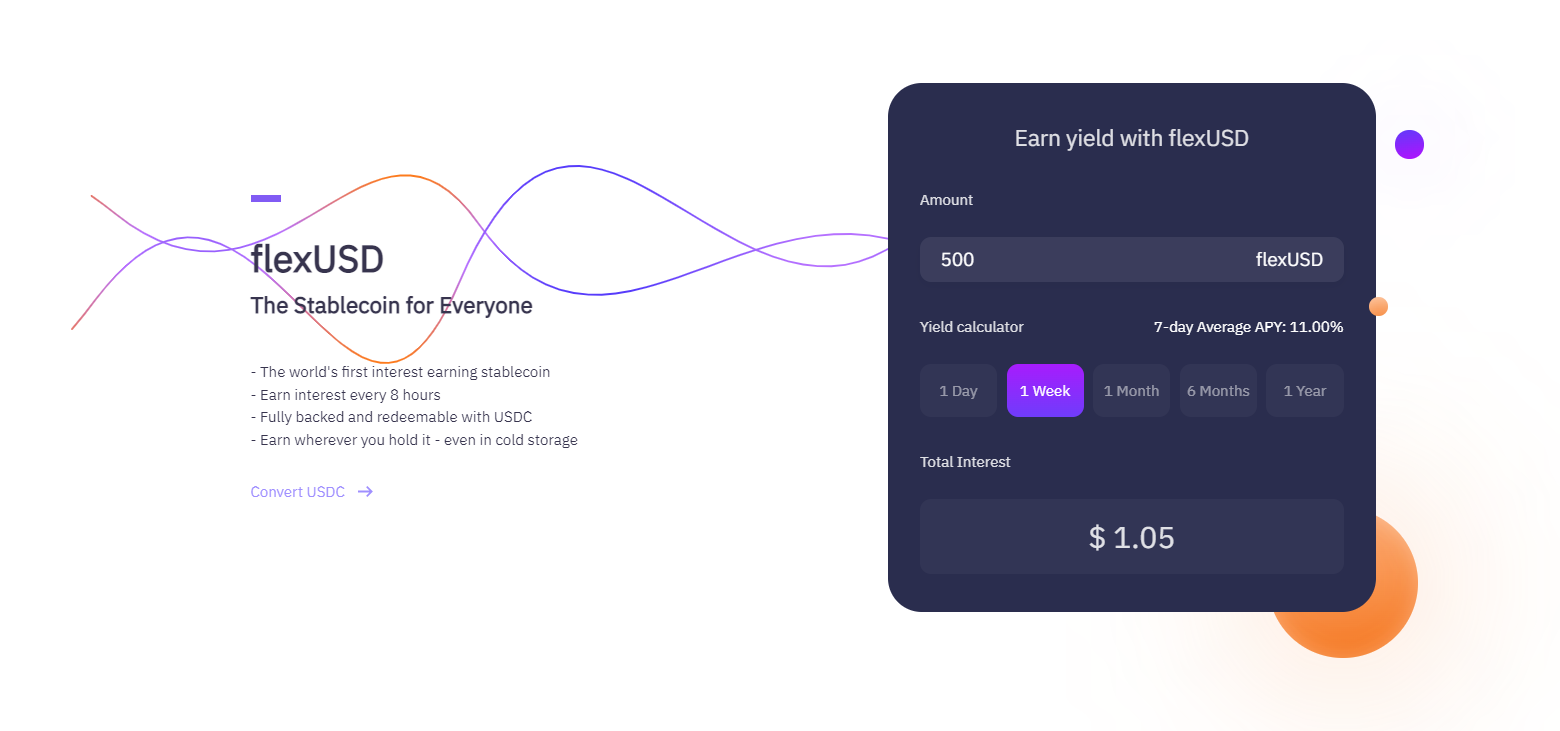 What are crypto derivatives?
A derivative is a financial contract between two or more parties based on the future price of an underlying asset.
Usually, currencies (or cryptocurrencies), commodities, bonds, stocks, market indices or interest rates are used as the underlying assets used in calculating derivatives. They can be traded either on specialized exchanges or directly between two clients (C2C). And between these two options there are significant differences both in the way of trading and in regulation. However, most traders use both the first option and the second, depending on the market situation.
Traders tend to use derivatives to hedge risks and speculate on changes in the price of the underlying asset.
Speculation is quite risky - it is not just that the famous financier Warren Buffett once called derivatives "financial weapons of mass destruction", because he considered them to be guilty of the global financial crisis of 2007-2008.
But this does not stop traders, as derivatives greatly expand their earning opportunities. Experienced traders neutralize increased risks with a competent money management system.
What is crypto derivatives exchange?
Nowadays, almost all popular exchanges offer traders the opportunity to trade not only the spot market, but also derivatives. Therefore, now the crypto derivatives exchange and the spot exchange are one whole. The CoinFLEX derivatives trading platform is one such exchange.
By trading on CoinFLEX, you can simultaneously work both on the spot market and trade derivatives.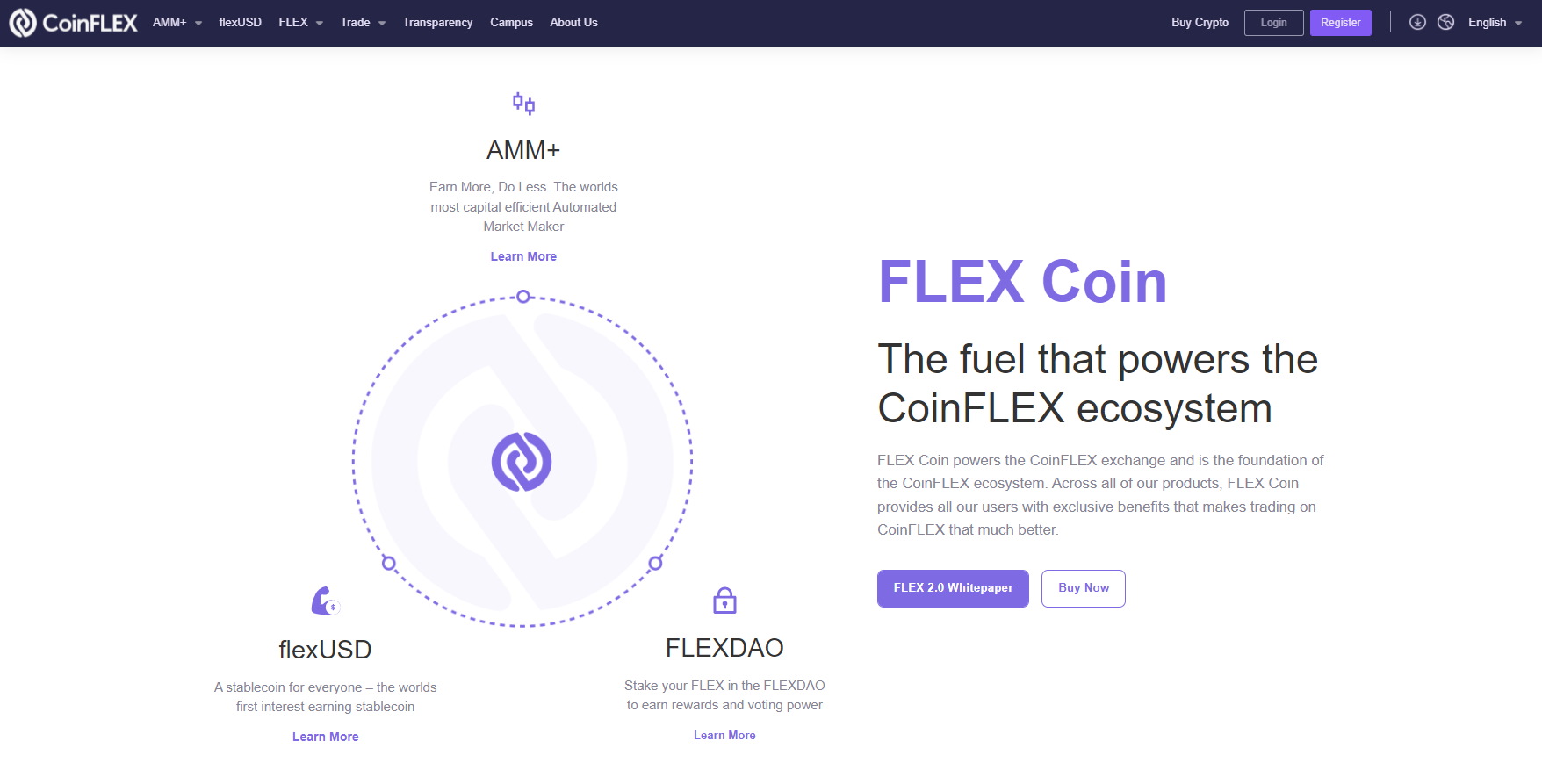 How does cryptocurrency derivatives trading work?
The cryptocurrency exchange trading market is gradually developing and becoming a full-fledged economic system. There are more and more various investment products based on cryptocurrencies. One of the most popular cryptocurrency derivatives is futures.
If in traditional financial markets futures for a particular asset have existed for decades, in the cryptocurrency industry this product is relatively new and is only gaining popularity among traders.
Why are they becoming so popular? Derivatives provide traders with additional options:
The ability to open short trading positions. A trader can follow the trend in both bullish and bearish markets.
Leverage is a tool that allows traders to significantly increase the volume of a trading position, which is especially important during periods of a pronounced trend in the market. During a bullish or bearish rally, trading with leverage will multiply your profits. At the same time, one should not forget that this is both a risky instrument, and, as you know, you need to be able to manage risks.
Hedging. Trading without the ability to hedge deprives traders of protection against potential risks. Not all platforms offer the opportunity to open opposite positions on the same asset.
Variety of order types. The presence of limit and pending orders on the platform, such as stop loss, take profit, trailing stop and others, is perhaps one of the most important tools in a trader's arsenal. A variety of order types makes it possible to instantly open trading positions when a certain price is reached and just as quickly exit the market, allowing you to fix both profits and losses on time.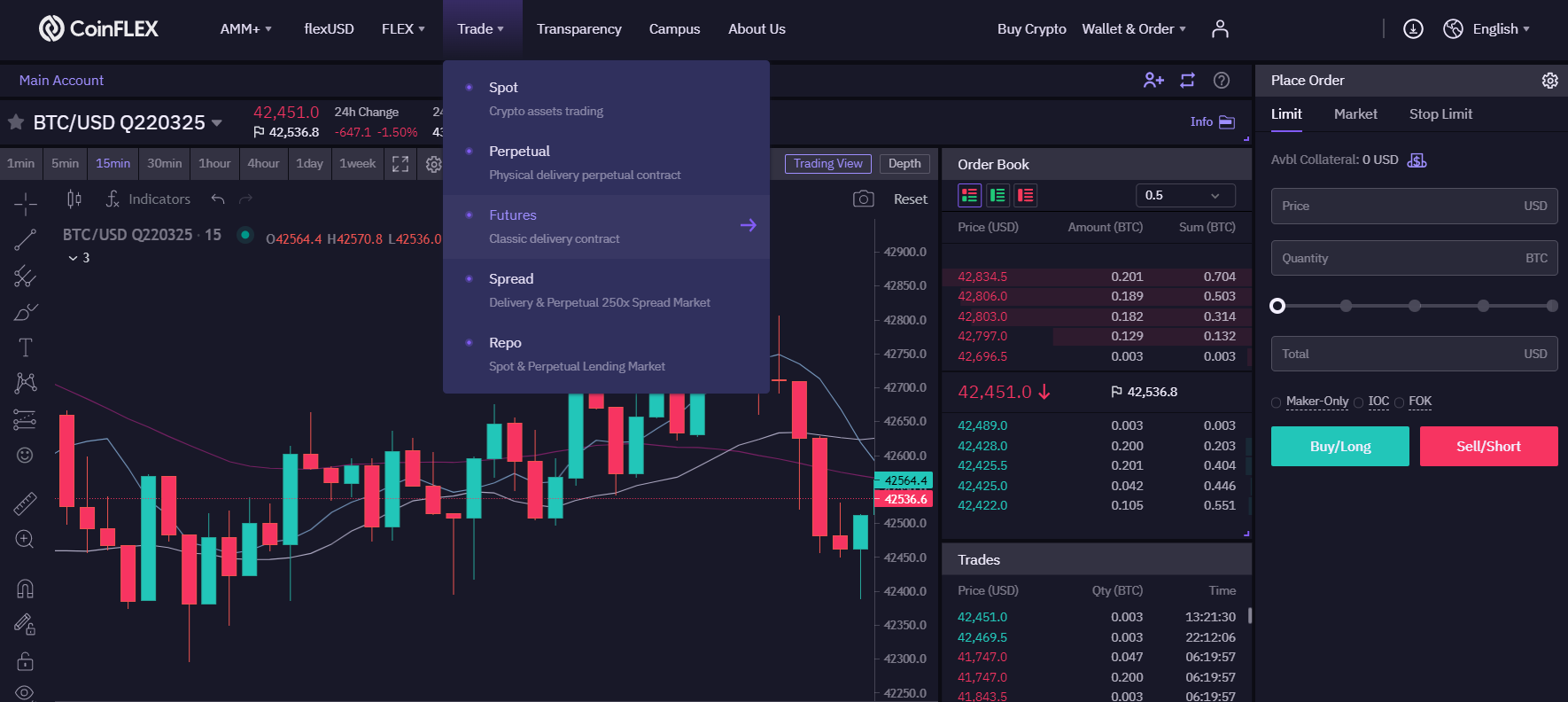 How to trade CoinFLEX derivatives in Malaysia?
CoinFLEX provides traders with ample opportunities to work with cryptocurrency derivatives. You can start trading on CoinFLEX derivatives in Malaysia immediately after registering for an account. The registration process will be discussed below.
CoinFLEX crypto futures trading offers on very favorable terms.
Despite the large trading volumes and generally high trader activity, the platform works stably, without overload and failures. By trading CoinFLEX derivatives in Malaysia, you can be confident that your trading platform will always be available to work with.
The interface of the trading terminal of the site is functional and adaptive. There are all basic features, charts with indicators. Individual elements can be disabled and customized. The CoinFLEX chart is integrated with the TradingView platform to enhance its functionality. This makes CoinFLEX derivatives trading very convenient.
A lot of cryptocurrencies and tokens are traded on the exchange, there are all the main input / output options. A separate advantage of the platform is stablecoins with interest income. This is the basis of the company's investment program, which is recognized as one of the most highly profitable in the segment.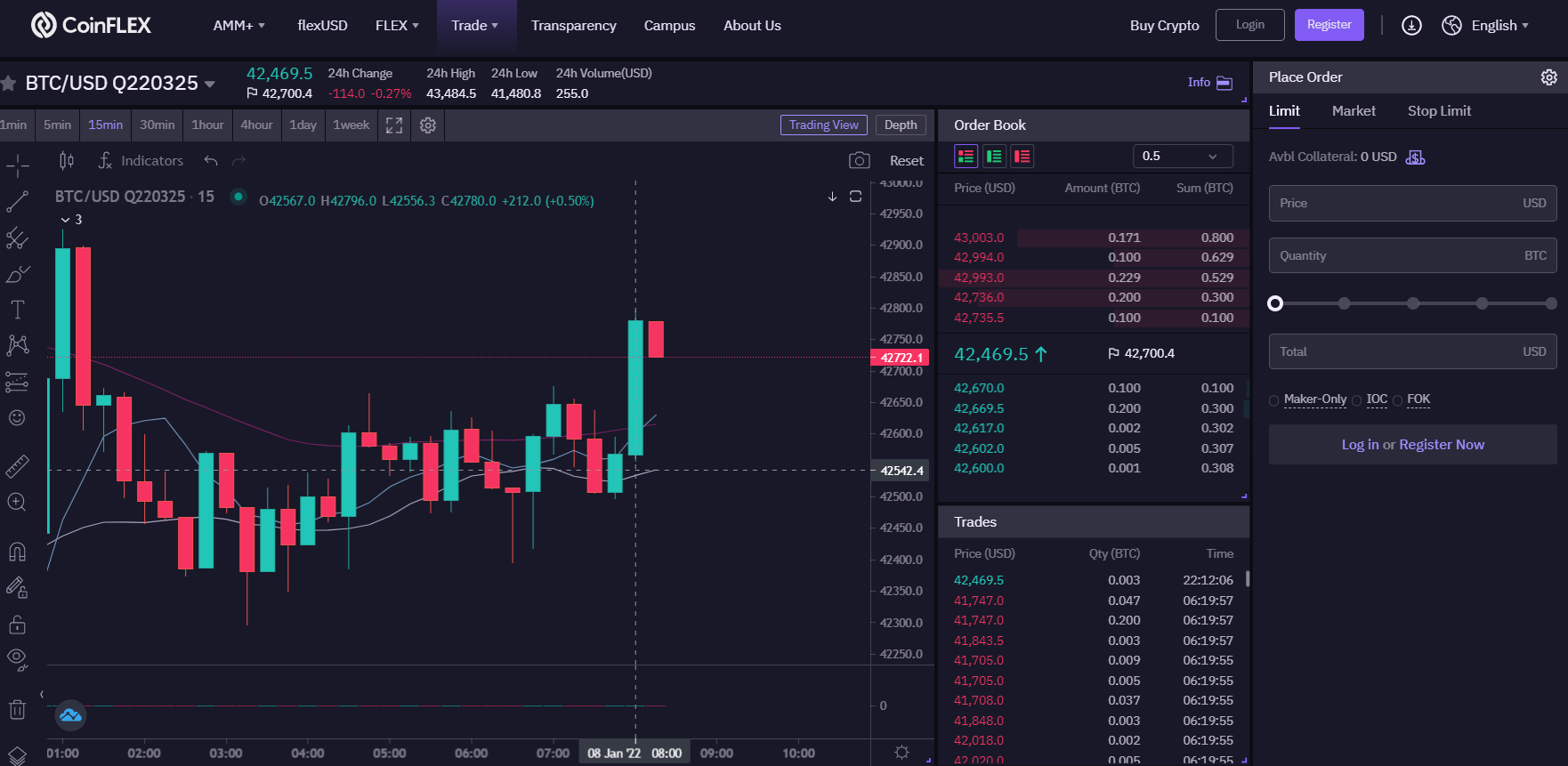 How to register?
The CoinFLEX cryptocurrency derivatives trading platform provides detailed instructions on how to register. In general, the registration process is no different from other platforms.
To create an account, you must click the "Register" button.
After entering the data, you will receive a confirmation code by email. By entering it in the appropriate field, you will complete the registration process.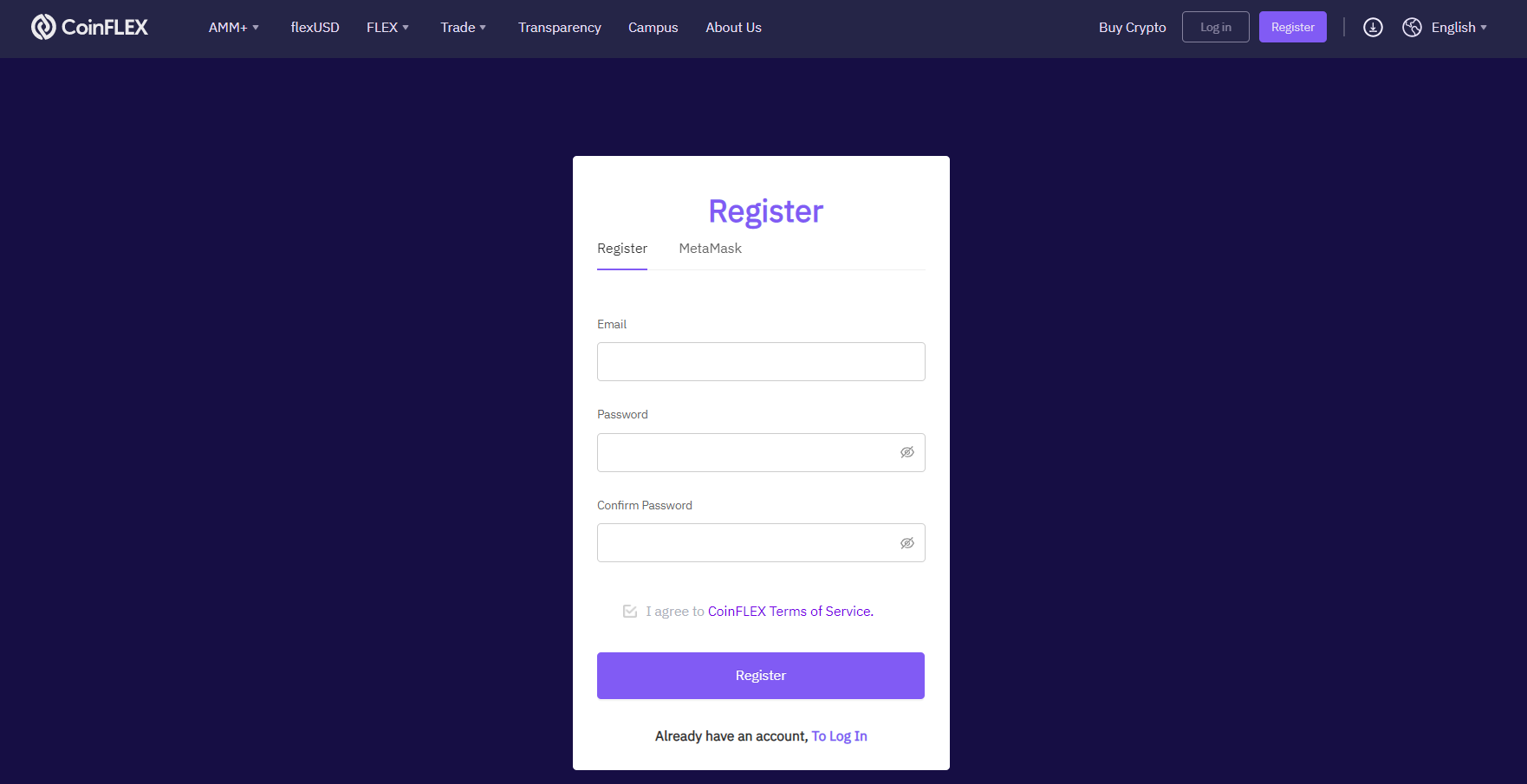 How to open a demo account?
On the CoinFLEX derivatives trading platform, you can work on a demo account. This feature will be useful for both beginners and experienced traders. The user gets the opportunity to work with a demo account immediately after registering an account.
How to open a real account?
In order to start trading on CoinFLEX crypto futures in Malaysia, you need to register an account. Right after that, you get access to this functionality of the CoinFLEX derivatives trading platform. Once you have funded your account, you can proceed to CoinFLEX crypto futures trading.
How to replenish a deposit?
To replenish your trading account, you must click the "Deposit" tab in the "Wallet" section. Then select the coin you want to deposit by selecting the dropdown and selecting the coin you want (for reference, the field will display US dollars by default).
Currently, the platform supports replenishment of a trading account with the following digital coins: BAL, BAND, BCH, BTC, COMP, CRV, ETH, FLEX, LINK, SNX, SUSHI, UNI, USD, USDT, YFI, YFL, flexBTC, flexETH, flexUSD.
Those, to trade on CoinFLEX crypto futures in Malaysia, you need to buy cryptocurrency in advance. You cannot directly fund your account with fiat money.
You can start trading on CoinFLEX cryptocurrency derivatives right after you fund your account.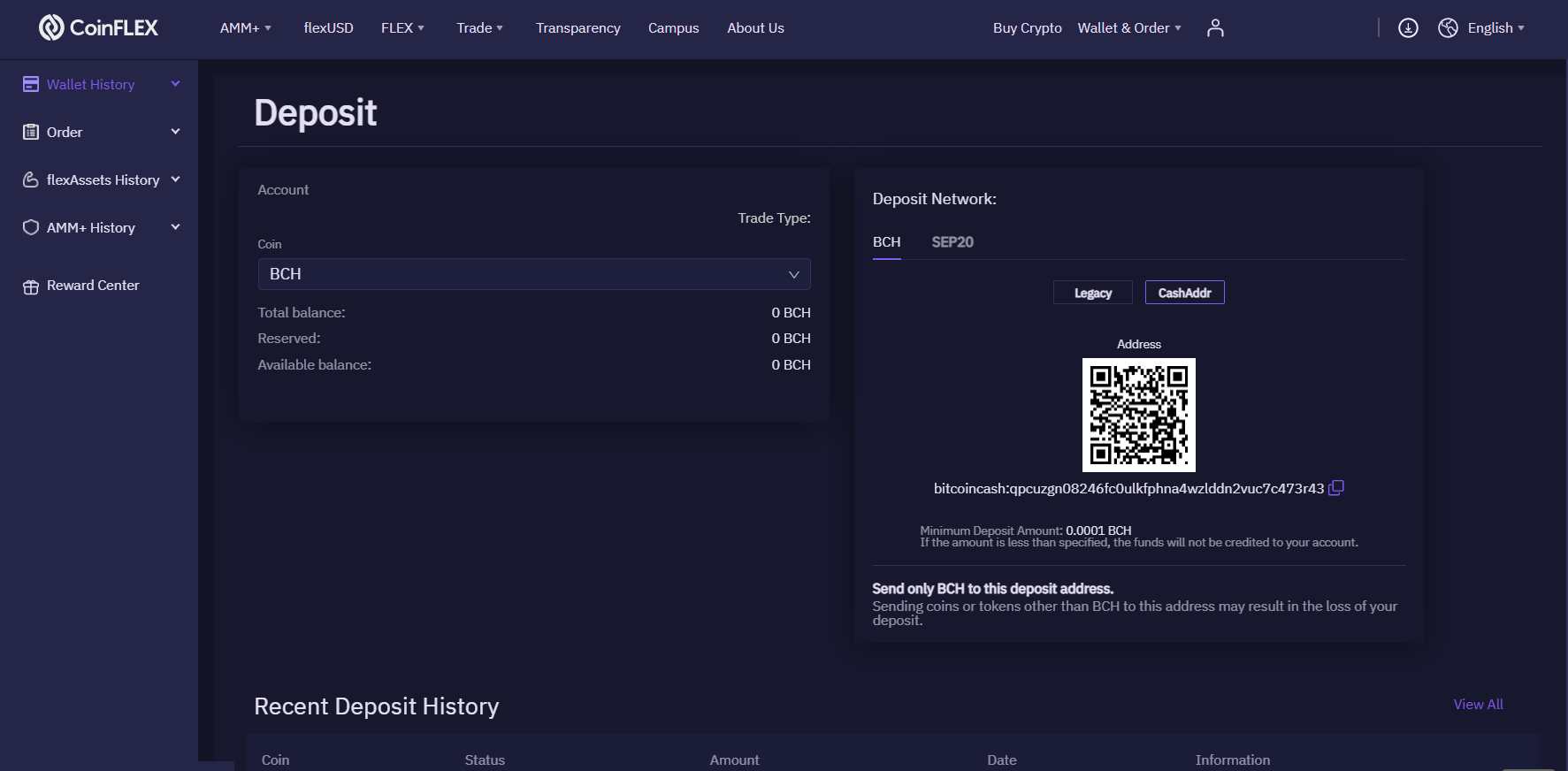 Minimum deposit amount
CoinFLEX cryptocurrency derivatives trading platform sets minimum and maximum deposit / withdrawal limits. For all currencies, this is 0.0001, with the exception of DOGE, DOT, XRP. Other limits apply to them.
It is important that CoinFLEX does not charge any fees on deposits.
How to withdraw money?
The process of withdrawing funds from the platform is as simple as the process of depositing funds. You need to go to the "Withdraw" tab after clicking on "Wallet". Then select the coin you want to withdraw by choosing the dropdown list. Then you can enter the withdrawal address and amount. Be careful at this stage, withdrawal to an incorrect or invalid address is irreversible in cryptocurrency.
As a rule, the withdrawal process takes place instantly.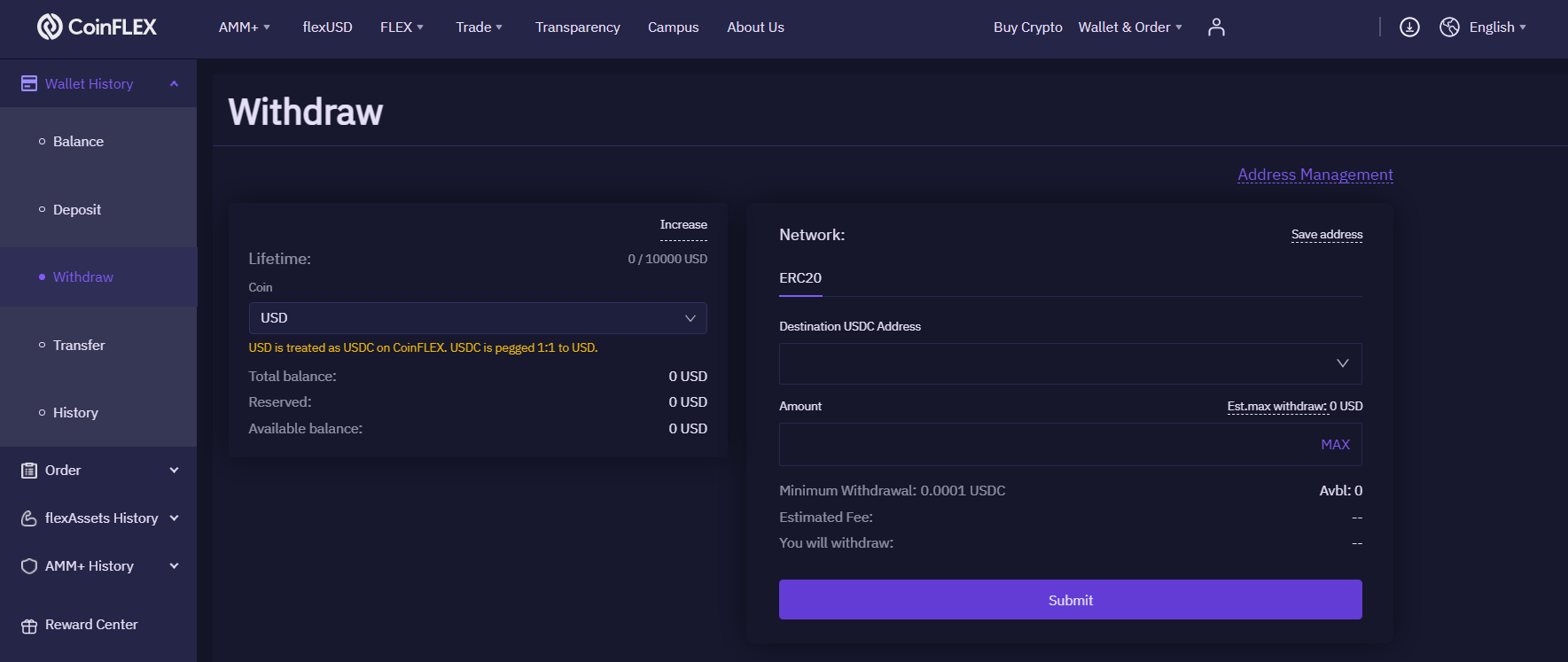 CoinFLEX derivatives list
The list of crypto futures trading available on CoinFLEX is very large. The current list of derivatives trading available for CoinFLEX can always be viewed on the website.
How does CoinFLEX crypto derivatives trading work?
The trading process on CoinFLEX cryptocurrency derivatives is the same as on other platforms. To start CoinFLEX cryptocurrency derivatives trading, you need to register an account and fund your account. After that, you can select the type of derivatives. Having switched to the trading platform, you need to select an instrument, and you can start trading.
Alternatives to CoinFLEX cryptocurrency derivatives
The competition in the market is very strong now. CoinFLEX is not the only exchange offering derivatives trading to clients. Nevertheless, many traders prefer CoinFLEX. We wrote about the advantages of the exchange above.
CoinFLEX cryptocurrency derivatives FAQ:
Can you trade derivatives on CoinFLEX?
Yes. To start trading on CoinFLEX derivatives in Malaysia, you need to register an account and fund your trading account.
Does CoinFLEX have crypto derivatives?
There are a large number of CoinFLEX cryptocurrency derivatives.
What are derivatives on CoinFLEX?
Available on CoinFLEX crypto futures trading.
How does CoinFLEX crypto futures trading work?
On CoinFLEX, cryptocurrency derivatives trading is no different from trading derivatives for other instruments. You can open short and long positions, place limit orders.
SIMPLE AND RELIABLE
MONEY WITHDRAWAL