What is BitMEX?
HDR Global Trading Limited founded BitMEX in 2014 and since then it has become one of the most important bitcoin trading platforms available worldwide.
For those who are more accustomed to trading cryptocurrencies directly, this method of trading may seem rather confusing. Here, traders do not trade currencies directly, but contracts. This way of trading is more volatile than more traditional options. So the platform is pretty much for users who know what they're doing and who don't need to be led by the hand.
In addition to offerings typical of an online trading platform, BitMEX provides a wide range of different order types to appeal to a wider audience. Another of the best additional features of the platform is the ability to use leverage immediately after creating an account. BitMEX is an excellent company in terms of support, and it fulfills this obligation by filling its website with useful information, guides and general practical knowledge for first-time traders using the platform.
The platform has a well thought out support center as well as a news section regarding issues or updates. The ability to interact with other traders via chat directly from the platform is also a useful tool.
BitMEX derivatives trading platform has many advantages:
Access to a significant amount of freely available information directly from the BitMEX team itself on their website.
An assortment of different cryptocurrencies available for trading.
Excellent customizability of the desktop platform with widgets, which allows you to view the information you need when you open the service.
Ability to trade from anywhere in the world and communicate with traders using the built-in chat.
BitMEX derivatives trading has the maximum amount of positive feedback from users.
What are derivatives?
Derivatives were created to solve many problems that arise between economic agents that make a deal. They allow you to reduce the risks for the underlying asset, since the value of the derivative usually moves in a different direction from the value of the one for which it was created. Derivatives allow you to fix the terms of the transaction between parties.
Derivatives are referred to as derivative financial instruments, due to the fact that they cannot exist on their own. They act as a superstructure over the underlying assets. Their value is tied to the price of the asset itself.
Depending on different goals, different types of derivatives are used. In connection with this, the investor is advised to carefully select a specific instrument for his tasks. The purpose of the derivative is to hedge the risks of losses on the asset. Another goal of obtaining speculative income. The end result for each participant can be both positive, and negative. There are many types of derivatives, but most of them are risk management tools and speculative instruments.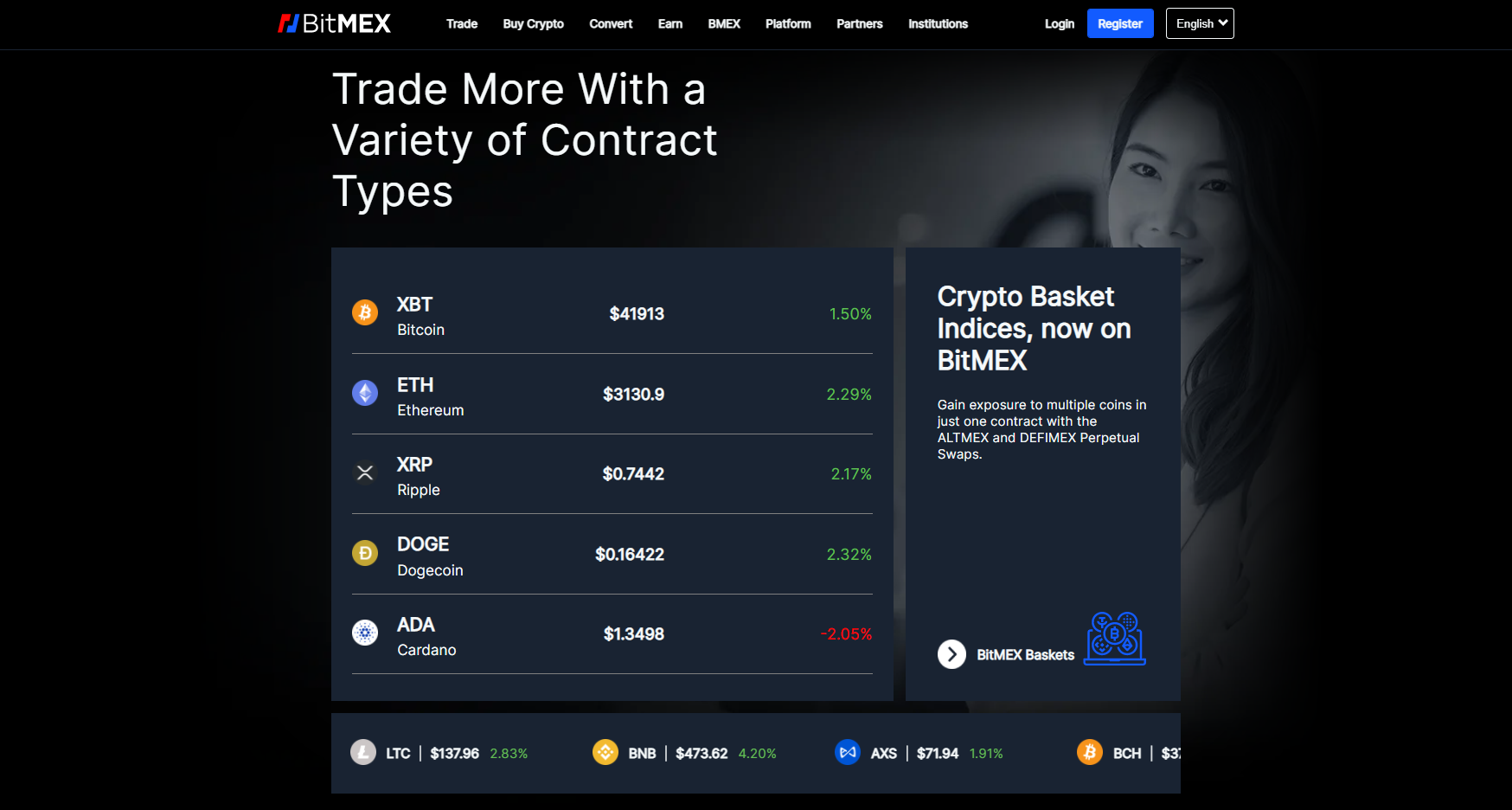 What are the benefits of using derivatives?
Low Transaction Costs: Because derivative contracts are risk management tools, they help reduce market transaction costs. As a result, compared to other securities such as spot trading, the transaction cost in derivatives trading is cheaper.
Determines the price of the underlying asset: Derivative contracts are often used to determine the price of the underlying asset.
Market Efficiency: Derivatives trading entails arbitrage practices that are critical to ensuring that the market finds equilibrium and that the prices of the underlying assets are accurate.
Risk can be transferred: Derivatives allow investors, corporations, and other parties to transfer risk to others.
BitMEX cryptocurrency derivatives trading is a stable income.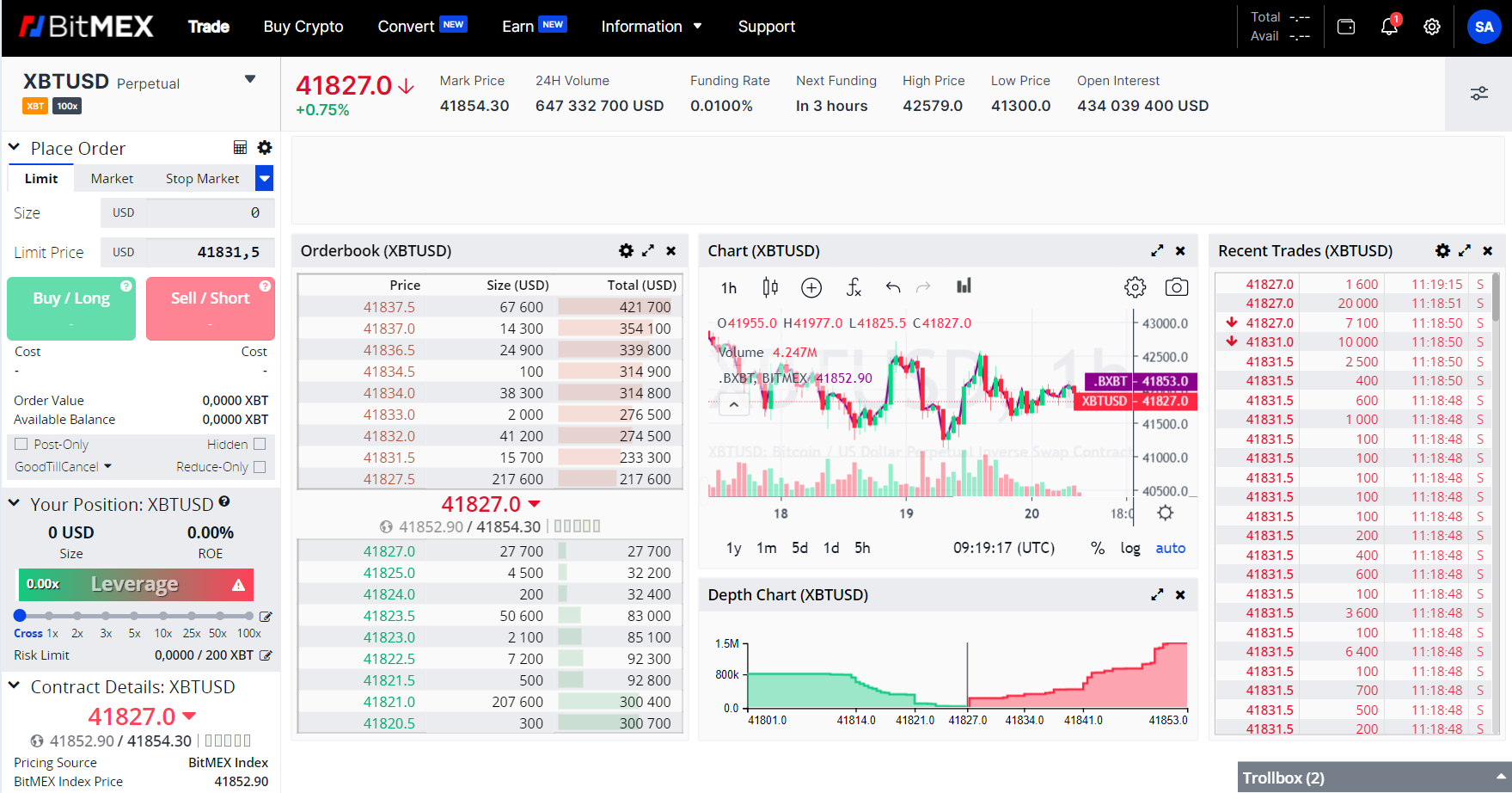 How does cryptocurrency derivatives trading work?
Trades are placed in the "Place Order" field. The "At Market" tab allows you to trade at current market prices. Limit orders and stop losses allow you to buy or sell at the price levels that the user chooses, but on the condition that the market reaches these levels.
Initially, you need to pay attention to the following three main points:
"Order Value" shows how much cryptocurrency can be bought for the entered dollar amount. For example, $1,000 can buy 0.1339 Bitcoin. The level of leverage to be used has a significant effect on this.
"Amount" is the dollar amount you wish to invest. (The trade value is also shown in XBT under the trade buttons).
Click the "buy" or "sell" button, depending on which direction you expect the market to move. ("Buy" if you think the price will go up and "sell" if you think it will go down).
Below the "Place Order" section is the leverage adjuster. The default value is zero, that is, if you buy $1,000 worth of cryptocurrency and the price doubles, that is, the capital will be $2,000. If the price drops to zero, y is left with zero. However, leverage increases both risks and rewards.
If you are not sure about the risks and benefits of leverage, it is best to leave it at zero or at a very low level. A great way to learn more about leverage is to open a demo account.
BitMEX crypto derivatives in Malaysia can be purchased by any user with absolutely any work experience in this area.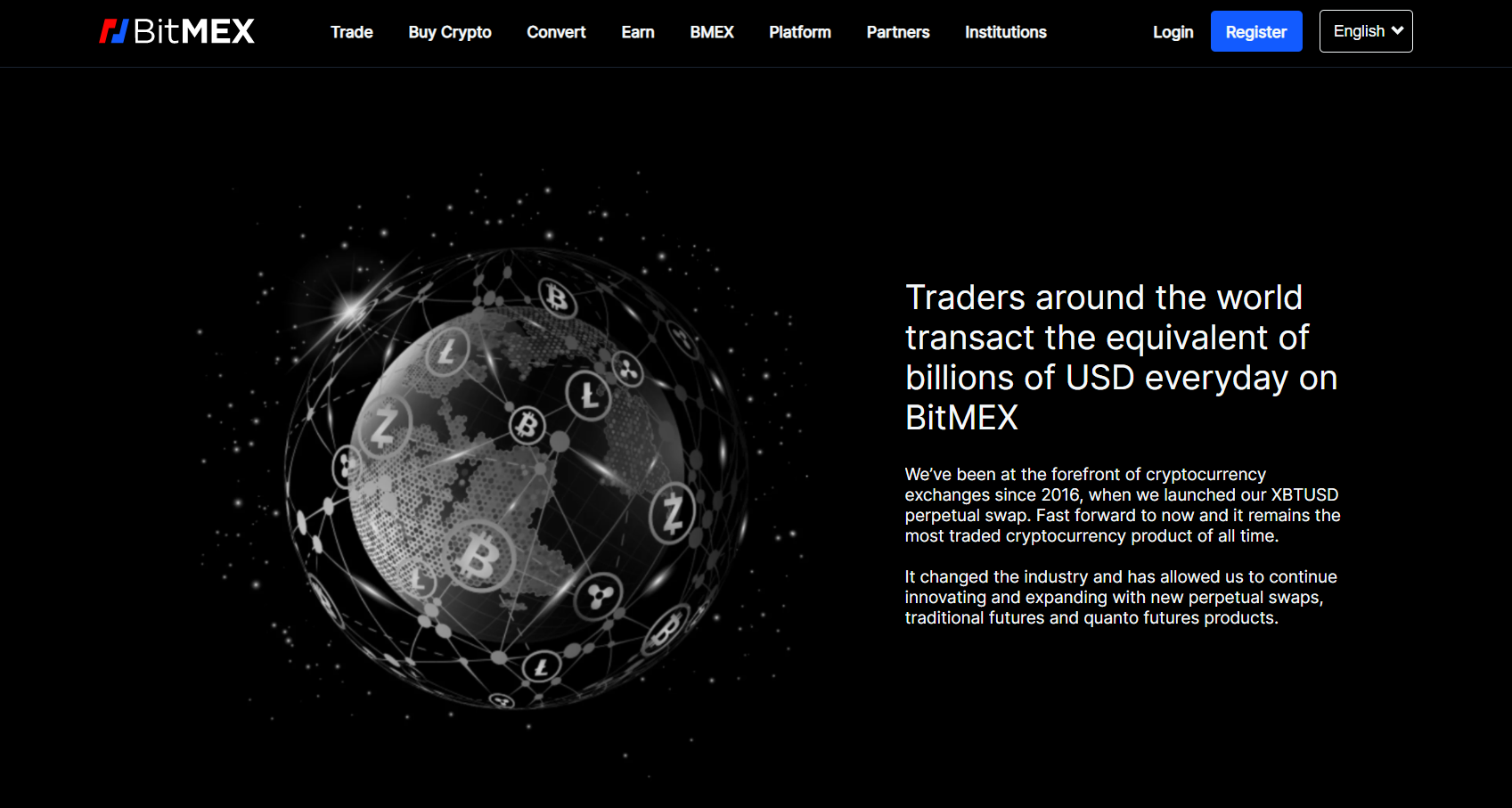 How to trade BitMEX derivatives in Malaysia
BitMEX derivatives in Malaysia are as popular as they are in many other countries. In order to make transactions, a new client must follow these steps:
Complete registration and identity verification.
Make a deposit.
Go to the "Trade" section of the main menu.
Select the desired futures or contract from the list.
Determine the direction of the transaction (buy or sell).
Fill out the order form and confirm the application.
Buy now BitMEX cryptocurrency derivatives in Malaysia and start earning today!
How to register?
BitMEX cryptocurrency derivatives trading platform has its official website on the bitmex.com domain.
The registration itself takes about 30 seconds. It is worth starting work with the exchange with the language version of the interface. Having chosen the language, we proceed to the registration itself:
Select the "Register" button
Fill out the registration form: email, password and country of residence
We accept the "Terms of Use and Privacy Policy"
Next, click on the "Register" button
Then we confirm the email address by clicking on the link "Verify my email address received by email"
Registration completed. Now you can familiarize yourself with the interface, replenish your balance and start trading.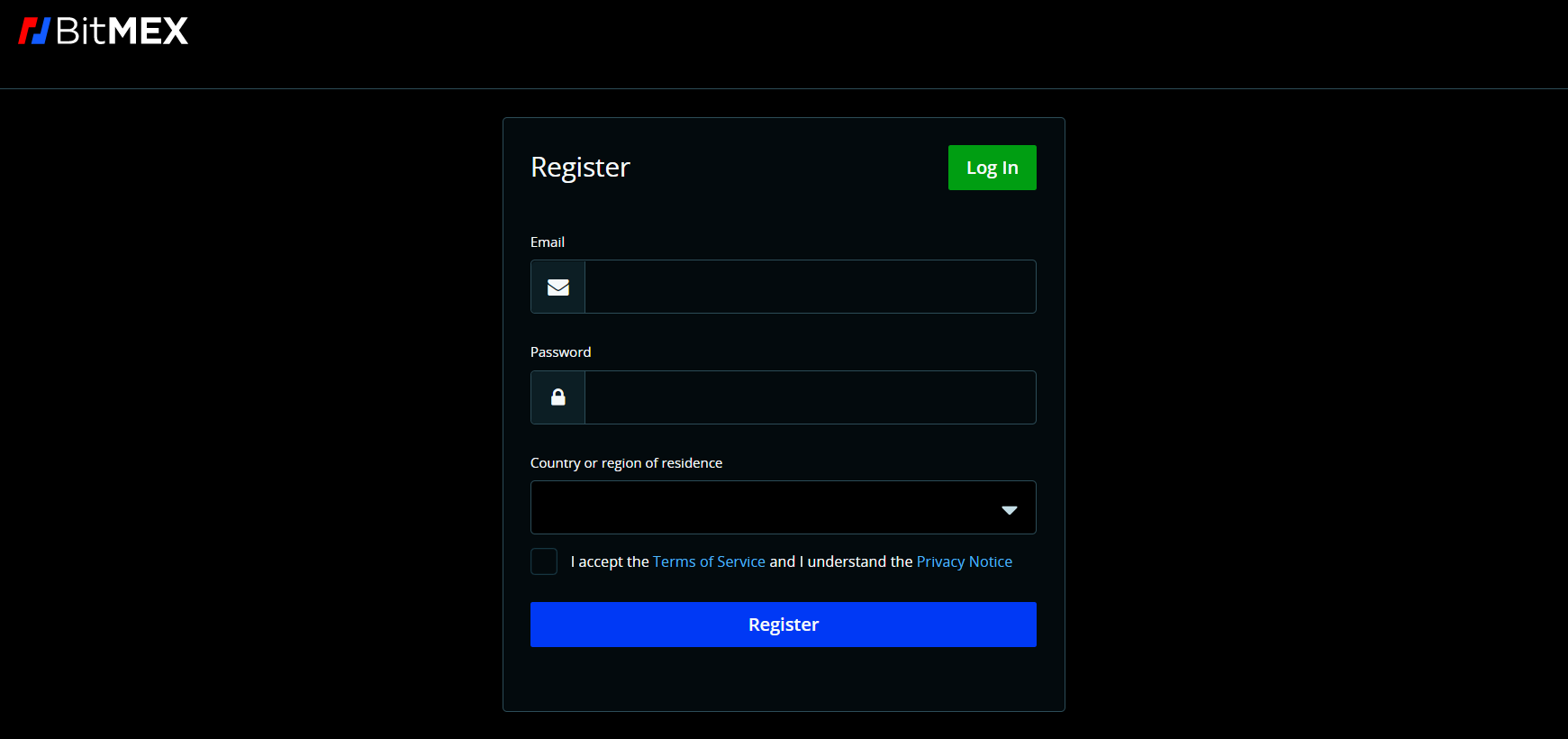 How to register a demo account?
The exchange provides a full demo version of its platform, known as TestNet BitMEX, which requires a separate registration to access.
A demo account allows platform users to try out the service without the risks associated with real trading.
Instructions for opening a test account:
Go to the testnet site and click the "Register" button
Enter your email address, password, region of residence, first/last name (optional). Accept the terms of service and click the "Register" button
An email will be sent to you with a confirmation link
Open the email and click "Verify my email address"
After that, the data will be automatically redirected to the trading terminal
Virtual Bitcoins (0.01 XBT) will be automatically credited to the account. You can start trading.
List of BitMEX derivatives
BitMEX crypto derivatives trading is an entertaining process, which also brings a stable income.
Below are the types of derivatives that are available on BitMEX:
A futures contract is a derivative financial instrument, which is a contract for the sale and purchase of an underlying asset: a commodity, currency or other product at a predetermined price at a specified time in the future (excluding early settlements). Upon expiration, futures are settled either by delivery of the underlying asset (deliverable futures) or in cash (settled futures). BitMEX offers several products in the form of settled futures.
Futures do not require 100% margin, which allows you to trade up to 100x leverage on some contracts. All margin values ​​on BitMEX are denominated in bitcoin, allowing traders to speculate on the future value of a contract using only bitcoin.
BitMEX offers futures contracts with inverse, quanto and linear payouts.
A quanto is a type of derivative financial instrument in which the underlying asset is denominated in one currency, but the instrument is settled in another currency at some fixed rate. Our quanto futures work on this principle.
Linear payout is the most easily defined and is used for many futures. The price of a linear contract is expressed as the price of the underlying asset relative to the base currency.
The reverse contract has a fixed value in the quoted currency. In the case of XBT futures, each contract has a value of $1 Bitcoin equivalent at any XBT price. XBT futures are inverse contracts because they are quoted as XBT/USD but the underlying is USD/XBT or 1/(XBT/USD). They are listed as inverse to facilitate hedging in USD, while the spot market is quoted in USD per Bitcoin.
Perpetual Contract is a new innovative product invented by BitMEX. This contract is similar to a traditional futures contract, but there are several differences:
There is no expiration or settling deadline (except for early settlements).
Perpetual contracts mimic the margin spot market and therefore trade at the price level of the underlying asset.
Each perpetual contract has its own differences, which can be found in the contract specifications. These differences include: Base Index, Funding Rate, Maximum Leverage.
This type of contract does not require 100% margin, which allows you to trade with up to 100x leverage on some contracts. All margin values on BitMEX are denominated in bitcoin, allowing traders to speculate on the future value of a contract using only bitcoin.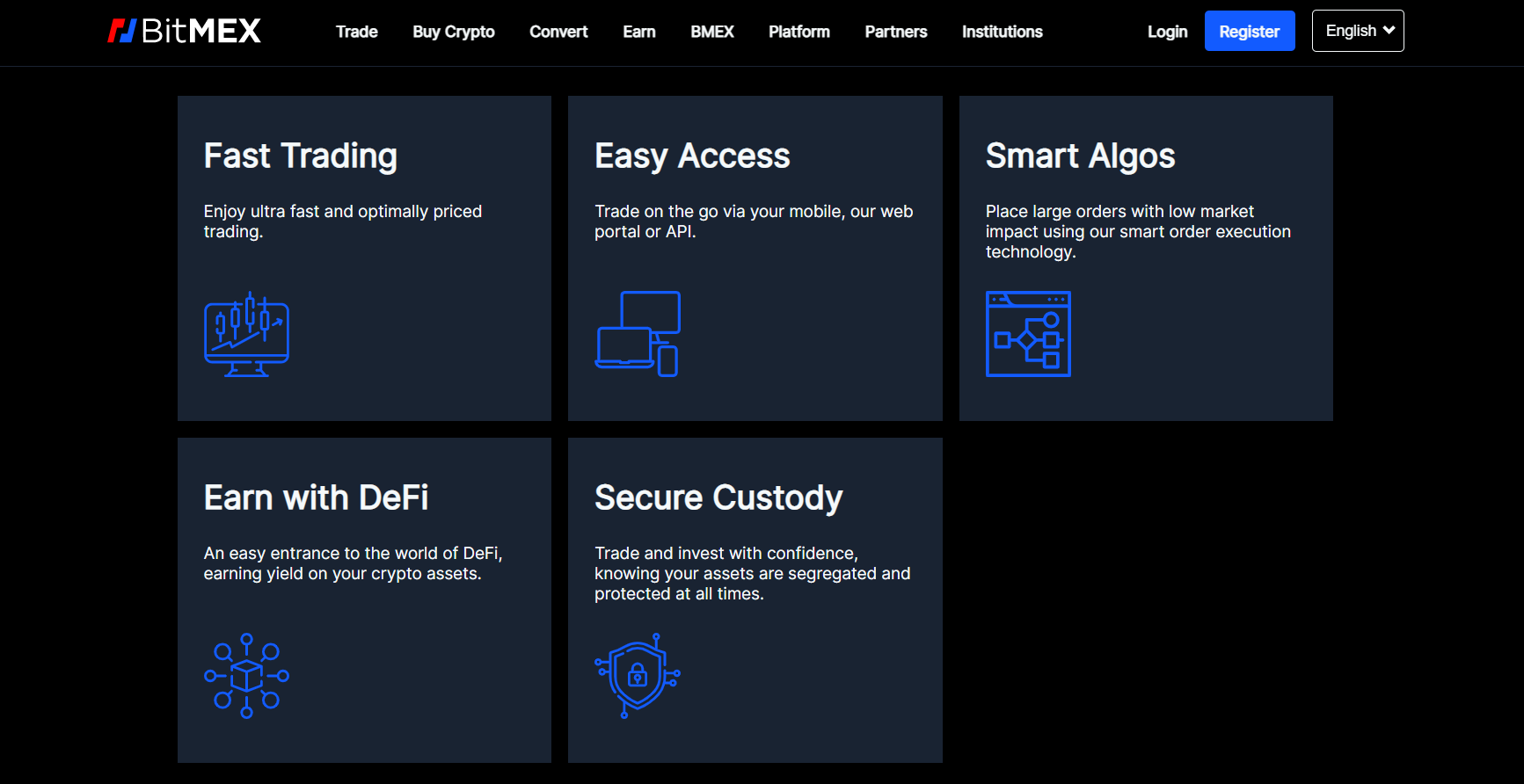 Conclusion
The platform takes the security of its customers seriously, as can be seen from its use of manually verified withdrawals and the use of strict security practices for deposits.For more experienced traders who have a good understanding of how leverage works and the risks involved, the BitMEX crypto derivatives trading platform might be the perfect niche choice for margin trading.As a global trading platform with a purpose, BitMEX lives up to its promises and provides all the information and tools needed to educate and execute successful trades. Overall, BitMEX does exactly what it's supposed to do and does pretty well. If you need a platform that meets certain requirements, then this option may be ideal.
SIMPLE AND RELIABLE
MONEY WITHDRAWAL