Today, cryptocurrency trading in Malaysia is becoming more and more similar to that of traditional assets. Today's online cryptocurrency exchanges offer features such as margin trading, futures trading and so on.
In this article, we take a look at the Bitget cryptocurrency derivatives trading platform.
What is Bitget?
Bitget is a centralized exchange established in April 2018. The platform is co-managed by the community and owned by Bitget Group, a leading digital commerce brand based in Singapore. The exchange provides spot and futures trading in digital crypto assets. Bitget has offices in Singapore, Europe, the US, Russia, Brazil, Japan, Korea, Australia, India, Vietnam and the Philippines. The CEO of the exchange is Sandra Lu. Bitget has an active social life, collaborates with investors and has recently partnered with sports club Juventus.
The platform is designed to provide secure and efficient digital asset trading, portfolio management and other financial services required in the crypto space. On the interactive platform, investors trade contracts using BTC, ETH and other major tokens.
The first impression left by the website and the interface, Bitget derivatives trading platform is thorough and professional.
The interface is thoughtful, informative and does not slow down. Bitget is very active with its mobile application, which is designed specifically to enable traders to make money without wasting time.
The application will allow trading on the platform from any device. This includes all devices that support android and iOS. On this device, you can make your predictions at any time of the day or night.
Bitget offers its traders a fairly extensive list of options for contacting technical support. They are ready to help all their clients at any time of the day or night. And will answer all your questions.
The advantages of trading via Bitget terminal:
24/7 support service;
protection of digital assets;
own terminal, API, mobile applications;
relatively low commissions;
high performance;
considered to be the largest copy trading platform;
interface supports six languages.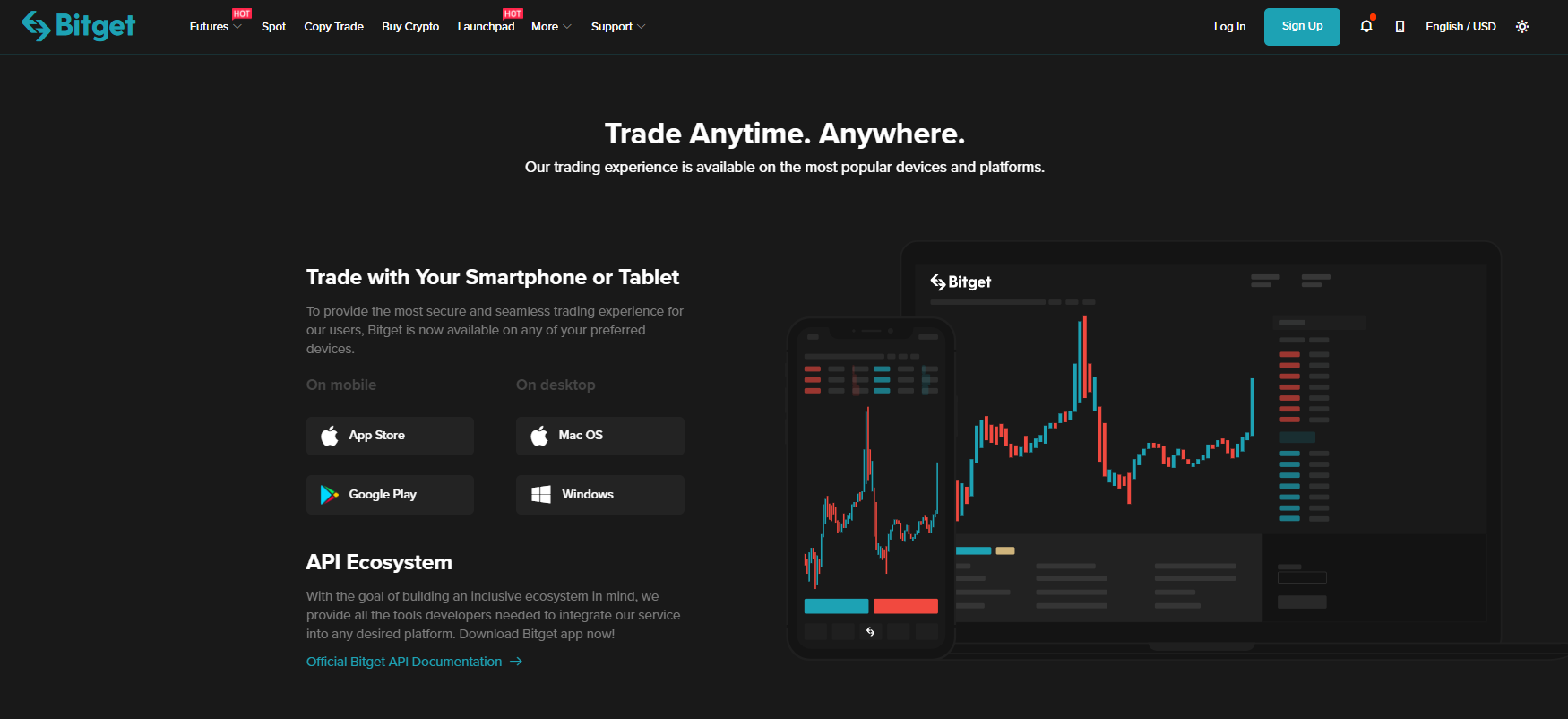 Bitget offers the following products to its customers:
Quanto-swap contract.
This contract supports multiple currencies that can be used as margin to trade multiple futures trading pairs. Normally, futures with margin on crypto-assets allow traders to use only one crypto-asset to secure positions. With quanto-swap contracts, users can make double profits from potential price fluctuations.

A single USDT contract.
Bitget provides users with the ability to manage their assets with a single USDT account. Exchange clients can choose USDT as the margin to trade multiple trading pairs with one total balance in USDT for all accounts, including PNL calculation, margin used and risk calculation. This tool will suit professional traders for whom ease and speed of execution is important. This type of account is the most popular on Bitget.

Copy Trading.
Bitget has its own internal platform for cop trading. In the platform, any user can subscribe to one of the 10,000 active traders and start copying all the trades of a professional trader for a profit. Thanks to the trade copying function, users do not need to manually open and close positions or monitor the market - trade copying is done automatically.
This will make it possible to earn even for beginners who do not have enough experience and skills to trade independently. It is a customizable feature where you can set stop loss levels as well as entry and exit times.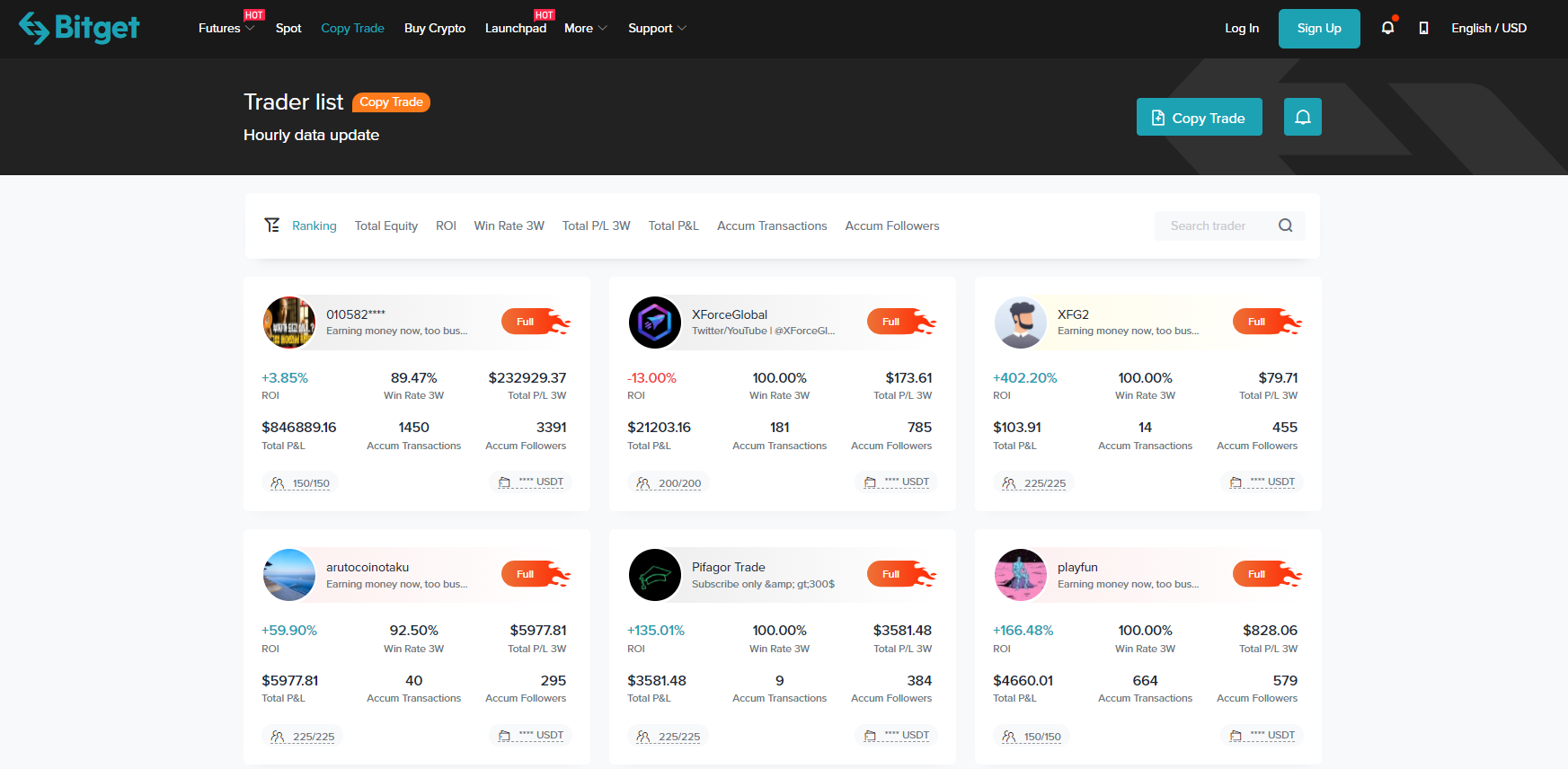 What are cryptocurrency derivatives?
Direct purchase of cryptocurrency is not the only way to invest in digital assets in Malaysia. Crypto derivatives have become its alternative.
We will now explain what cryptocurrency derivatives are, what they are, and why they are needed.
As you know, cryptocurrencies are a highly speculative market, with large price fluctuations occurring on a daily basis. Naturally, traders seek to profit from these fluctuations. By using crypto derivatives, traders can speculate on the future price of a selected coin and make a profit if their predictions prove correct.
Crypto derivatives are essentially an agreement between a buyer and a seller for the future value of a digital asset. The parties to this transaction do not own the underlying asset for which the contract is drawn up. In this case, the subject of the transaction is the right to execute the contract.
Derivatives are used in many areas, but primarily for hedging purposes where investors want to protect themselves against price fluctuations. In this case, signing a contract to buy the asset at a fixed price helps mitigate the risks involved.
Derivatives are aimed at active traders and speculators who constantly enter into transactions. Due to low commissions and built-in leverage, crypto derivatives are particularly popular right now.
It is important to clarify that the term cryptocurrency derivatives hides a whole group of financial instruments with their own characteristics: CFD, futures, options, swaps.
What they have in common is that they form an arrangement for a transaction that will actually occur in the future.
How does cryptocurrency derivatives trading work?
Bitget cryptocurrency derivatives trading in Malaysia offers several growth prospects for traders and investors. The challenge is to strategize, analyze and understand the possible risks before you start.
What types of cryptocurrency derivatives are available?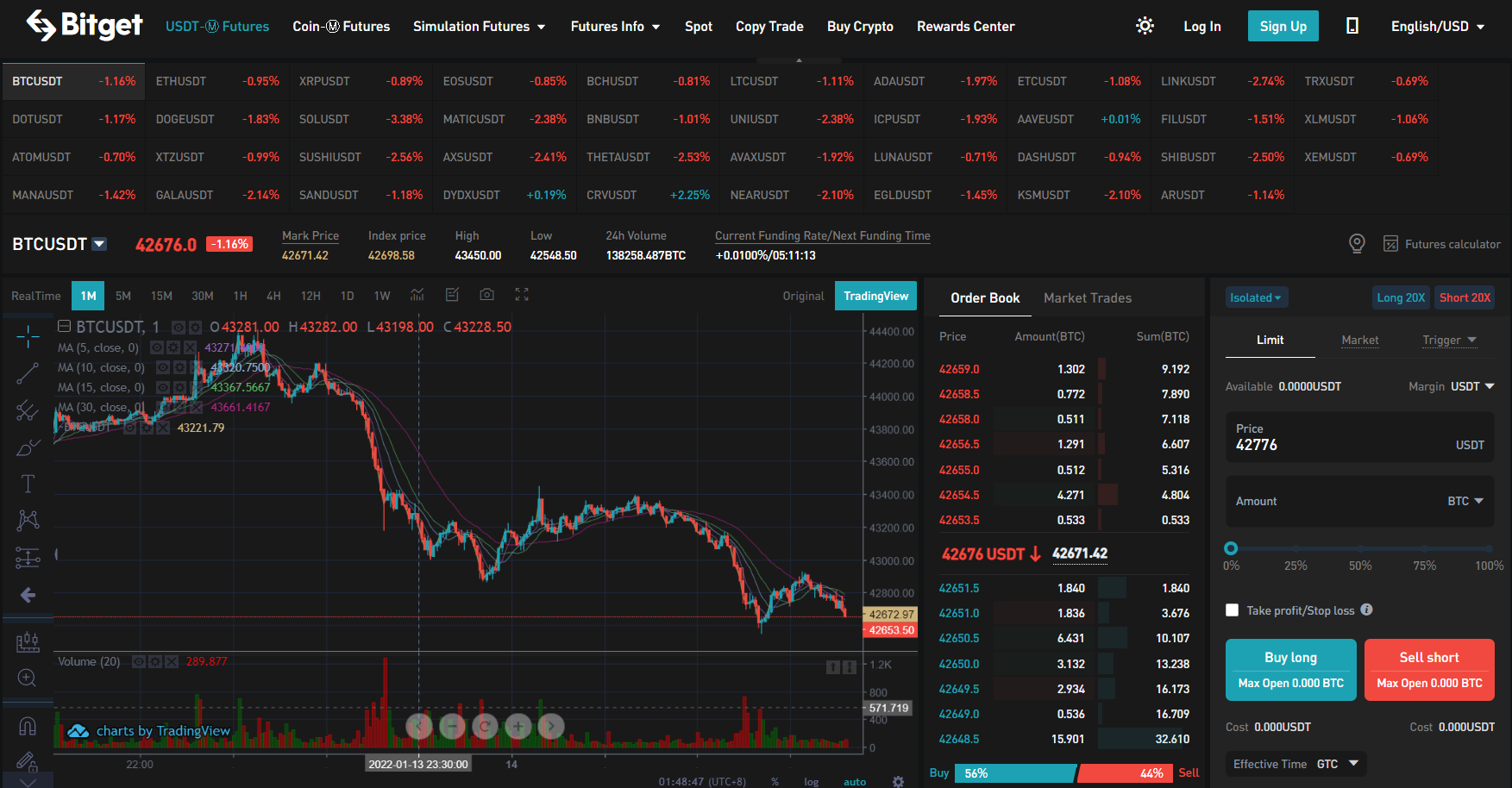 Futures
Like a traditional futures contract, a cryptocurrency futures is a contract to buy or sell a certain amount of cryptocurrency at a fixed price, to be realized at an agreed upon time. The parties to the contract commit to perform regardless of the market price of the asset at the time the contract is executed.
Bitget crypto futures trading allows for more than just profit maximization. Often, such contracts are used to hedge risks in regular transactions with assets with volatile prices.
Also, Bitget crypto futures in Malaysia offer the advantage of leverage.
This means that the exchange provides the bulk of the funding. Therefore, a trader can start trading with a small amount of money.
Options
An option contract is a derivative contract that imposes an obligation on one party while the other party decides later, that is, when the option expires. This means that one party is obliged to either buy or sell at a later date, while the other party has the option to choose. Obviously, the one who makes the choice must pay a premium for the privilege.
There are two types of options: call options and put options. The former gives the right, but not the obligation, to buy the cryptocurrency at a given price at a later date, while the latter sell it at a predetermined value.
CFD
CFDs are growing in popularity in the cryptocurrency derivatives market.
With CFDs, one can make money by "predicting" the behaviour of cryptocurrencies. To do this, an investor needs to bet on which way the price of the asset will go. If his prediction comes true, he will win the difference in the price. Losers, on the contrary, will have to pay for their mistake. The loss will be the difference in price between opening and closing the contract. The level of profit or loss depends, among other things, on how soon the contract for the price difference will be closed. When a CFD contract is signed, the service provider requires a deposit from the investor. This amount will be a guarantee of his solvency in case of losing.
The advantages of cryptocurrency CFDs include the following points:
Small investment.
You can make money quickly.
You can work with CFDs with leverage. The tool allows for a significant increase in income, in case the forecast comes true.
Swaps
Swaps are an instrument that includes two contracts. The first contract aims to buy or sell the underlying asset at the time of entering into it, and the second specifies the conditions for selling or buying the underlying asset in the future.
Essentially, these are futures contracts without specific expiration dates, and with the option to close the contract at any time. With swaps, traders can open long positions to increase the price or create short positions to decrease the price.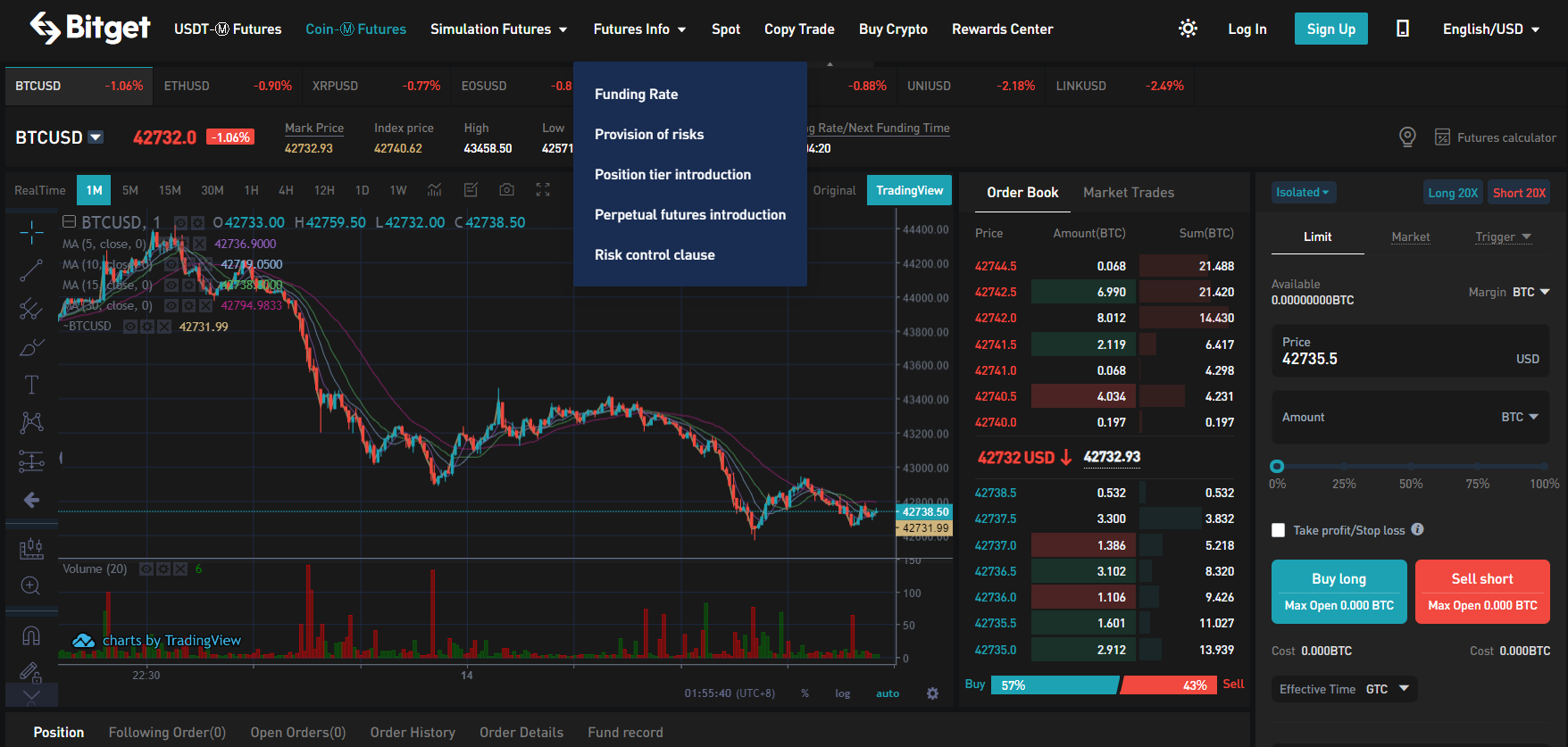 How to trade Bitget derivatives in Malaysia?
You already know that the cryptocurrency market is one of the most profitable industries on the planet. And trading crypto derivatives is more flexible and manageable because it gets its value from the primary underlying asset.
The derivatives market allows the investor to manage their portfolio more efficiently. Derivatives are great for hedging risks (in fact, that's why they were created). The inherent advantage of derivatives is that you only have to deposit a certain amount of principal, which allows you to pay less than you would for a real asset. Let's consider how to trade Bitget derivatives in Malaysia.
You can use Bitget derivatives trading today, but you have to register on the platform in order to do so.
Registration
The registration process on Bitget is very simple. You just need to provide your phone number or email address and set a password. You will then receive a code (to your mobile phone or by email). Likewise, you have to click on it to confirm your registration.
The next step is to complete the KYC. While this step is not required before you start using the exchange, it is probably better to do it at the beginning, so you do not face a sudden KYC check when trying to withdraw money. The KYC procedure on Bitget requires you to upload selfies with your ID card and a back and front scan of that document. In addition to these images, you'll need to provide your full name, country of residence, type of identity card and identification number. Once the information has been processed, you will have access to the full functionality of the platform.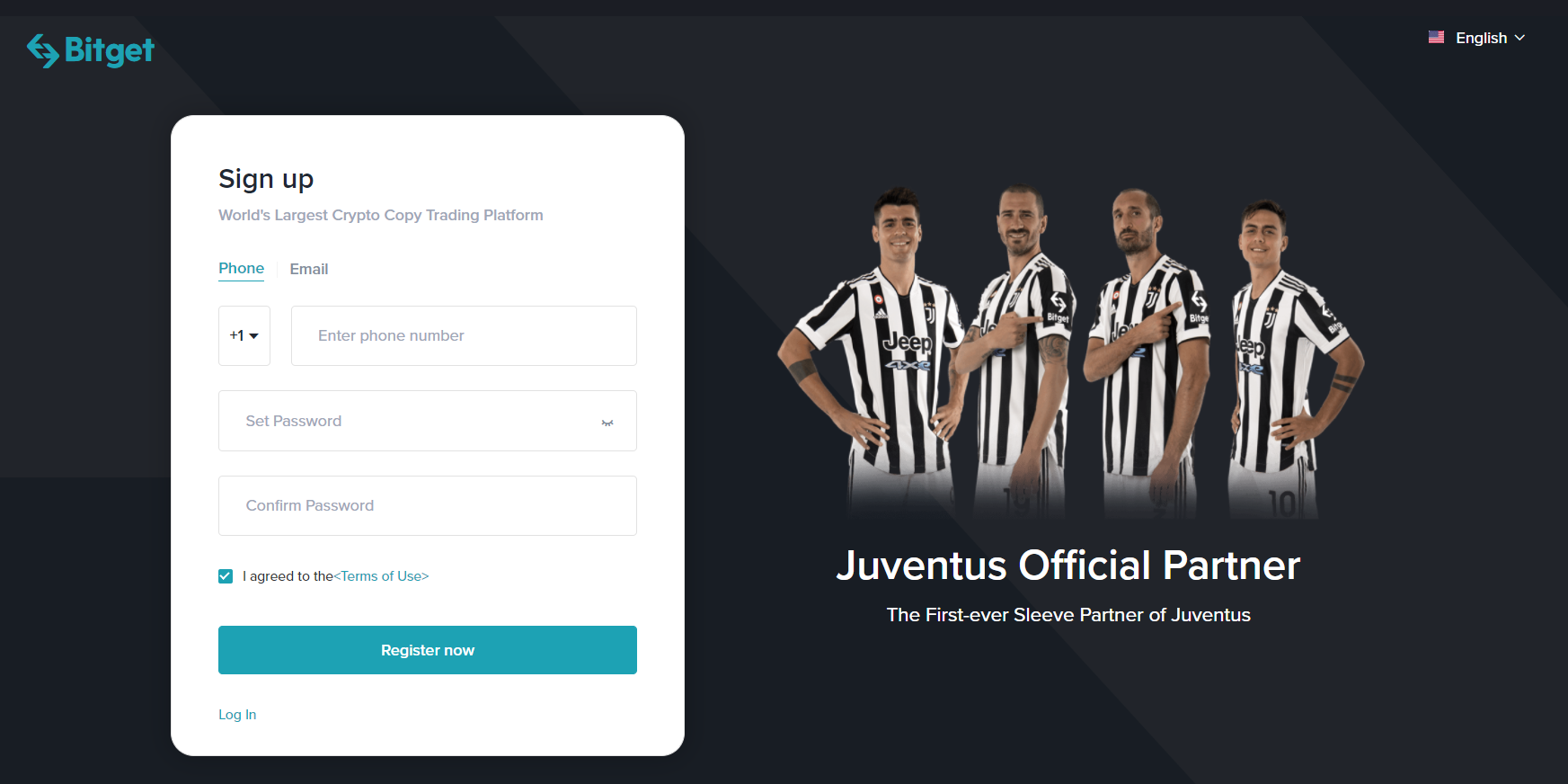 Demo account
Beginner traders may first use the Demo Mode. It is an easy way to get a full view of Bitget's features without investing any real money. This free feature will be available as soon as you sign up. This is a kind of training ground, where you can easily understand and see how the exchange works, learn the tools and learn to use them properly.
Real trading account
In order to open a brokerage account, you need to make a deposit. Every online broker has its own minimum deposit threshold.
You can fund your brokerage account in a number of ways. You will usually find all the options listed on the platform, so you will have to choose the one that suits you best.
The most common ones are via bank cards, traditional bank transfers and e-wallets.
Withdrawal is the same process as buying cryptocurrency. You create a request, pay for it and specify the details to which you want to receive the funds.
The Bitget derivatives trading platform is an incredibly well-built and designed platform that offers many trading functions. Sign up and take full advantage of crypto derivatives trading in Malaysia. We wish you the best of luck!
SIMPLE AND RELIABLE
MONEY WITHDRAWAL