What is Bitfinex?
Cryptocurrency exchange Bitfinex steadily holds its position in the TOP 5 global platforms. In the history of the exchange, there have been several serious hacks, after which it managed to stay afloat and increase security.
In 2015, users of the site were hacked, losing about $400,000, and in 2016, $73 million was stolen from users.
Many users still choose Bitfinex. Among the main arguments "for" the choice in favor of Bitfinex:
The highest liquidity and the speed of closing orders
All types of orders are supported
User-customizable interface
Great attention to security issues
A large number of available cryptocurrencies
Possibility of margin trading with leverage
Margin service
The exchange has other advantages that attract the attention of traders.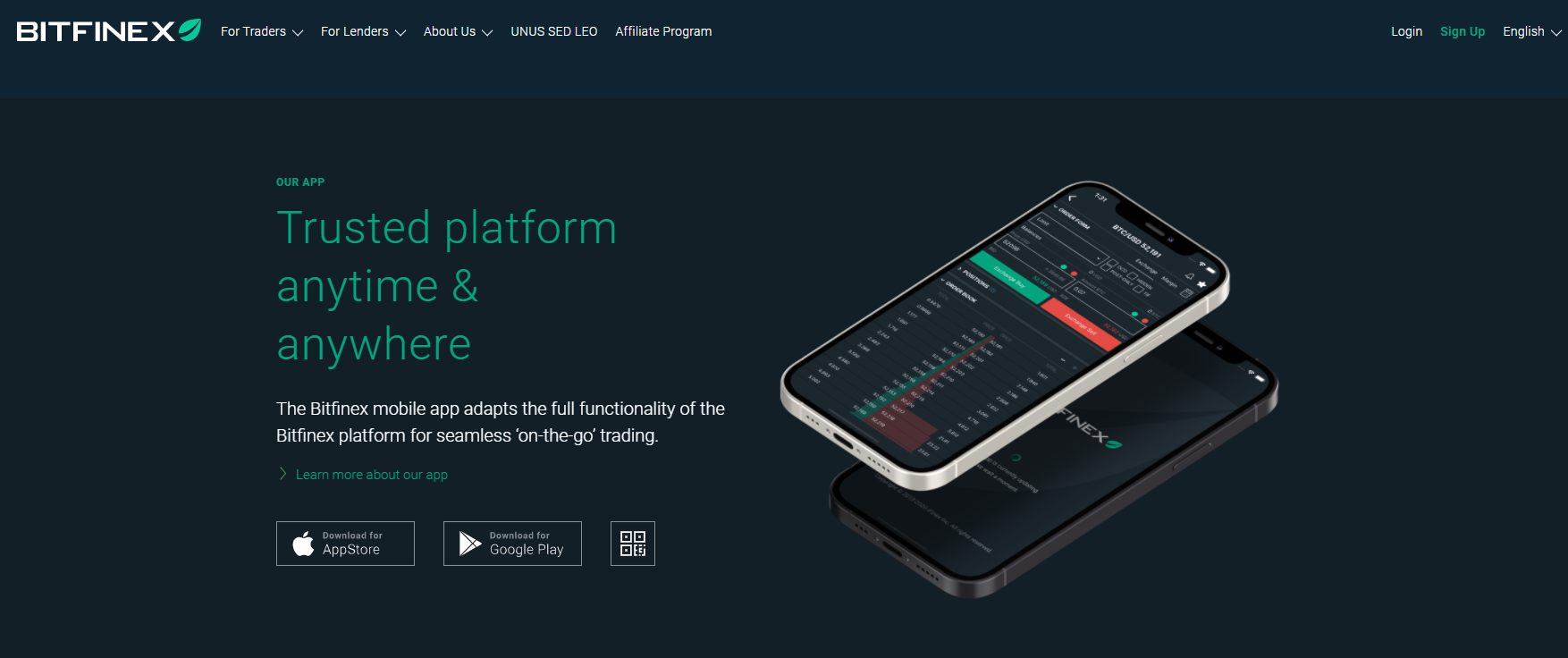 All experienced traders know the Tether stablecoin, a cryptocurrency whose price, according to Tether Limited, is pegged to the dollar. So, according to unofficial information, this stablecoin is closely related to Bitfinex, having common shareholders and management. Critics have repeatedly raised questions about the links between Bitfinex and Tether.
As you can see, this is a rather interesting exchange, which has been in the spotlight more than once due to rather ambiguous and scandalous information. Nevertheless, it continues to be among the leading venues in the world and is not going to give up its positions.
What are crypto derivatives?
In addition to the usual asset trading, there is an opportunity to use various financial instruments on the crypto market. One of them is crypto derivatives, which are essentially an agreement between a buyer and a seller for the future value of a digital asset.
The participants in this transaction do not own the underlying asset for which the contract was drawn up. In this case, the subject of the transaction is the right to perform the contract.
The most popular derivatives include:
futures
options
swaps
CFD
The latter are mainly offered by brokerage companies. Against the background of the growing popularity of cryptocurrencies, they have been actively including them in the list of traded instruments in recent years. Therefore, they offer CFDs on cryptocurrencies.
For many traders, this is a convenient tool for short-term speculation in the market. You can trade both ways without problems, as well as use leverage and work directly with fiat money.
What is crypto derivatives exchange?
Exchanges mainly offer other derivatives to traders. Futures are the most popular. There are also sites that offer option trading.
Exchanges that offer derivatives to users are called crypto derivatives exchange. You can trade on Bitfinex derivatives trading. Therefore, this is also a derivatives exchange.
How to trade Bitfinex derivatives in Malaysia?
To trade on Bitfinex derivatives in Malaysia, you need to register. We will discuss the registration process in detail below.
In general, it is worth noting that the platform is aimed at working with clients around the world. The exchange website is translated into 8 most popular languages ​​of the world. In the future, the list of supported languages ​​may be expanded. Therefore, it is possible to trade on Bitfinex cryptocurrency derivatives in Malaysia and in other countries. This is an international exchange.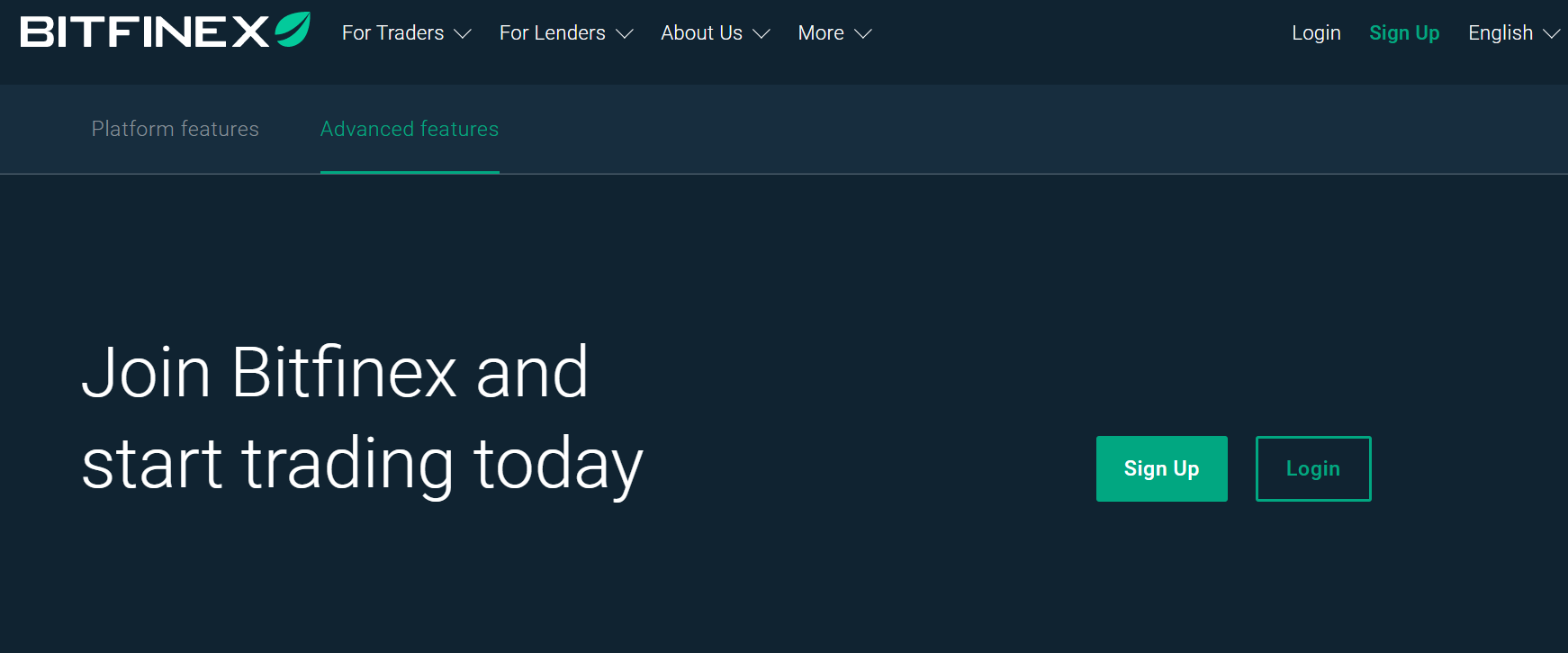 How to register?
The registration process on Bitfinex, by and large, is no different from registration on other exchanges. You need to enter a username, password, email, country and agree to the terms of work.
Interestingly, before Bitfinex positioned itself only as an exchange for professionals. Therefore, before registering, it was necessary to agree that we are professional traders and that we will make a minimum deposit to start trading ($10,000), after which we can enter our email, come up with a nickname and password.
If you just wanted to see the functionality of the exchange, then a demo was available for this purpose.
Now this is not the case, the platform is available to all traders, and the minimum deposit has been reduced to $5.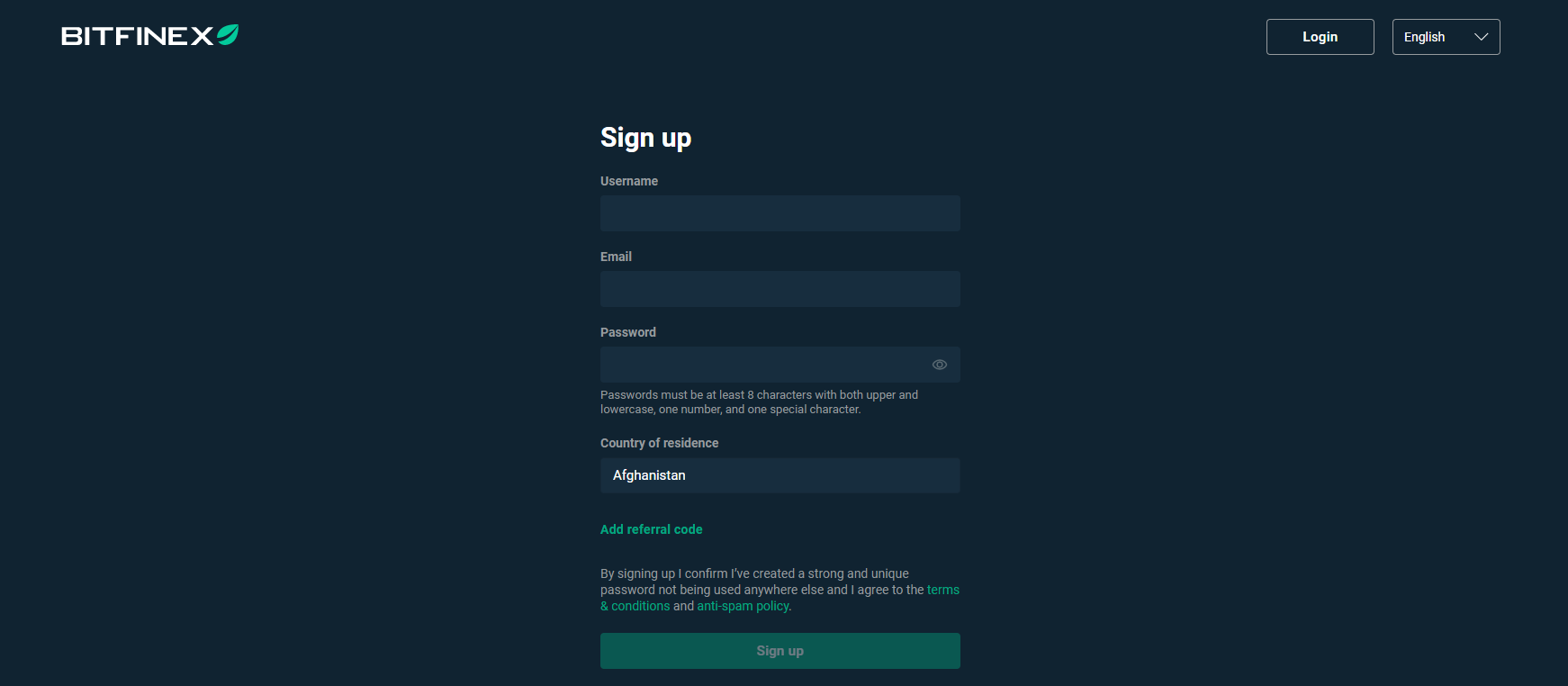 How to open a demo account?
Not all exchanges offer demo accounts. The Bitfinex derivatives trading platform has such a feature. In 2020, the platform expanded its functionality with demo accounts. Clients will be able to test their strategies in margin, futures and over-the-counter trading without the risk of losing real funds.
The function of the so-called paper trading (paper trading) is available in the account in the sub-accounts section.
Bitfinex offers to share trading ideas and insights regarding trading strategies on the special social platform Pulse launched in April 2020. Its users will be able to check the balance of all demo accounts opened on the exchange.
For more detailed information about new opportunities on the exchange, the support section has been added.
How to deposit funds on Bitfinex?
We note right away that Bitfinex cryptocurrency derivatives trading platform with fiat money, but for this you need to go through a full verification procedure. However, the platform does not support all currencies. If you are trading on Bitfinex crypto futures in Malaysia, you will not be able to fund your account in local currency. Only USD, EUR, GBP, JPY, CNH are supported.
By going through the verification process, you will also speed up the transaction processing process. The verification process, according to the data on the website, takes 2-3 days.
The process of replenishing an account in cryptocurrency is standard. In your personal account, you need to click "Deposit", then select the coin you want to replenish your account with. You need to generate an address to which you want to transfer the token.
There are three types of wallets on the Bitfinex cryptocurrency derivatives trading platform: an exchange wallet, a margin wallet, and a funding wallet.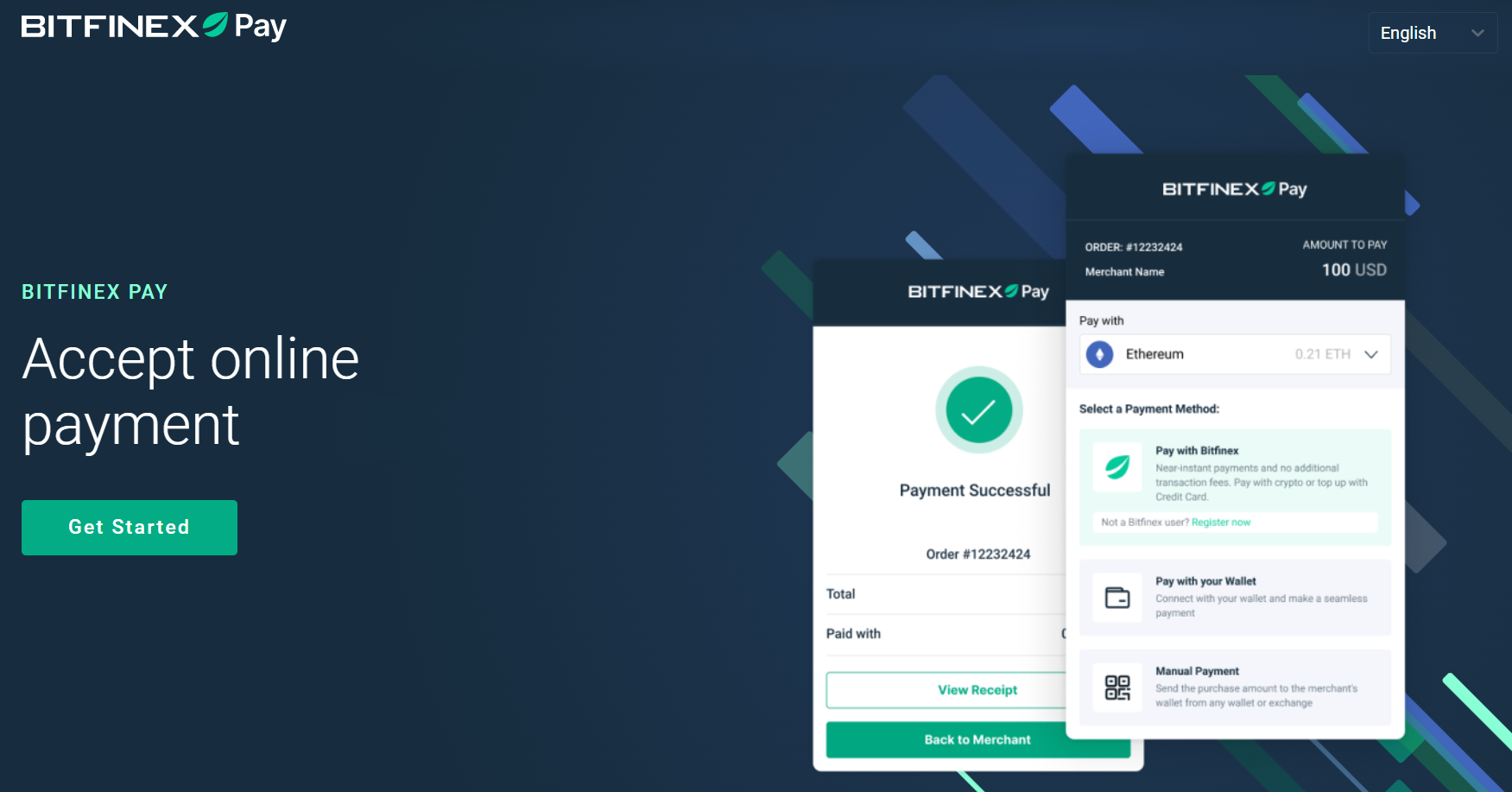 Minimum deposit amount?
At the moment, the minimum deposit with which you can replenish your account on the exchange is $5.
How to withdraw money?
Withdrawal from the account using fiat currencies is possible by bank transfer, the commission is 0.1%, but at least 60 EUR, so making transfers in small sums is not at all profitable. Payment processing can take from 5 to 15 days. The process can be accelerated if you are willing to pay a 1% commission.
Withdrawal of funds in cryptocurrency is standard. Go to your personal account. Press the "Withdrawal" button, select a coin, indicate the address to which you want to send funds, the amount and wallet from which the funds will be debited. Everything.
As you can see, working and trading on Bitfinex crypto futures in Malaysia is quite convenient.
Bitfinex derivatives list
This is one of the oldest exchanges and it is consistently held among the leading trading platforms. Not surprisingly, the platform offers a very large list of derivatives. Otherwise, the platform would not be very popular among traders.
The current list of available tools can always be viewed on the website.
How does Bitfinex crypto derivatives trading work?
Bitfinex provides regular exchange trading (leveraged trading), margin trading and an OTC platform for OTC transactions.
After switching to the trading terminal, we are given the opportunity to fully immerse ourselves in the interface, conducting a tour of the functionality (pop-up tips). The terminal itself is visually clear and informative, it is also possible to customize all the parameters for yourself, which is a nice bonus.
The chart is integrated with TradingView and has all the necessary functionality, also in the working area we see a list of quotes, a window for the last deals for the selected pair and order books. A big plus is the presence of all possible types of orders, including limit, market, stop loss, trailing stop, etc.
On Bitfinex, crypto futures trading is quite comfortable. The Bitfinex platform has always been considered one of the best.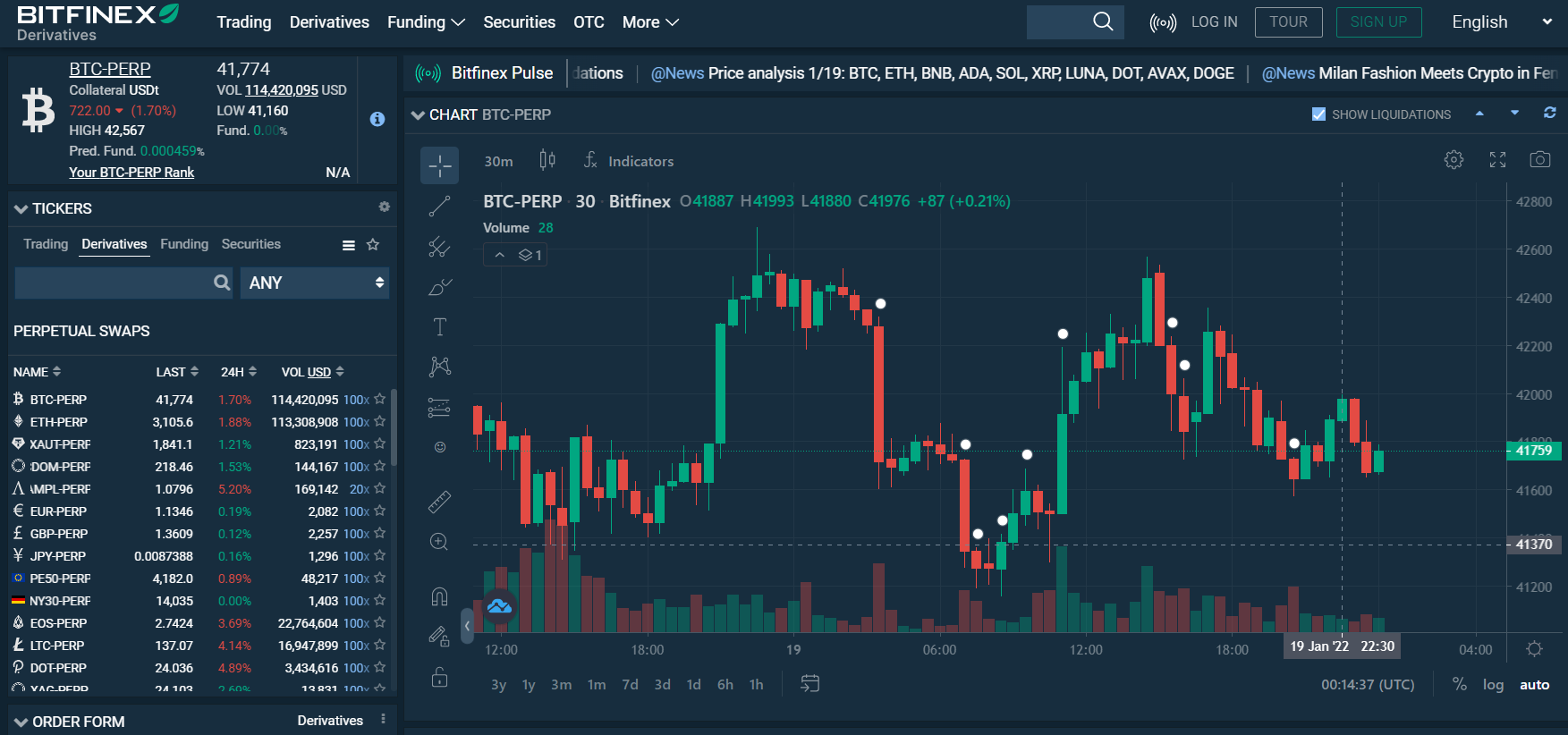 Available types of orders (orders):
Limit. The most basic order. Allows the trader to specify the price and quantity to be sold or bought.
Market. An order type that is executed immediately at the best price available in the market.

Stop. It is carried out when the market reaches the price specified by the trader (it can be either higher or lower than the one that exists at the time of placing the order).

Traling stop. It differs from a stop order in that it changes with the price. For example, if the price is 250, and the order is to sell at a loss of 5 points, that is, a sale will be made at 245, but if the price rises to 275, then the sale will be carried out at 270 points.

Fill or Kill. An order that is automatically canceled if not fully executed.

One Cancels Other. Allows you to place two orders, while if one of them is executed, the second one is automatically canceled immediately.

Hidden. An order that is not displayed in the order book and, as a result, does not affect market participants.

Post-only limit. Allows you to make sure that there is no match with an already existing order. As soon as it becomes clear that there will be a match, the order is canceled.

Scaled. An algorithm creation tool that allows you to create multiple limit orders within a given price range. Allows traders to spend less time creating orders and more time developing a strategy.
As you can see, Bitfinex crypto futures trading has been brought to a professional level. You can use a large number of trading strategies and different types of orders.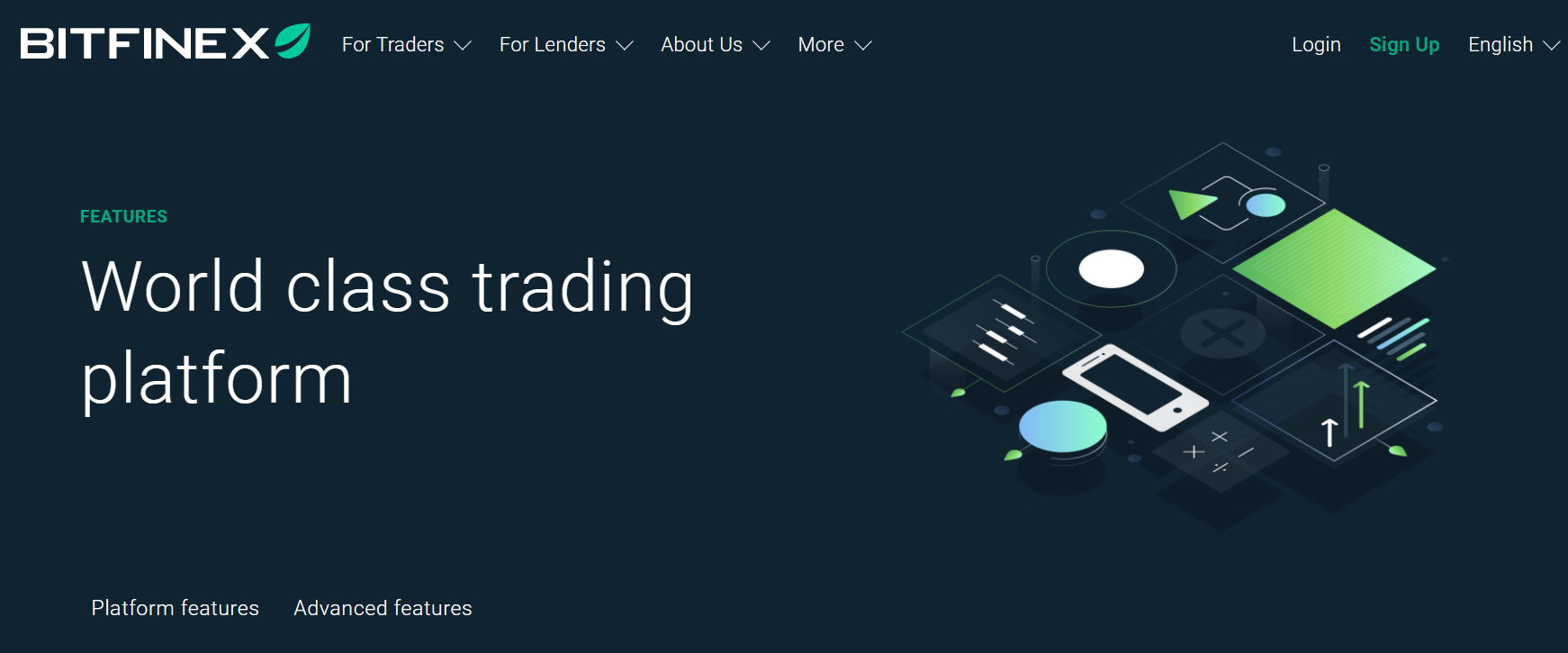 Alternatives to Bitfinex cryptocurrency derivatives
The market is very competitive now. Therefore, there are many alternatives to Bitfinex. If for some reason you don't like this exchange or don't like it, you can find another one. It is only worth giving preference to trusted exchanges that provide maximum reliability. Therefore, it is worth choosing exchanges from the top 10.
In this case, the risks of losing funds from non-trading actions will be minimal.
SIMPLE AND RELIABLE
MONEY WITHDRAWAL