What is Bit.com?
Bit.com is a feature-rich trading platform with support for Bitcoin perpetual swaps and options. This exchange is aimed at both retail and institutional investors, as well as miners and hedge funds. It is this versatility that will allow Bit.com to be the most liquid exchange with access to the global market.
Bit.com's throughput is over 10 thousand transactions per second, which means that exchange users can trade cryptocurrency in almost real time.
Moreover, the main feature of Bit.com is its unparalleled security. In cases of force majeure (for example, a hacker attack), the Bit.com team uses funds from the insurance fund.
Bit.com's staff consists of experienced derivatives trading, risk management and finance and investment experts.
The bit.com trading terminal is practically no different from many other exchanges. The same order book, a chart with an abundance of various instruments for technical analysis, trading history and a traditional panel of buy and sell orders. Everything is very familiar, usable and understandable.
What are crypto derivatives?
Derivatives are financial derivatives that are contracts (or agreements) between two parties. One party undertakes to sell a certain product at an agreed price within a certain period, and the other - to provide it exactly at this price and on time.
Why is the instrument called a derivative? Because it is based on some other asset. The contract itself is worthless. Its price is determined by the value of the underlying asset.
The market in which derivatives are traded is called a derivatives market, because one of the main conditions of the contract is the term of its execution.
How derivatives differ from other exchange-traded instruments:
Dependence on the underlying asset. Hence the name of the derivative.
Urgency. The contract immediately sets the deadline for its execution.
Fixed cost. At the time of the fulfillment of the obligations of the contract, it will remain the same, i.e. the one that is spelled out in the conditions. Despite the current market price.
High risks. Typically, the term for a derivative contract is several months. For such a long period of time, various force majeure events can occur, which the investor cannot foresee.
Potentially high yield. You can earn more with derivatives than with trading stocks and bonds.
Margin. This is a kind of advance payment that guarantees that the deal will be respected. If one of the parties for some reason refuses to execute, then the advance will remain with the other party.
What are derivatives for? Derivatives have two main tasks:
Risk hedging. In simple words, it is protection against losses. Let's remember the story of a farmer and imagine a bakery that needs raw materials. To ensure uninterrupted production and to hedge against future wheat price increases, it can enter into a fixed-term contract at the current price.
Speculation. This function of derivatives was formed as their popularity in trading grew. Earnings come from changes in value. And not only its increase, but also its decrease. Those. one side believes that the price will increase in the future, while the other side bets on a decrease. As a result, someone wins.
How to trade Bit.com derivatives in Malaysia?
Bit.com is one of the exchanges where derivatives can be traded. So far, the platform only supports two languages, so we can say that the exchange is now focused mainly on the Asian region and English-speaking countries.
It is possible to trade on Bit.com derivatives in Malaysia, but it is worth noting here that the platform is very young and does not offer a very large set of instruments. Bit.com derivatives trading is currently limited to the most popular cryptocurrencies. Among derivatives, options and futures are available.
To attract new users, the platform offers various bonuses for replenishing a trading account. If you want to claim your bonus and trade on Bit.com derivatives in Malaysia, you only need to fund your account.
How to register?
To register and start trading Bit.com cryptocurrency derivatives in Malaysia, you must complete the following steps:
Go to the Bit.com derivatives trading platform, click "Register" in the upper right corner of the page.
Enter your email address and click "Get Code" on the registration page. A confirmation code will be sent to your email. It will expire in 10 minutes. Please check the confirmation code and fill in the information in time.
After entering your email confirmation code and password, please read the user agreement and terms of service carefully. Click on "Register" to process your request.
After registration, the user gains access to the entire functionality of the trading platform and can start trading on Bit.com cryptocurrency derivatives in Malaysia.
How to open a demo account?
At the moment, the platform does not have a demo account. Perhaps this feature will be included in the Bit.com derivatives trading platform at a later date.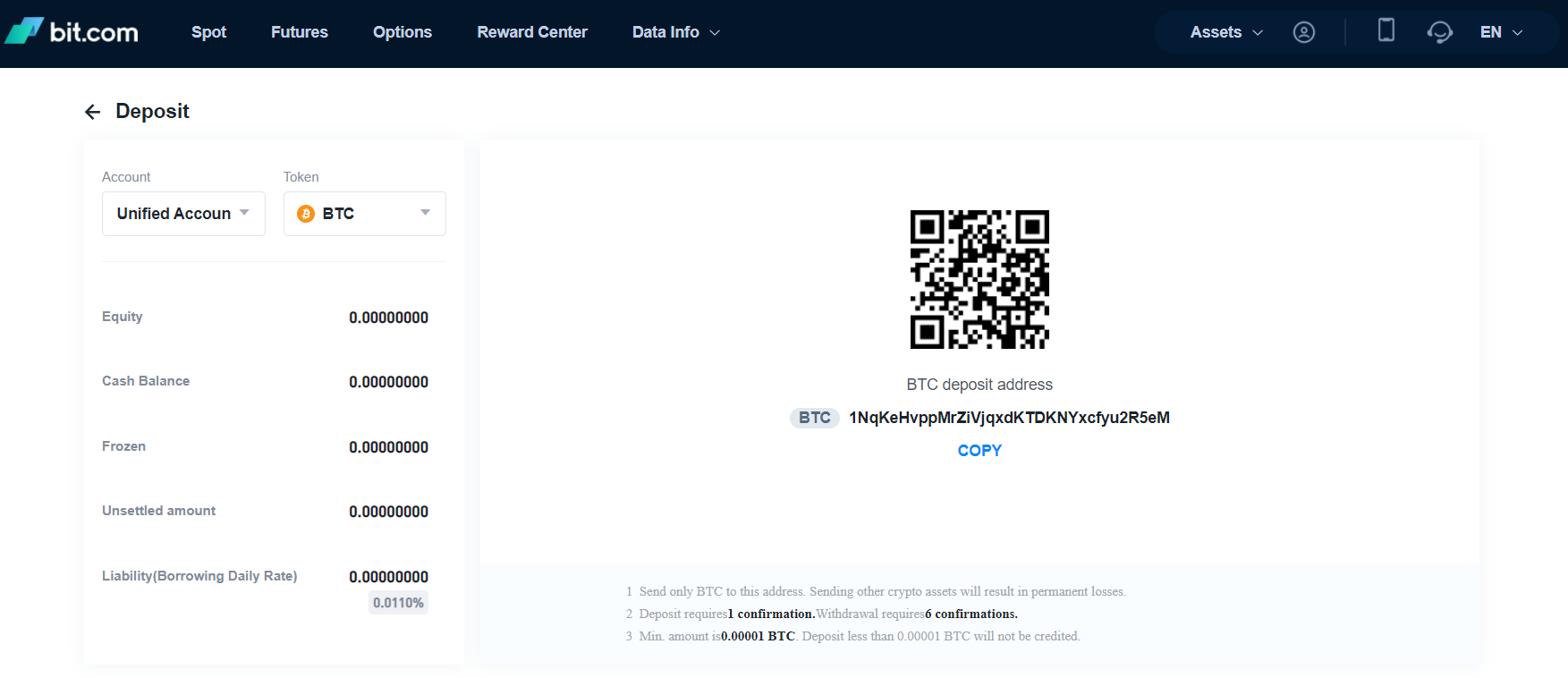 How to replenish a deposit?
The platform does not directly support fiat currencies, so you can fund your account and trade on Bit.com cryptocurrency derivatives trading platform only by funding your account with cryptocurrency.
The current list of supported digital money is presented on the site.
Nevertheless, the platform allows you to buy cryptocurrency for fiat money through the use of third-party services:
Banxa.
XanPool.
Moonpay.
Mercuryo.
Paxful.
Simplex.
To make a cryptocurrency transfer and start trading on Bit.com cryptocurrency derivatives in Malaysia, you must complete the following steps:
On the Bit.com cryptocurrency derivatives trading platform, click "Assets" in the upper right corner.
Then click "Deposit" in the column of the currency you want to deposit.
We can say that the process of replenishing the account is standard. Funding an account and Bit.com cryptocurrency derivatives trading is quite convenient.
Minimum deposit amount
The platform does not set minimum deposit requirements for all coins except SOL. There is a minimum deposit of 0.01 for this altcoin. Deposits less than 0.01 SOL will not be credited to your account and assets are not recoverable.
There are no such restrictions for other coins.
The expected time for your deposits to appear in the Bybit wallet is usually around two hours. But it depends on the speed of confirmation of transactions of the respective blockchains. Once funds appear in your wallet, you can start trading crypto derivatives in Malaysia on Bit.com.
How to withdraw money?
On the Bit.com crypto derivatives trading platform, click "Assets" in the upper right corner. Then click "Withdraw" in the column of the currency you want to withdraw.
Here you should pay attention to the following points:
Withdrawals will be made directly through the spot account.
If you want to withdraw assets from the derivatives account, first transfer the assets from the derivatives account to the spot account by clicking "Transfer".

As with withdrawing funds from other exchanges, you should be very careful. ERC-20 and TRC-20 have different withdrawal addresses, so be sure to enter the exact address when withdrawing funds through TRC-20.
Bit.com derivatives list
So far, the list of trading instruments on the Bit.com cryptocurrency derivatives trading platform is highly limited. In this regard, the platform cannot yet compete on equal terms with other exchanges.
The Bit.com cryptocurrency derivatives trading platform offers futures and options based on: BTCUSD, ETHUSD and BCHUSD.
How does Bit.com crypto derivatives trading work?
To trade Bit.com crypto derivatives in Malaysia, visit the platform home page. Click "Trade" in the navigation bar and select a contract type and a trading pair from the drop-down menu to go to the derivatives trading page.
Before placing an order, check the available balance in the "Assets" column on the right side of the page. For trading, you can use both simple buy or sell orders, and limit orders.
After your order is completed, you can view the order details on the item tab.
Alternatives to Bit.com cryptocurrency derivatives
It should be noted that Bit.com crypto derivatives trading has a lot of competitors on the market now. The platform is relatively young and cannot yet compete with the giants of the market, which offer a wide range of trading tools, various additional functions and options.
Nevertheless, so far Bit.com has managed to stay afloat thanks to its convenient functionality and favorable trading conditions.
But if you need a wide variety of trading instruments, then the Bit.com crypto derivatives trading platform is not your choice.
In this case, you need to pay attention to the market giants:
1. Binance,
2. Okex,
3. Huobi Global,
4. Coinbase,
5. OKEx and others.
DEX platforms have also been gaining popularity lately. Some of them also offer users the ability to trade derivatives. While these platforms cannot offer trading conditions comparable to CEX platforms, these exchanges are actively developing and are constantly working to improve trading conditions and services. DEX-exchanges have other advantages by which they attract users.
As you can see, there are a lot of alternatives to Bit.com now. The choice is yours.
SIMPLE AND RELIABLE
MONEY WITHDRAWAL