What is Binance?
The Binance Exchange (Binance) is one of the most liquid and popular online cryptocurrency platforms in the world.
Spot, P2P, OTC, leveraged futures trading, options, cryptocurrency margin trading are available on the exchange website; staking, landing, farming, mining pool, liquidity pool, NFT and more.
The crypto exchange has been operating since 2017, the main company is Binance Holding Limited. The Binance platform ranks first in the ranking of the best cryptocurrency exchanges in terms of trading volume, liquidity, traffic according to the Coinmarketcap service.

Money for the development of the exchange was collected through ICO in July 2017. The CEO and founder of the Binance exchange is Changpeng Zhao. Having extensive experience, he assembled a team of highly qualified specialists, which allowed the crypto exchange to enter the top 3 in terms of daily trading volume in less than 5 months from the start.
As part of the ICO, the Binance exchange released its internal token, Binance Coin (BNB). The initial emission amounted to 200 million. Every quarter, tokens are burned in the amount of 20% of the exchange's profit. The process will continue until the number of tokens is reduced to 100 million. For example, on 10/18/2021, the 15th BNB burn was performed in the amount of $640,000,000.
Binance Coin Token (BNB) is used to reduce trading fees; participation in IEO, Launchpool; increase partner remuneration, etc.
For example, now the trading commission on the spot market is 0.1% of the transaction, and when buying a BNB token - 0.075%.
What are crypto derivatives?
A cryptocurrency derivative is a financial instrument that is a derivative of an underlying asset (cryptocurrency).
There are many types of derivatives, but most of them are risk management and speculative instruments.
The most popular are 4 types:
Futures.
Forward contracts.
Options.
Swaps.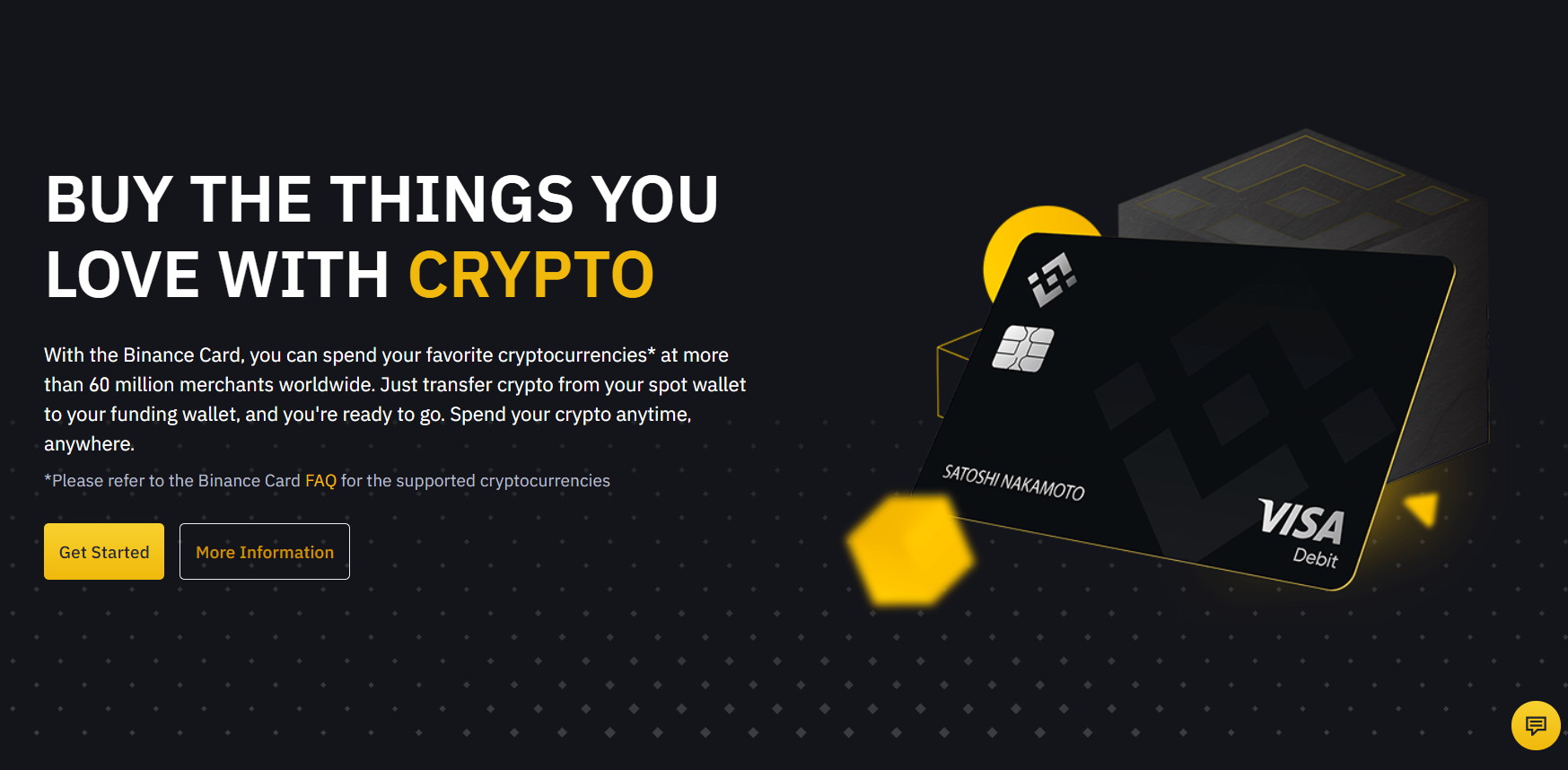 What is crypto derivatives exchange?
Crypto derivatives exchange are platforms that allow users to trade derivatives. Binance also refers to platforms that offer derivatives to users. Moreover, Binance derivatives trading platform is the market leader in this segment.
How to trade Binance derivatives in Malaysia?
Binance is an international company that works with clients all over the world. Therefore, you can trade on Binance derivatives in Malaysia, India and other countries. But there are a number of countries for which the company introduces limited access to certain functions.
For example, Visa and Mastercard payment options are not available for some countries. A detailed list of these countries can be found on the website. The list changes periodically.
Trading on Binance crypto futures in Malaysia is the most user-friendly. This platform deservedly ranks first in the world in terms of trade turnover and popularity. Binance cryptocurrency derivatives trading platform offers users the most interesting trading conditions, wide and convenient functionality.
But due to regulatory pressure in 2021, the exchange was forced to restrict access to Malaysian ringgit (MYR) pairs. But trading on Binance crypto futures in Malaysia is available for all other instruments where the national currency is not involved.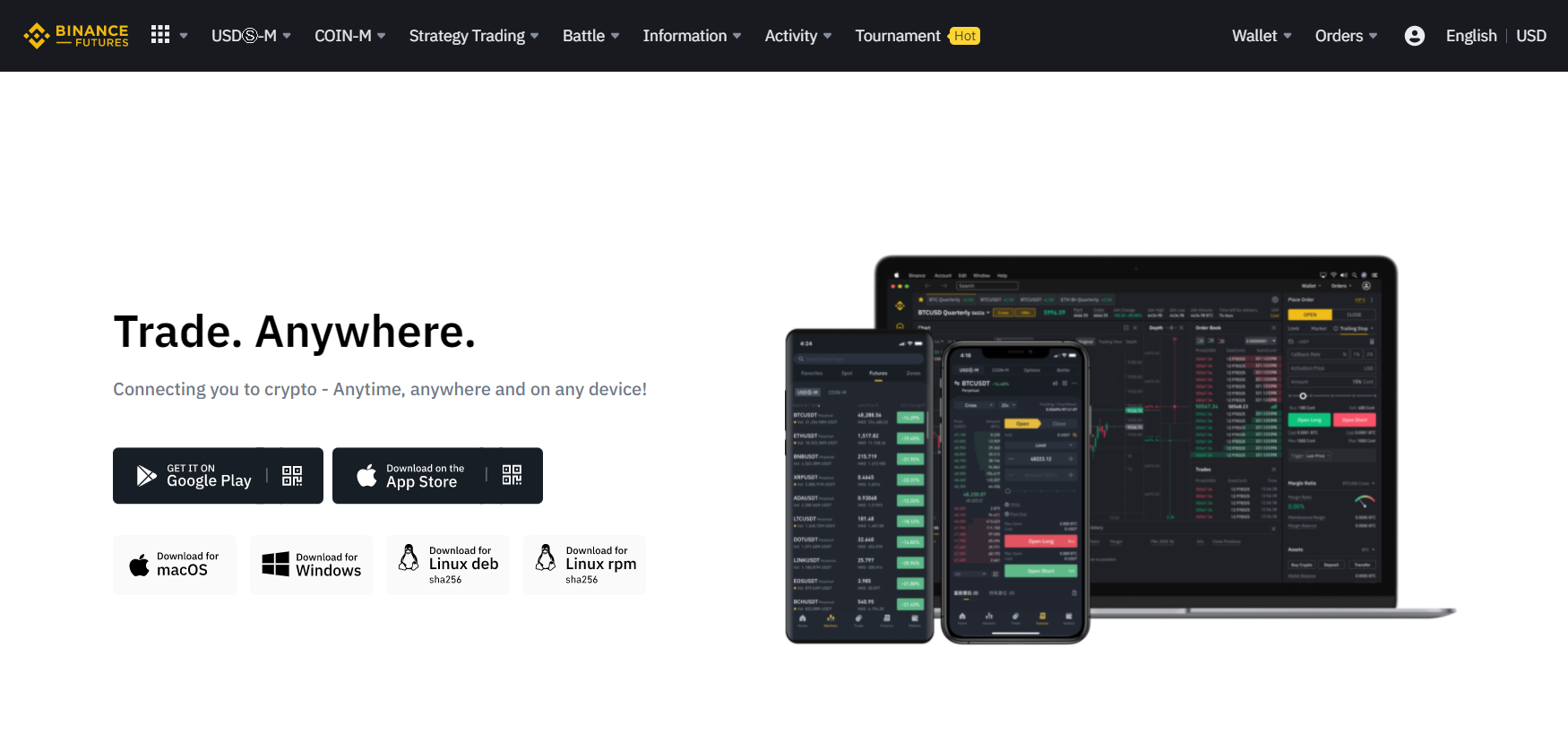 How to register?
Binance cryptocurrency derivatives trading platform is a leader in digital asset trading services. Anyone can become its client, for this it is enough to register a free account. Immediately after that, you will have full access to trading on Binance derivatives in Malaysia.
The site interface is translated into 41 languages ​​of the world, which will also make it easier for you to register on Binance derivatives trading.
Therefore, before starting registration on the exchange, we recommend setting the desired language. To do this, click the "English" button in the upper right corner, and in the window that appears, find the desired language. In the same menu, you can select the appropriate fiat currency.
To start the registration process on the exchange, you need to click the "Registration" button in the top menu.
In the next window, the first step is to select the registration method - via e-mail or using a mobile number.
Next you need:
provide an email address (or mobile phone number);
come up with a password (at least 8 characters, one capital letter and 1 number);

enter your referral ID (if you are registering by invitation);

check the box "I have read and agree to the Binance Terms of Service".

After filling in all the data, you must click the "Create an account" button. To confirm that you are not a robot, solve the captcha in the form of a small puzzle.
After that, a letter with an activation code will be sent to the specified e-mail, which must be entered in a special form in order to complete the account registration.
This completes the registration process. You can also fund your account at Binance crypto futures trading.
How to open a demo account?
Not all exchanges offer the opportunity to open a demo account. Biyfyc has this feature. This is another argument to start trading on Binance derivatives in Malaysia.
A demo account is a free account that is functionally identical to a real exchange account, but it uses virtual money to trade.
What are the main advantages of a demo account?
Easy start. You can start trading in just a minute. It is enough to register and you can start.
Introduction to the trading platform. This is the most convenient way to learn a new interface and try out all the terminal's features.
There is no need to create an account on the exchange and connect API keys to communicate with it.
No need to fund a demo account or make a deposit to the exchange.
There is no risk of losing your own funds.
Trading without stress and psychological tension.
Thanks to these advantages, a demo account allows you to start trading quickly and with maximum comfort, even for those who are trying their hand at trading for the first time.
The Binance demo account is available in the futures trading section of the exchange and hosted on a separate Testnet platform.
For registration, you can use the same mail as in the main Binance account. After authorization, you will get access to a test account with a certain amount of fictitious cryptocurrency in order to try your hand at trading.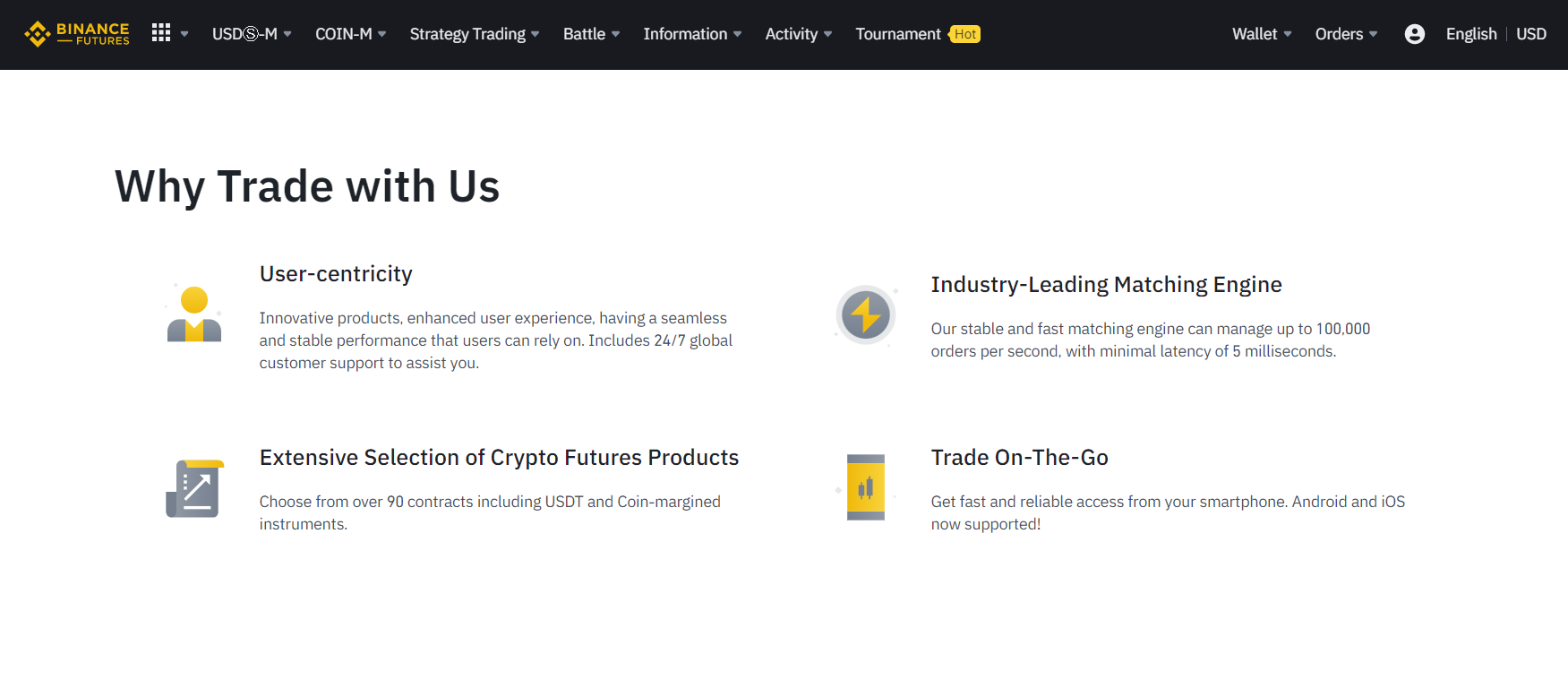 How to replenish a deposit?
Binance cryptocurrency derivatives trading platform is very popular due to its worldwide availability, support for multiple fiat currencies, and multiple ways to transfer funds to an account.
Binance derivatives trading platform provides a variety of payment methods for individuals around the world to fund their trading account using methods such as bank transfers, credit/debit cards (Visa/Mastercard), SEPA, wire transfer, and cash deposits.
Once again, we note that for some countries there may be restrictions on the replenishment and withdrawal of fiat currency. Therefore, before starting to work with the platform, check the list of relevant deposit methods for your country.
For example, in order to replenish an account from a card, you must first link the card in your personal account. You will then be able to fund your account in the currency of your choice and trade on Binance crypto futures in Malaysia.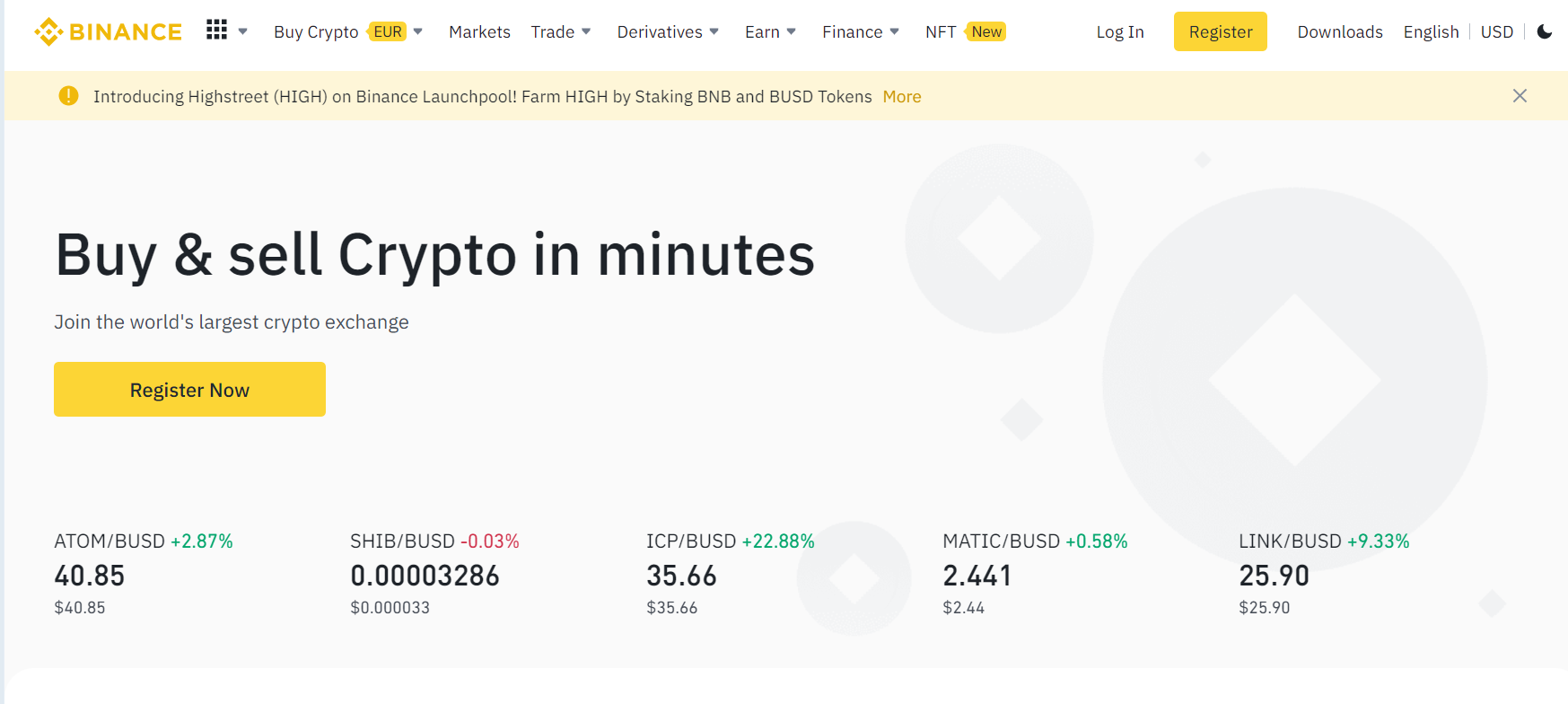 How to withdraw money?
You can easily withdraw profits in cryptocurrency. To do this, in your personal account, you must click the "Withdrawal" button.
The speed of crypto withdrawal will depend on the use of coins and networks at the time of the request. For more information, visit the official Binance website.
Immediately after funding your account, you can start on Binance crypto futures trading.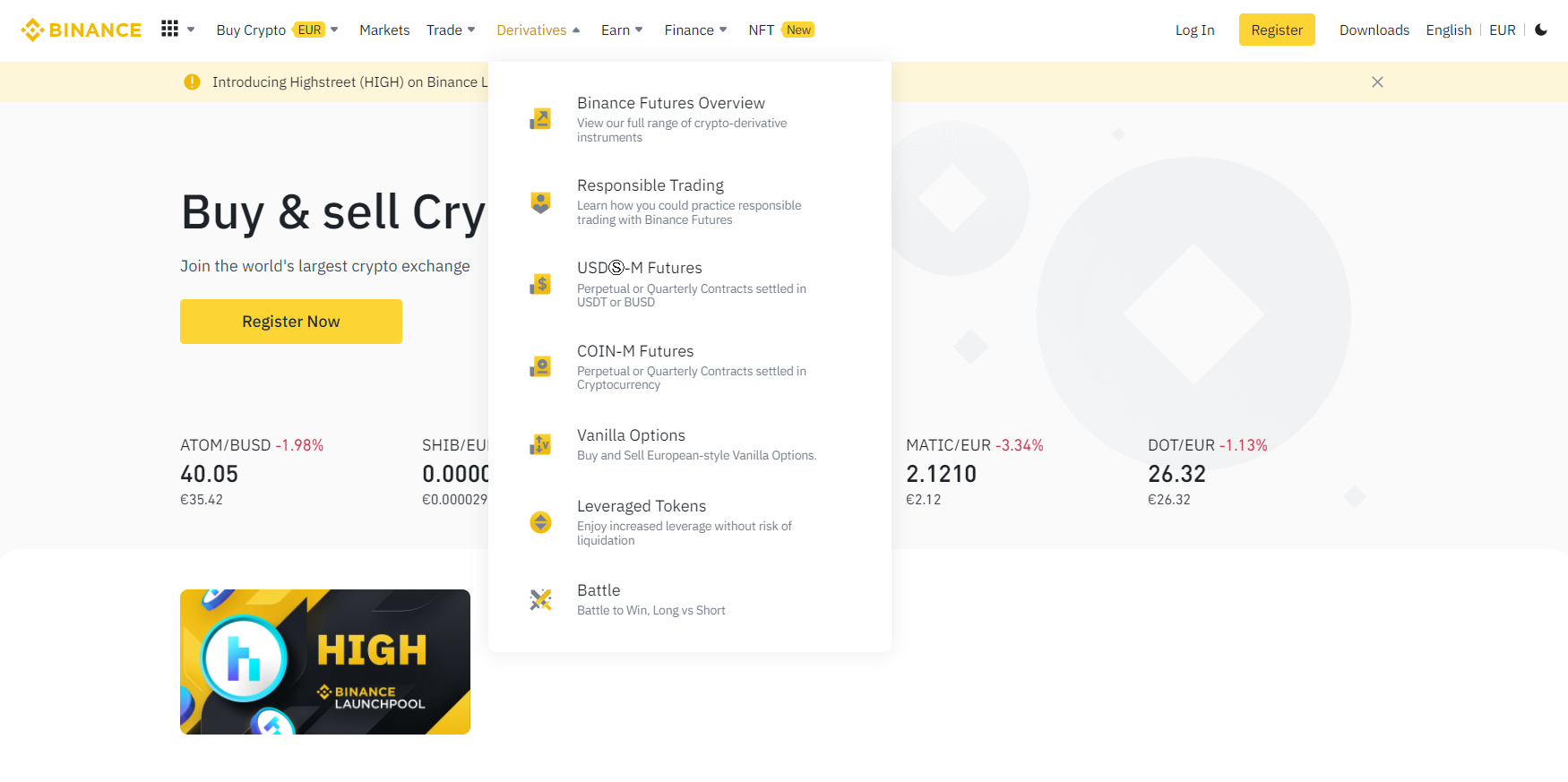 Binance derivatives list
Binance is the largest exchange in the world, so the list of available instruments is very large. You can get acquainted with the list of instruments for each direction of trade in detail on the website of the exchange. There will always be up-to-date information.
How does Binance crypto derivatives trading work?
To trade on Binance crypto futures, you first need to select the type of derivatives you want to trade. After that, you will be redirected to the trading platform.
Binance cryptocurrency derivatives trading platform is intuitive even for novice traders. In general, most users note a fairly user-friendly interface and good liquidity.
On Binance, crypto futures trading takes place on a platform that is similar to the platform on which spot trading takes place.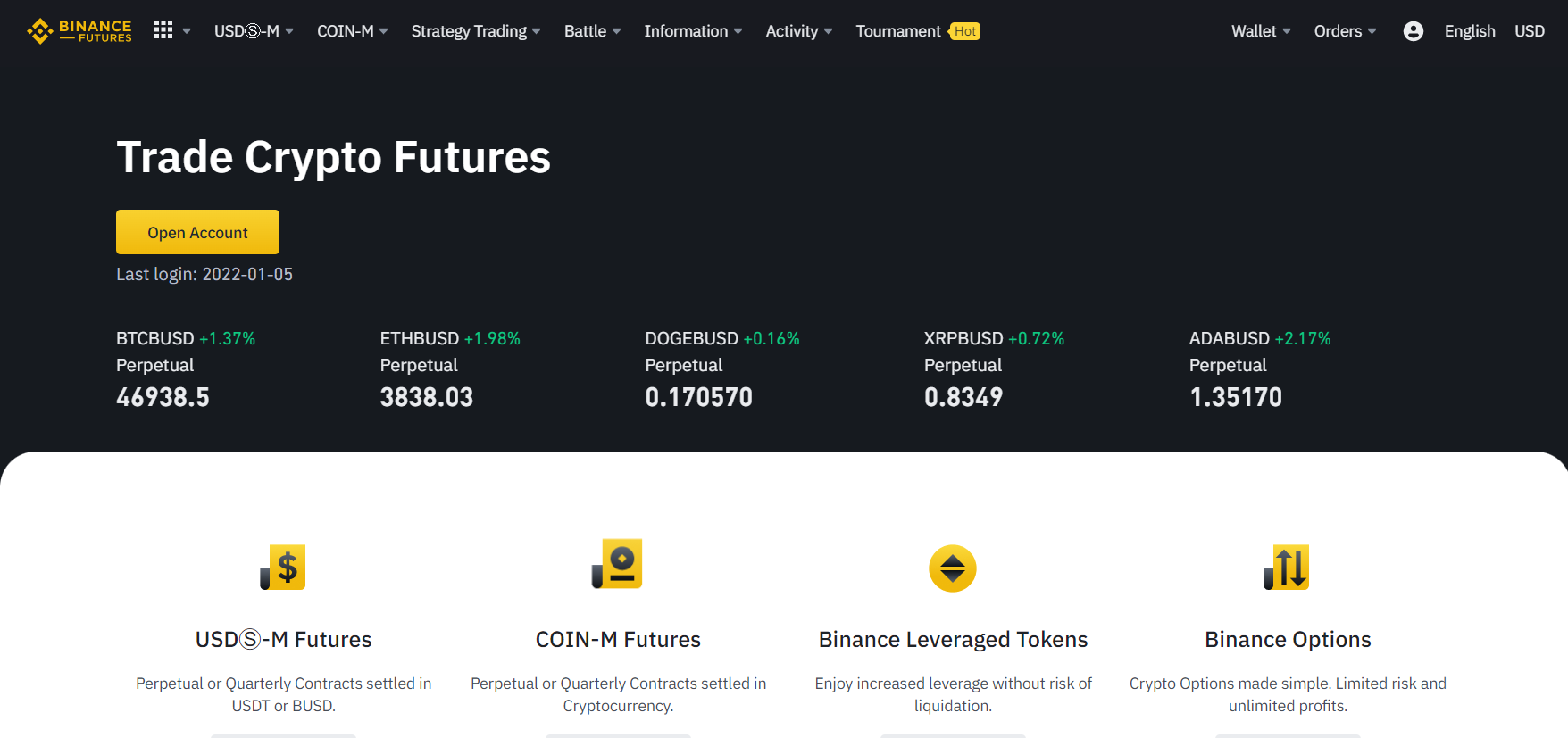 Alternatives to Binance cryptocurrency derivatives
There is a lot of competition among the exchanges on the market, but Binance has been confidently holding the lead for several years.
There are many reasons why traders choose Binance cryptocurrency derivatives trading. This includes a wide range of deposit and withdrawal methods, high reliability of the trading platform, high liquidity and a huge selection of trading instruments, high-quality service and a large list of supported languages.
All these and other factors allow Binance to keep the first line of the exchange rating.
Coinbase, KuCoin, Crypto.com Exchange and some other platforms are trying to impose competition on Binance. But so far, Binance is bypassing them in terms of trading volume and a large list of other indicators. Trading on Binance crypto futures in Malaysia remains the most attractive for most users.
SIMPLE AND RELIABLE
MONEY WITHDRAWAL