AscendEX (Bitmax)
AscendEX is based in Singapore and launched on March 22, 2021 after changing its name from BitMax. To date, AscendEX supports trading in a fairly decent amount of cryptocurrencies. Here you can find all the biggest ones and also the platform has 190+ trading pairs and 40 different pairs for margin trading.
The exchange team is led by three people - George Cao (co-founder and CEO of AscendEX), Ariel Lin (co-founder and COO of AscendEX) and Shane Molidor (Head of International Business Development of AscendEX). All of these people have experience in asset management, banking and finance.
AscendEX (Bitmax) derivatives trading can be done not only through a computer, but also through a mobile phone. The AscendEX trading platform provides cryptocurrency investors with app access for iPhone and Android users.
AscendEX also offers leveraged trading to its users. This means that you can borrow a certain amount of money from the exchange to buy crypto. The interest rate depends on the transaction. Do not forget that such leveraged trading can lead to both large profits and large losses.
Rebranding
In March 2021, the new AscendEX brand was officially launched, followed by major platform upgrades in brand logo design, user interface and functionality improvements, trading product design, platform token ecosystem, service support model, and risk management infrastructure.
The new brand not only draws inspiration from the recent growth and global adoption of digital assets, but also expresses a commitment to helping users capitalize on this new asset class and support the development of the blockchain industry. Through the rebranding, AscendEX wants to become the leading digital asset financial platform, building on the core advantages of a centralized trading platform with further DeFi integration, eventually rising to the top of the digital asset industry.
What are cryptocurrency derivatives?
Those who are looking for an answer to the question of how to trade on the cryptocurrency exchange, without direct interaction with the coins themselves, may be interested in derivatives. These are derivative financial instruments based on digital assets.
In normal cryptocurrency trading, a trader has several limitations. Firstly, he can earn only one way - to buy cheaper and sell more expensive when the asset rises in price.
Derivatives provide an opportunity to earn not only on growth, but also on falling prices.
AscendEX (Bitmax) Cryptocurrency Derivatives offer certain advantages to traders as they allow traders to make trading more profitable due to their flexibility, such as the use of leverage.
AscendEX (Bitmax) derivatives in Malaysia are a highly volatile instrument, so use derivatives as a tool to hedge or diversify your trading portfolio, and not just as a speculative tool to make quick money.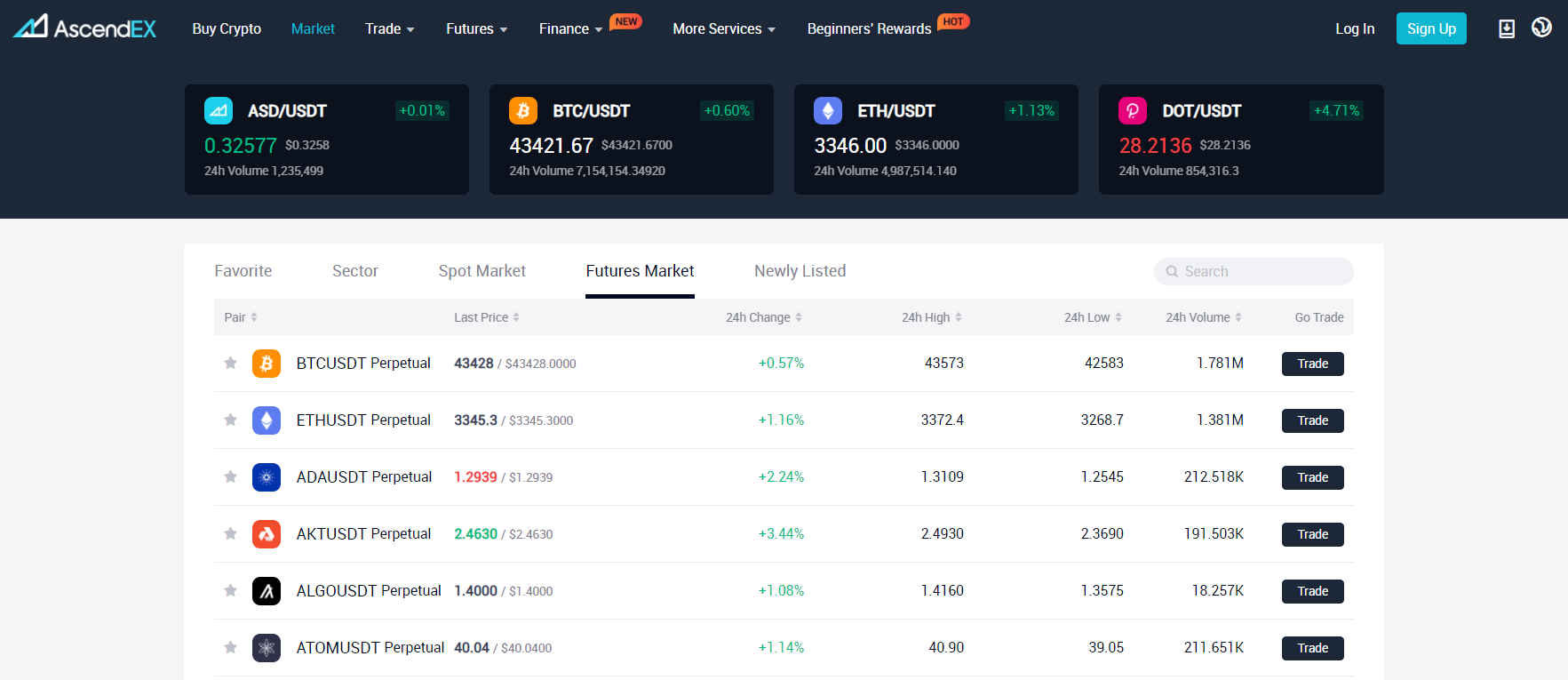 What are the types of derivatives?
There are 5 types of derivatives in cryptocurrency: perpetual contracts, futures contracts, exchange-traded funds (ETFs), swaps, and options.
Perpetual contracts. When a trader opens them, he predicts a certain value of the cryptocurrency in the future. If the forecast is confirmed, the difference in price between the opening and closing of the contract will add up to a profit. At the same time, you can earn both on the growth and fall of the exchange rate. The trader himself determines at what point to close the contract - that's why they are called perpetual.
Futures contracts. They differ from perpetual ones in that they must be closed before a certain date. A futures contract is a contract for the sale and purchase of an underlying asset. When concluding a futures contract, the seller and the buyer agree only on the price and delivery time.
An option is a contract that gives the investor the right to buy or sell, but does not oblige him to buy the underlying asset at a price fixed in the contract within a certain period of time. An option is a contract, at the conclusion of which the subject of bargaining is not the asset itself, but the right to pre-emptively sell or purchase it. The holder of the option may not use his right to trade with the asset.
A swap is an agreement under which the buyer, when purchasing an asset, undertakes to return it back within a certain period and at a price fixed in the agreement. Swap contracts have many subspecies: currency, interest rate, commodity, spot, forward, simple, basic and others.
Additional earning opportunities on AscendEX
In addition to directly trading on AscendEX, you can and should master the tools of semi-passive earnings. Semi-passive - because in order to set everything up and make the system passive, you need to carefully study the tools themselves, the projects in which you are going to invest, monitor the news agenda, special channels in social networks. One of the most popular investment opportunities currently present on AscendEX is DeFi farming, aka profitable farming. An important point: all manipulations with profitable farming take place on AscendEX without commissions.
Among other additional earning tools on AscendEX, there is a semi-automatic "package" investment product BitTreasure, staking, which is mega-popular today, and, of course, AscendEX's calling card: participation in the initial sale of project coins and auctions.

AscendEX exchange trading interface
All exchanges have a different trading interface. Each user must determine which trading window suits him best. What is common in the trading interface of all exchanges is that they all show an order book or at least part of it, a price chart with selected cryptocurrencies, and an order history. They usually also have buy and sell blocks. Before choosing an exchange for yourself, familiarize yourself with its trading interface to determine if you are comfortable working with it.
AscendEX (Bitmax) derivatives trading platform has a number of advantages. It is a one-stop shop for digital assets, from basic trading to advanced investing, staking, margin trading and more. It also provides users with the opportunity to earn significant rewards through ASD, the platform's native token. AscendEX (Bitmax) trading fees are quite competitive.
AscendEX (Bitmax) cryptocurrency derivatives trading can be successful, all you have to do is create an account by going to the exchange website, register and try trading on the exchange.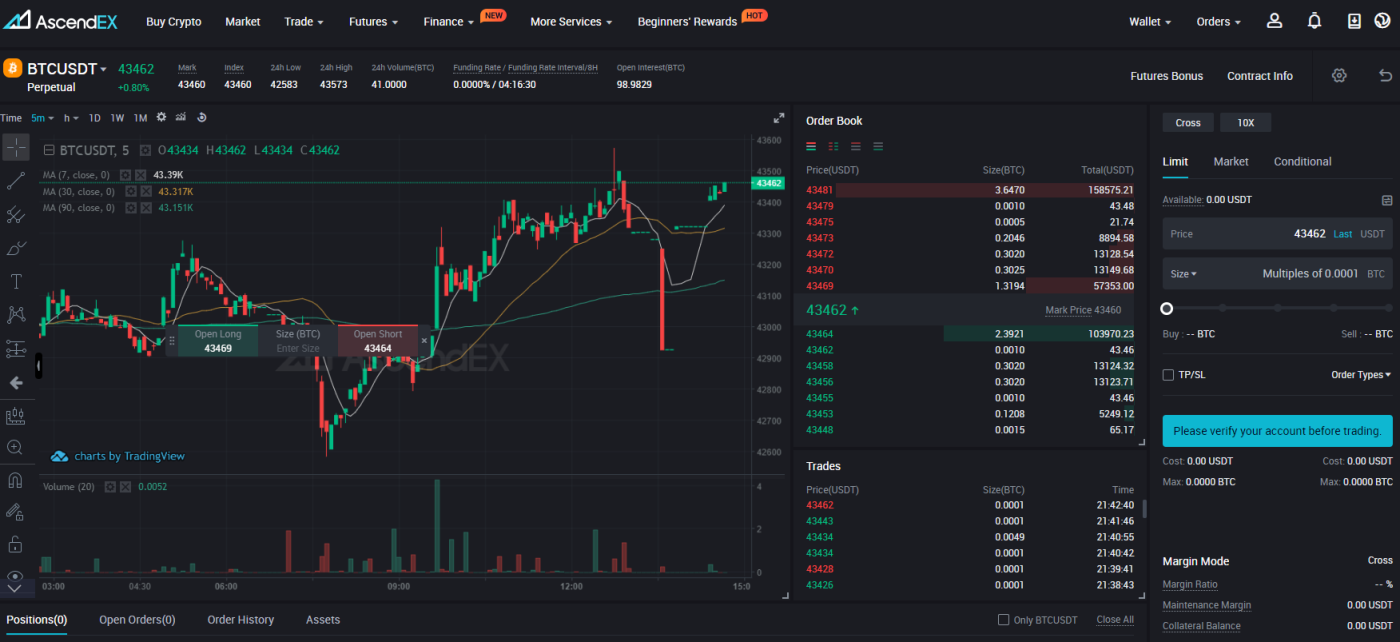 ASD Token
ASD is the utility token of the Ascendex platform, an internal coin that performs a number of functions on the platform, such as paying commissions, rewards, etc. The token is also listed on external exchanges and has its own market value.
Users have the ability to stake their ASD tokens for lucrative APY (Annual Percentage Yield), receive discounts on trading fees, use them in investment products to earn daily rewards, use them to increase their chances of winning an auction, and buy point cards to reduce margin fees.
Holders are also given the opportunity to take advantage of ASD investment products, auctions, price predictions, and exclusive private token sales. For example, users can multiply their distribution rewards and investment returns with certain cards.
How to trade on AscendEX?
The AscendEX cryptocurrency exchange allows users not only to buy and sell coins on the spot market, but also opens up many other opportunities for profit.
The algorithms for exchanging coins through a standard or professional trading account are similar, so let's look at the example of the latter:
It is necessary to select the exchange direction in the upper left corner. Here you need to specify a trading pair from a long list.
After that, the schedule will be updated on the page. It can be scaled as needed, or you can add various indicators for technical analysis of the course.
After the user determines the price of buying or selling a coin, you need to place an order. You can do this in the block located at the right border of the screen.
There are 3 types of orders to choose from - Limit, Market and Stop Loss.
After filling in the empty fields, it remains to confirm the opening of the application. It will go to the order book, unless it is a Market, and will be instantly executed at the current rate.
AscendEX (Bitmax) cryptocurrency derivatives trading platform stands out for its high level of security, covers a large audience in the form of users from 200 countries and offers many tools for making a profit.
The official site is translated into various languages ​​and has a well-thought-out interface. The presence of 2 trading terminals (standard and extended) increase the convenience of using the exchange for beginners, but at the same time provides everything necessary for professional traders.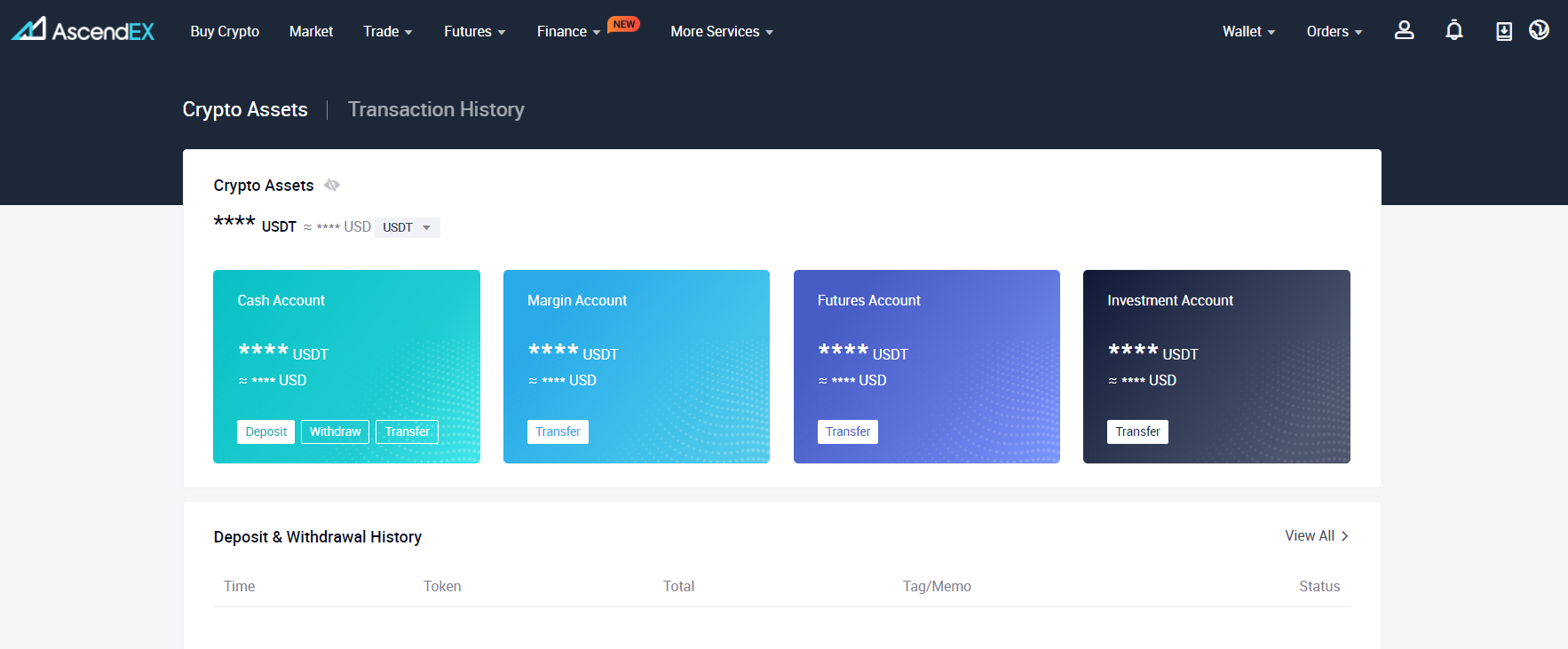 Crypto futures trading AscendEX (Bitmax)
AscendEX (Bitmax) crypto futures in Malaysia are called "perpetual contracts", which are available for 15 trading pairs backed by BTC, ETH, USDT, USDC or PAX. AscendEX perpetual contracts do not expire, so you can go long or short for any time period you want, as long as you have enough margin. The AscendEX trading platform allows leverage up to 100x for futures trading, which is one of the highest in the industry.
AscendEX (Bitmax) crypto futures trading opens up great opportunities for portfolio growth. The leverage available when trading futures can easily multiply a portfolio multiple times in a single trade.
Another reason to trade futures contracts is hedging. Protecting a portfolio can be challenging, especially in the cryptocurrency market. A strong line of defense for any portfolio is a futures contract (or several smaller contracts). Contracts can serve as a hedge when prices move in an unfavorable direction.
Unlike spot trades, which bring profit to the investor only when the price rises, futures trades can make a profit even when the price falls.
Try AscendEX (Bitmax) cryptocurrency futures trading today.

Derivatives exchange AscendEX (Bitmax)
The AscendEX exchange provides favorable conditions for trading AscendEX (Bitmax) derivatives and investing in crypto markets in general. There are many options for trading and crypto-crypto pairs, all services are presented in formats for beginners and professionals. Significant leverage is offered on margin and futures. Investors have access to passive income programs. There is a standard one-level referral program with interest payments from partner trading commissions.
Register on the exchange right now and start trading derivatives for the AscendEX (Bitmax) cryptocurrency on the most favorable terms.
SIMPLE AND RELIABLE
MONEY WITHDRAWAL